Coconut Raita is a delicious South-Indian side dish, that is made using freshly grated coconut, yogurt, a hint of sugar, red chili powder, and salt. This side dish is then finished with a beautiful tempering of whole spices and fresh curry leaves.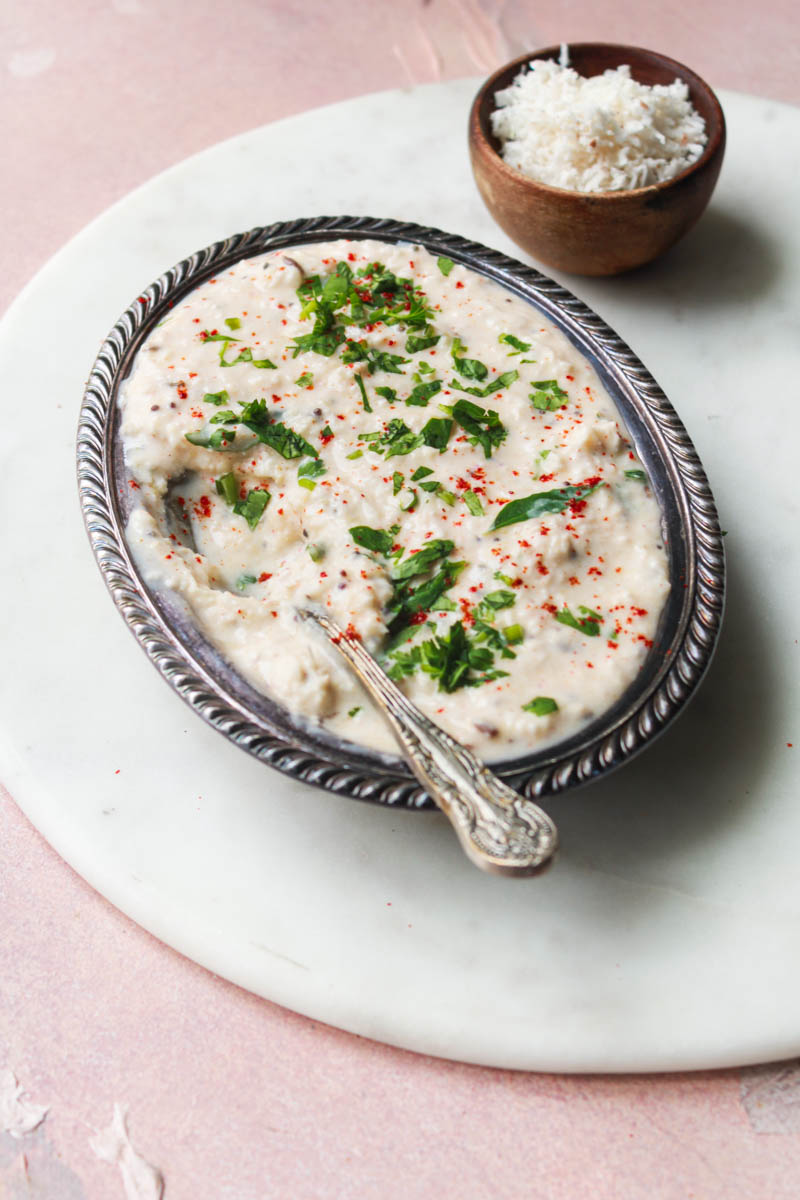 My daughter Inaaya only eats coconut in this form. She absolutely loves this coconut raita and asks for seconds. My husband calls this to be a great side dish to parathas and dhoklas too.
What Is Raita?
Raita is a delicious yogurt-based Indian side dish mixed with raw or cooked vegetables or fruits and/or Bundi. It is like a cold salad for the western world, and it has complex textures which make a wonderful side dish. I love adding tempering to my pachadi's aka raita to make it extra delicious.
Recipe Inherited from My Ba
Ba means grandmom. My grandma was born and grew up in East Africa before she moved to India after marriage. She brings heirloom recipes that are tied to her childhood and culture from Africa and most of her life spent in India. This coconut pachadi is a must, at my home, whenever we make dosas and idlis. This recipe literally takes 5 mins to get ready if you have shredded coconut on hand.
My grandmom is a wonderful cook and baker. She bakes without measurements and all her cakes and tarts would come out PERFECT. Her mini pizzas and tarts are to die for.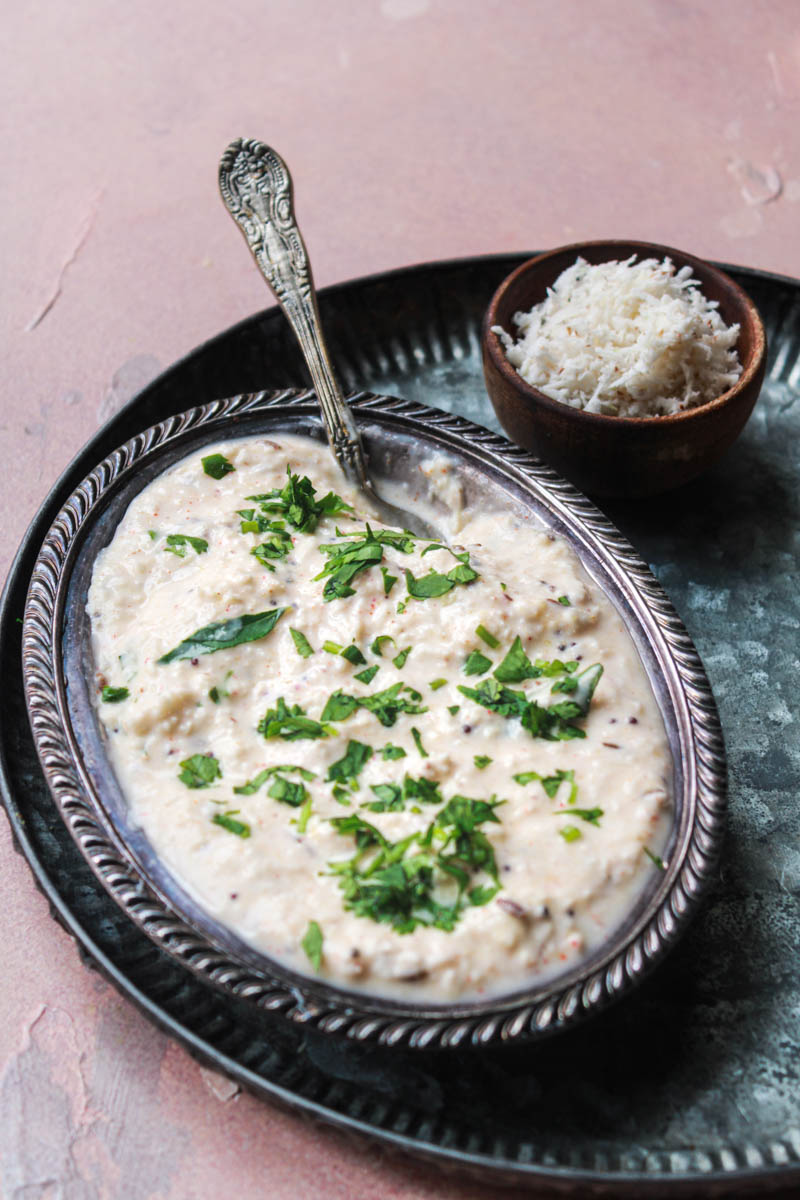 Ingredients To Make This Coconut Raita
This delicious Raita is very easy to make.
Freshly Shredded Coconut - The freshly shredded coconut yields the best result for this coconut pachadi. If you don't have freshly shredded coconut, you can also use frozen coconut. Microwave 1 Cup of Frozen shredded coconut for 20-30 seconds on high. This will thaw the coconut, and help release coconut oil, enhancing the taste of the coconut.
Yogurt - You can either use homemade or store-bought dahi to make this coconut raita. you can pack some more protein by also using plain full-fat greek yogurt or labneh
Sugar - A tiny bit of sugar is added to the coconut raita, to bring a complex flavor to the raita.
Salt - Because it makes everything taste better.
Red Chili Powder - I like to use a little bit Kashmiri Red Chili Powder in this recipe for some smokiness and color.
Tempering - You can use any neutral-flavored oil. Vegetable or peanut oil works. And finally temper with mustard seeds, cumin seeds, green chilies, and fresh curry leaves
Make This Pachadi Vegan
You can use cashew yogurt to make this pachadi as it is one of the best vegan replacement to Indian Dahi.
Other Recipes You Might Like