Rajgira (amaranth) is popularly used in our homes on fasting days. And Rajgira Bhakris and Sheero is always a must-have on the table. This delicious Gluten- Free Bhakris are made with warm spices and fresh aromatics. Have you ever tried these flat bread? If you haven't. you definitely should give them a try.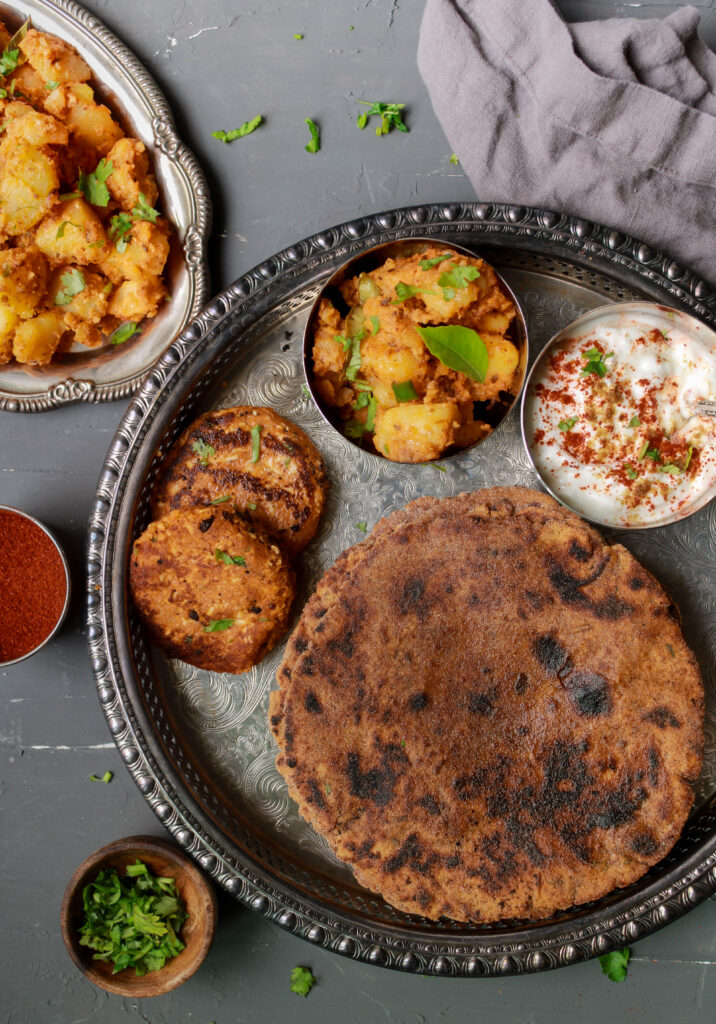 What Is Rajgira?
Rajgira flour comes from the seeds of the Amaranth Plant. This flour has not only a very earthy and delicious taste but is also packed with nutrients. One of the main benefits of including Rajgira it helps control insulin resistance. Packed with protein and fiber, this flour has tremendous benefitting health properties.
What Are Amaranth Flour Bhakris?
Bhakris were originated in the state of Maharashtra, India. Traditionally Bhakris are made using all kinds of flours. This flatbread is made by kneading a tight dough, and then rolling them flat. Toasting them on both sides until charred with a little bit of oil, they are filling and delicious.
Amaranth flour has a very earthy taste. With the warm flavors of cumin seeds, and spiced with green chilies and ginger, this bhakri tastes extraordinarily delicious.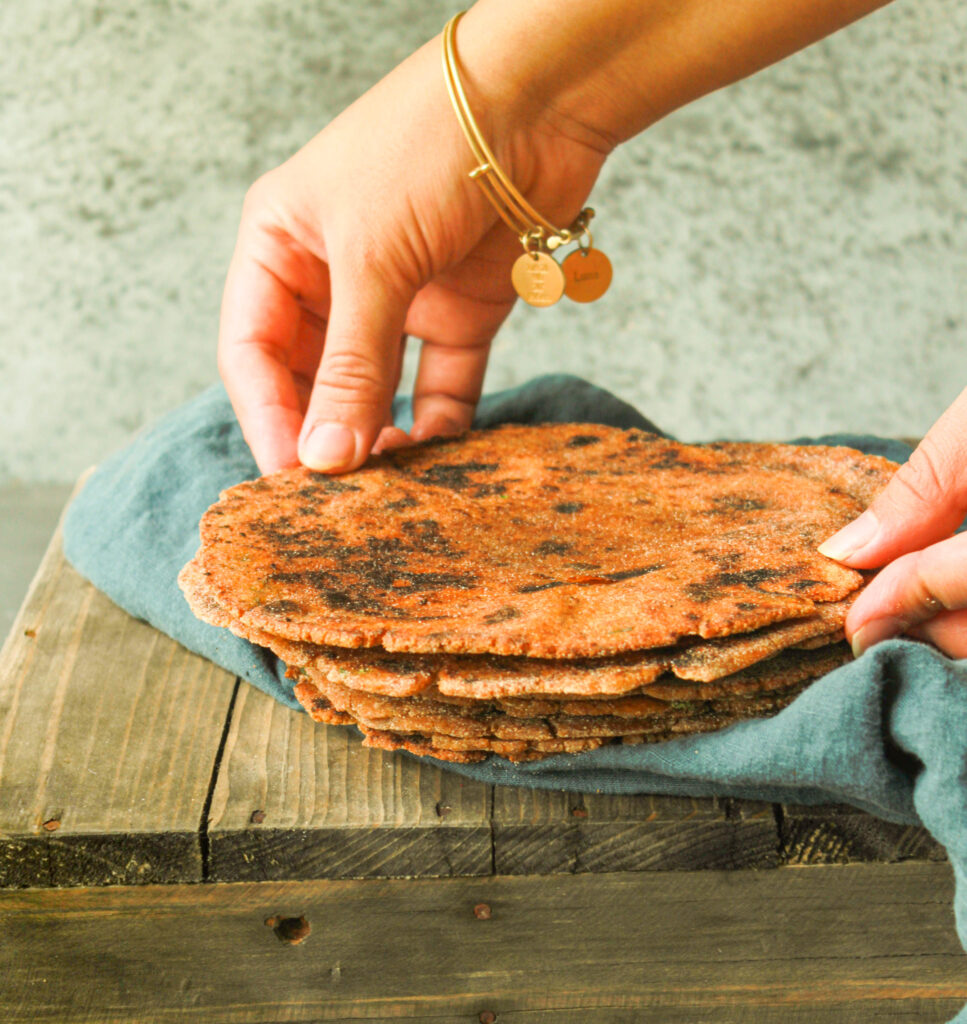 Are These Vegan and Gluten-Free?
Yes, absolutely. The Rajgira Bharis are both vegan and gluten-free. If you are someone, who needs a quick fix for gluten- free flatbreads, you will love this one. It tastes absolutely delicious.
Ingredients to Make Rajgira Bhakri
Amaranth Flour - The key ingredient to make the Rajgira Bhakris, is Rajgira Atta aka Amaranth Flour. You get this easily in your nearest Indian Store, Amazon and at Wholefoods. If you are buying it from Indian Store I get Deep Indian Kitchen Rajgira Atta, it is very fine and smooth in texture, which works perfectly for these Bhakris.
Peanut Oil - Peanut Oil adds a beautiful nutty taste to this bhakri, which complements perfectly with its own earthy taste. Use any nutty oil to make this bhakri for that extra punch of flavor.
Cumin Seeds - The warm spice of cumin is going to work perfectly to balance the flavors of the Rajgira Bhakri. It is just a wonderful spice to add, isn't it?
Ginger and Green Chili Paste - Now that we have been adding all the warm and earthy notes to our Bhakri, this punch is necessary. To take it up a notch, these spiced flatbreads are going to be the highlight of your meal.
Kashmiri Red Chili Powder - I like to add some Kashmiri red chili powder in the flour. The Rajgira Flour is Light Brown in color. To make the Chapatis an even tone of darkish brown, the red chili powder will set the tone right.
Chopped Cilantro - The freshness of chopped cilantro adds a refreshing flavor, making these absolutely scrumptious.
Salt - Salt brings the recipe to life. If you are fasting you can you sindhav namak or rock salt. These are also easily available in the Indian Store.
Water - We will be using little water at a time to knead the dough.
Tips to Make Perfect Rajgira Bhakris
Since Amaranth Flour is Gluten- Free, the dough needs to be kneaded carefully. The dough shouldn't be to less or more moist. We use the water one splash at a time, just to bring the dough together. A little water goes a long way. For 3 Cups of Flour I used 1 cup of Water.
Cover with a damp cloth and let the dough rest for 30 mins.
If you are making these for the first time, and are not fasting add 1 Tbsp of Besan. It will make the dough more easier to roll into flatbreads.
If you are fasting, andn making these bhakris for the first time, addingone small mashed boiled potato to the flour. Adjust the spices accordingly. And start kneading the dough. This will also make rolling your flatbreads easier.
Dust the surface with Rajgira Flour thoroughly before rolling the Bhakris. This will help the Bhakris to roll swiftly.
Cook the Bhakris on Cast Iron Pan to get a beautiful char on the top.

Other Recipe You Might Like
Jump To: Recipe
Ingredients
3

Cups

Amaranth Flour (Rajgira Flour)

2

Tsp

Peanut oil

2

Tsp

Cumin Seeds

2

Tbsp

Ginger and Green Chili Paste

1+ 1/2

Tsp

Salt

2

Tsp

Kashmiri Red Chili Powder

2

Tbsp

Finely Chopped Cilantro

1

Cup

Water
Instructions
Add 3 Cups of Amaranth Flour in a Bowl. (If you are making it for the first time and not fasting, add 1 Tbsp besan, so rolling the dough into flatbreads becomes easier.)

Add Cumin seeds, Oil, Salt, Ginger and Green Chili Paste, Red Chili Powder and Chopped Cilantro. (If you wish to add mashed boiled potato, add it in this step.) Adjust the spices accordingly.

Now take 1 Cup water in anotherowl.

Start adding splash of water at a time to bring the rajgira flour together, to knead the dough

keep doing this, until the flour comes together and binds into a tight dough. Once it comes together, rub a little bit of oil in your palm and startto knead the dough. knead until it becomes a soft round dough, without any cracks. This should take 3-5 minutes.

Cover the dough with a clean damp kitchen towel fir 30 minutes.

After 30 minutes, make 12 equal sized individual dough balls and flaten them between your palms. Keep them Covered with the damp cloth.
To Roll The Bhakris
Dust the surface and rolling pin thoroughly with Rajgira Flour. This step will ensure that you will be able to roll the bhakris swiftky, without them sticking to the surface or the rolling pin.

Heat a Pan to Toast the Bhakris on a medium flame.

Take one flattened dough ball. Dust it on both the sides in the Rajgira Flour.

Place it on the pre dusted surface. Press it down further using the tip of your fingers.

Now Start Rolling the flatbread.

Lightly start rolling the flatbread starting from the center of the bhakri towards the out circle.

Because of the thourough dusting, the bhakri should start moving in a circular motion as you gently roll it with the rolling pin.

You want to keep about a 1/3 inch of thickness for the bhakris.

Once rolled add the bhakri to the hot pan. Toast it on either sides. And then add oil on the top and toast on either sides once again.

Repeat until all the bhakris are made.
Notes
If your Bhakris Break while Rolling, Just use your hand to flatten the. 
Dust the surface generously to roll the bhakris or they will stick. 
Be Patient, A little practice and you will be able to roll the bharis perfectly. 
Tried this recipe?
Let Us Know How it Was!! Tag us @thewhiskaddict, use #thewhiskaddict or leave a comment
Mexican Baked Eggs(Opens in a new browser tab)
Tomato Rice Recipe | Tomato Rice(Opens in a new browser tab)
Dal Palak - Red Lentils with Spinach(Opens in a new browser tab)
Sabudana Khichdi | Sabudana ni Khichdi Recipe(Opens in a new browser tab)
Follow Me On Instagram