Sambar is a very popular lentil stew cooked with vegetables, tuver dal aka pigeon peas, and Tamarind water. This dish is widely served with our favorite South Indian Mains like Idlis, Dosas, Vadas, Rice, and Pongal. There are many varieties of Sambar that are made in different parts of South India, with completely different variations.
I am sharing a staple Tamilian Style Sambar Recipe that my friend Janani taught me. Her recipes made me fall in love with Tamilian Cuisine. If you are a regular reader of my blog, you might know, that I am a Gujarati married to a Tamilian. And sometimes, I tell my husband, that I only married him for food. The most amazingly delicious food this cuisine of India has to offer.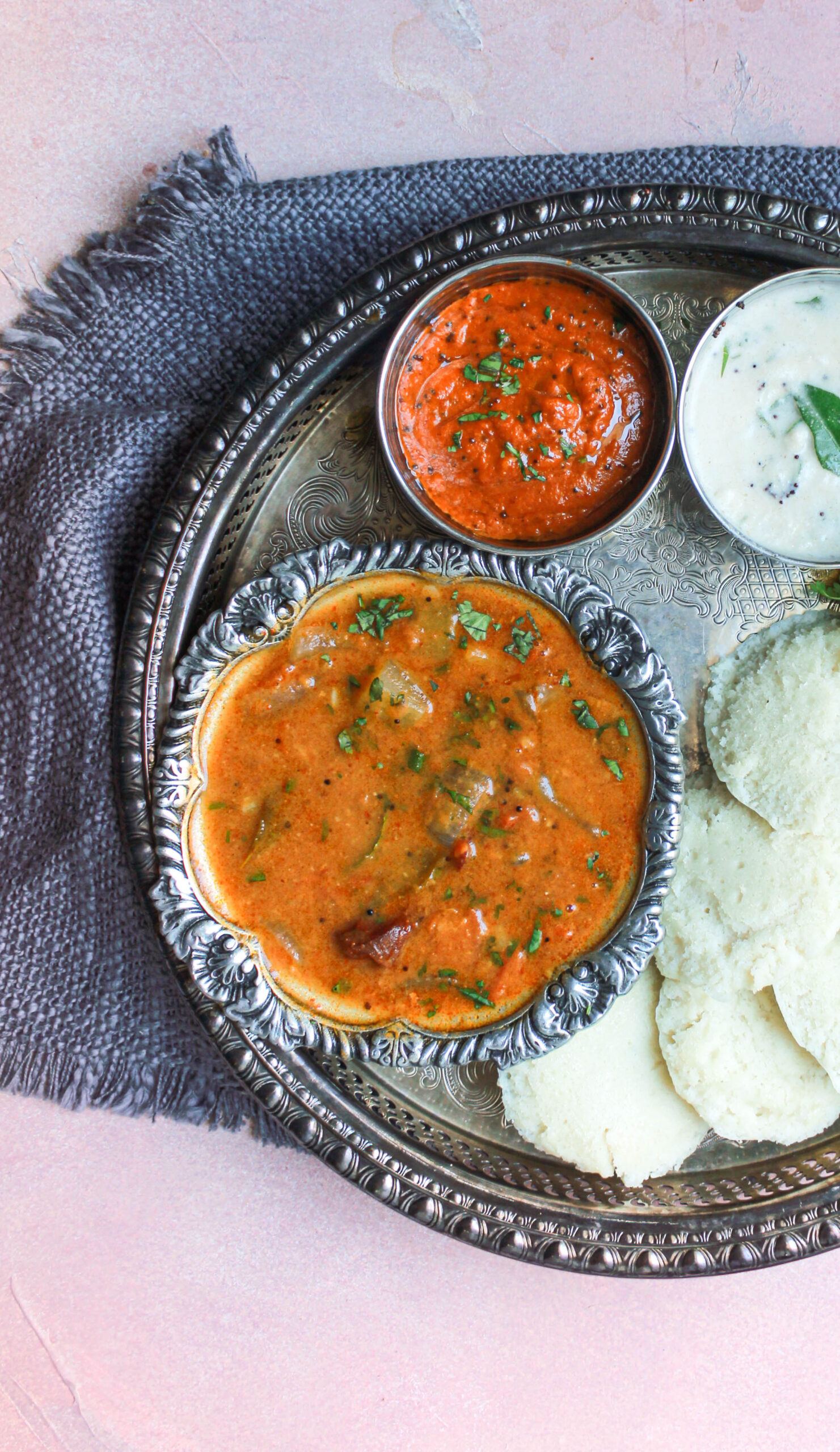 What is Sambar?
Sambar or Sambhar is a delicious lentil stew cooked in vegetable and tamarind broth. This recipe hails from the Southern part of India. The recipe is vegan and the preparation is different from region to region and from family to family.
The Tamilian Sambar has different varieties, from Tomato Sambar, Squash Sambar, Mixed Veggie Sambar, Okra Sambar, Etc. This sambar is purely made with essentially Sambar Powder and Tamarind Water.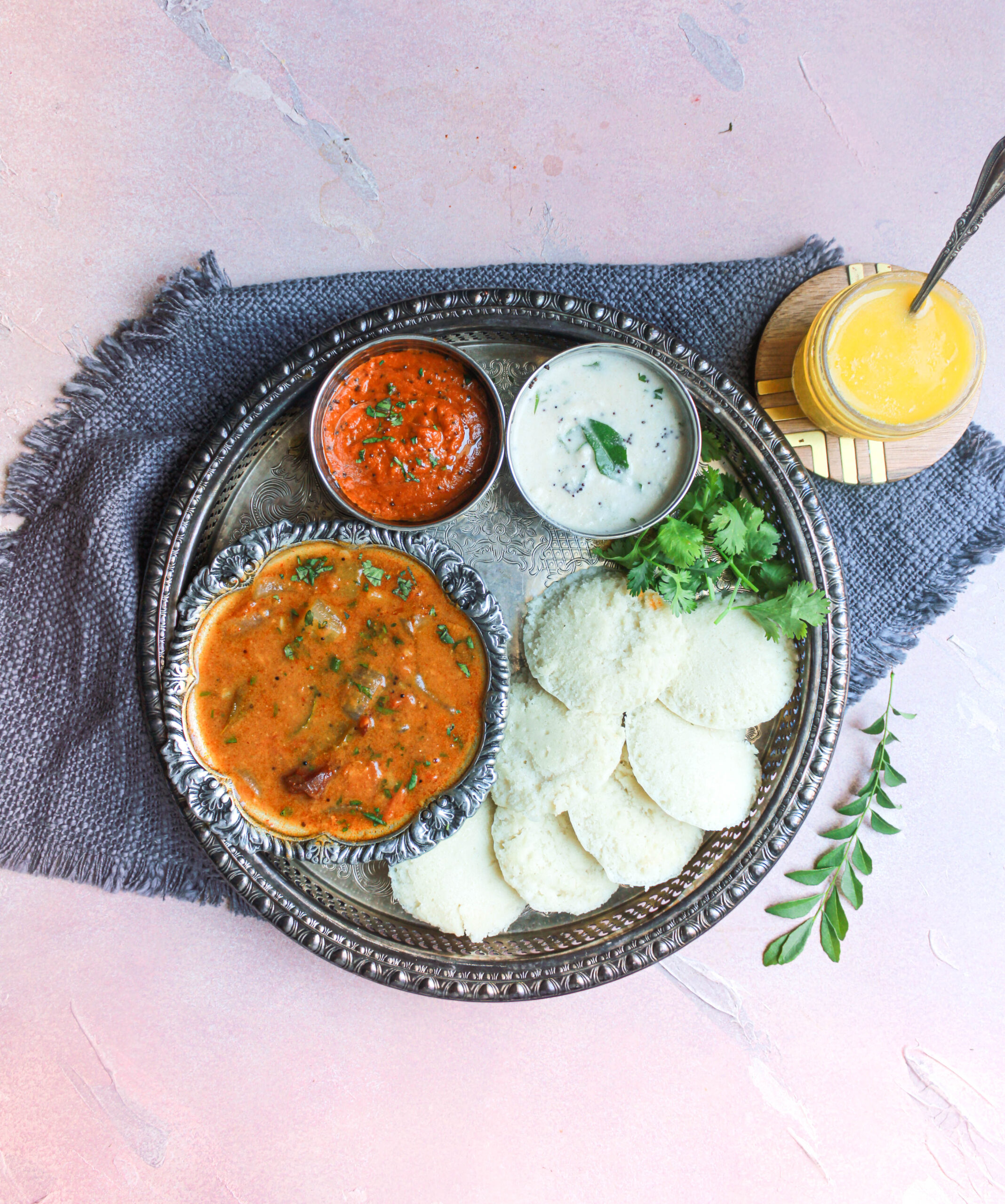 Mixed Veggie Sambar
The sambhar recipe I am sharing today is made with mixed vegetables. I usually use a lot of tomatoes in my recipe as they are juicy, sweet, and tart which adds a great depth of flavor to the sambar. I make my sambhar with onions, tomatoes, carrots, potatoes, bottle gourd, and drumsticks. You can also add okra, horseradish, any squash, or pumpkin of your choice. It will all taste absolutely delicious.
Things you can pair Sambar With
You can have this lentil stew with rice, quinoa, any millets, etc. But the sambar typically is served with rice, dosa, idlis, vada's, etc. You can enjoy this recipe like a regular dal or soup. I love to drink sambhar as a soup. And trust me when I say this, it is absolutely lip-smacking delicious.
Is the recipe Vegan?
Yes, this recipe is 100% vegan. Many South Asian Indian Recipes are vegan or can be easily made vegan. Check out other recipes on the blog. I always provide vegan options for my recipes.
Other Recipes You Might Like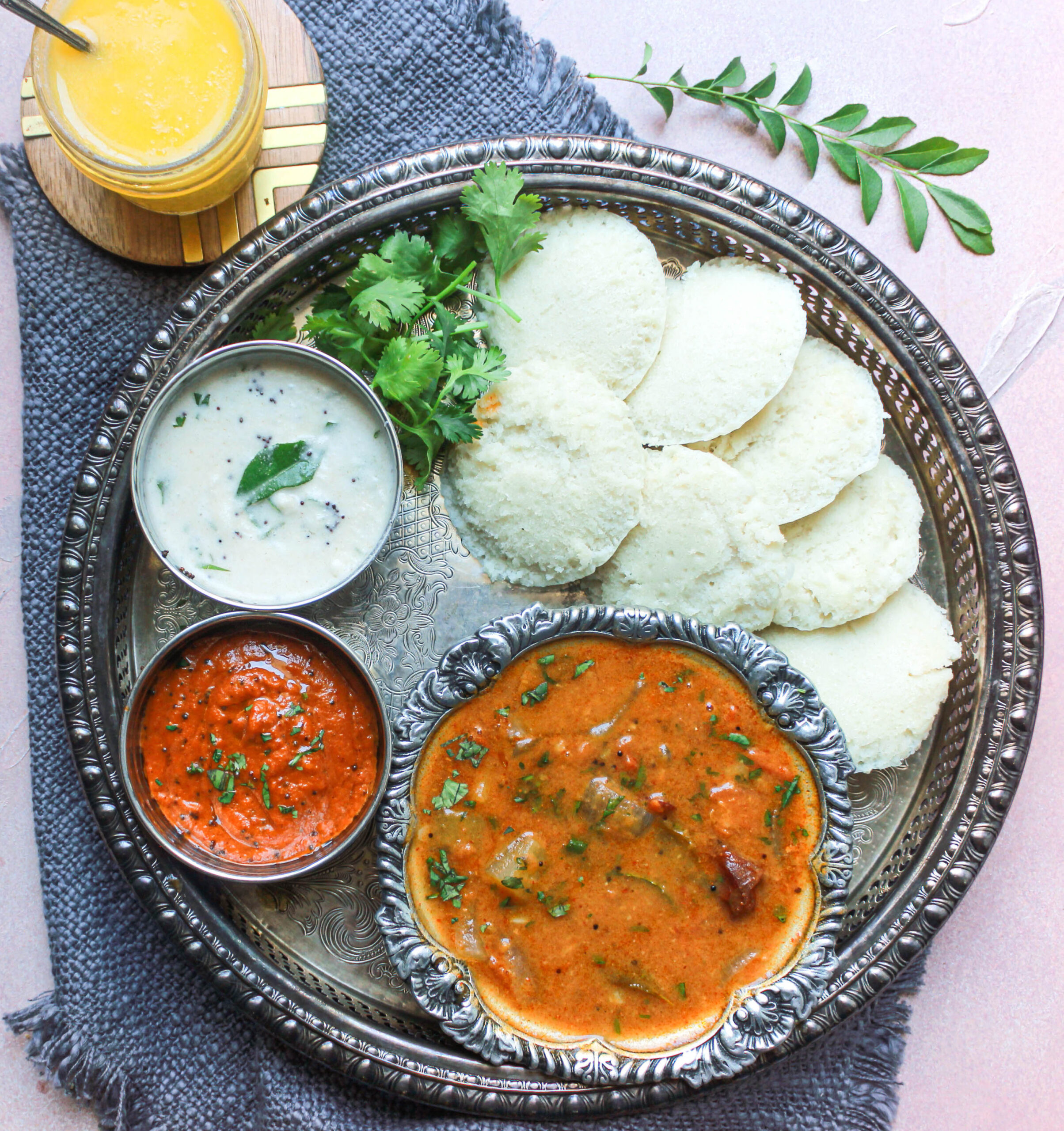 Equipment
Pressure Cooker

A Heavy Bottom Pot
Ingredients
Soak The Tamarind
1

Tsp

Tamarind Extract

If you are using Dried Tamarind, add 1 inch knob

1/2

Cup

Hot Water

Microwave for 1 minute
Boil the Tuver dal (Pigeon Peas)
1/2

Cup

Tuver Dal (Pigeon Peas)

1.5

Cups

Water

Add more if needed

1/4

Tsp

Turmeric

1/2

Tsp

Salt
Cook The Sambar along with Veggies
2

Tbsp

Sesame Oil (Gingely Oil)

1

Tsp

Mustard Seeds

1/8

Tsp

Asafetida

1-2

Thai Green Chilies

1

Tsp

Freshly Grated Ginger

2

Dried Red Chilies

10-12

Fresh Curry Leaves

1

Cup

Squared Onions

Tightly Packed

4

Roma Tomatoes

about 2 Cups tightly packed Diced Tomatoes

1

Tsp

Salt

1

Tsp

Kashmiri Red Chili Powder

1

Tsp

Coriander-Cumin Powder

1 /2

Cup

Diced Carrots

1/2

Cup

Diced Potatoes

1/2

Cup

Dice Bottle Gourd (lauki)

1

Tbsp

Sambar Powder (masala)

add another 1 tsp if needed. It depends on the quality of sambar Powder you are using.

4

Cups

Water
Instructions
Soak The Tamarind
I use Tamarind Extract we get at the Indian Store so I soak 1 Tsp Tamarind Extract with 1/2 cup of Hot water for 10-15 mins

If you are using dried tamarind, soak 1 inch knob (about the size of a tablespoon) in 1/2 cup Hot water for 30 mins. After 30 mins, squeeze the tamarind pulp and strain it using a mesh strainer. Discard the dried tamarind only after the sambar is cooked, (You might need to squeeze more pulp out of your tamarind, as the tartness of tamarind depends on the quality of tamarind you are using) , and set the tamarind water aside.
Boil the Dal
Add 1/2 Cup of Pigeon Peas in the pressure cooker. Wash and rinse atleast 3-4 times. Drain the water one last time.

Add 1 and half cups of water, along with salt and turmeric. Mix well.

Seal the pressure cooker lid, and place the whistle on the top

Let the dal cook for about 4-5 whistles.

Let the pressure release naturally. Once ready, open the lid.

Mash the dal with a whisk or hand blender
Make the Sambar
Place a heavy bottom pot on the stove on medium heat.

Once hot, add oil and mustard seeds. Once the mustard seeds start to splutter add asafetida.

Next, add in the thai green chilies split in halves and dried red chilies

Add onions and ginger next. Sauté them. If you see ginger sticking to the pot, deglaze the pot by adding splashes of water.

Now add the curry leaves. Adding curry leaves at this stage prevents them from burning and becoming brown. They stay nice and green. Add 1/2 Tsp Salt at this stage to make the process of cooking onions faster

Once the onions soften, add tomatoes. Add 1/2 Tsp Salt, Kashmiri Red Chili Powder and Coriander-cumin powder (Dhanajeeru). Mix well.

Once the tomatoes become slightly mushy, add all the vegetables.

Add sambar powder and tamarind water. Mix well

Now add 4 cups of hot water. Please add hot water, you want to maintain the temperature of the pot.

Let it simmer and let the vegetables cook in this broth. It will take about 10-12 mins for the vegetables to be fully cooked.

Once the vegetables are cooked, add the boiled and mashed dal to the pot.

Mix well. and let it simmer for about 10 minutes.

Once ready, give a taste test. Check for salt and tartness from tamarind.

Once ready garnish it with finely chopped cilantro. And Serve Hot
Notes
I like to use Tamarind Extract over Dried Tamarind. Sometimes the tamarind we get in the Indian stores is not great and it just doesn't work out. Tamarind extract on the other hand gives the same exact taste every single time. 
For Dal, you can use yellow moong dal or a combination of yellow moong dal and Orange split masoor dal for this recipe. 
Sambar Powder, I like the MTR, Achi, and Shakthi Brand for Sambar Powder. My MIL sends Sambar Powder for us from Tamil Nadu. 
If you have drumsticks, use 1-2 drumsticks, shaved and into cut 3-inch long pieces. 
If you are making a single vegetable sambar, add 1 cup of that vegetable. 
If you have pearl onions use 7-8 pearl onions. They taste delicious in Sambar. It is hard for me to get pearl onions sometimes near my home. 
Always try to use high-quality fresh ingredients to make sambar.
This recipe is a labor of love. I promise you will love this recipe.
Tried this recipe?
Let Us Know How it Was!! Tag us @thewhiskaddict, use #thewhiskaddict or leave a comment
Tomato Rice Recipe | Tomato Rice(Opens in a new browser tab)
Beetroot Cutlets | Veg Cutlets Recipe | Beetroot Cutlets Recipe(Opens in a new browser tab)
Easy Weekly Veg Biryani with Freshly Pounded Biryani Masala(Opens in a new browser tab)