Biryani to me is an emotion. The process of cooking biryani teaches patience and one true dedication. Each step by step process, to ease in the smells of freshly pounded spices. The sweetness from the onions browning slowly, can you resist a bite of these sweet onions ever? I know I can't. We tend to eat Biryani quite often, so this is my take on our weekly Hyderabadi style Biryani. The mild sourness from the vegetables marinated in yogurt, which make absolutely delicious curry base. and the aromatic Basmati Rice.
If you observe quite well, no Indian food will be able to show you different personalities and emotions all in one plate. That is the magic of Biryani. Nothing is off the table. It first pleases your eyes and scrumptiously delights and tingles those ever evolving taste buds. As we say at our home, no better love than Biryani.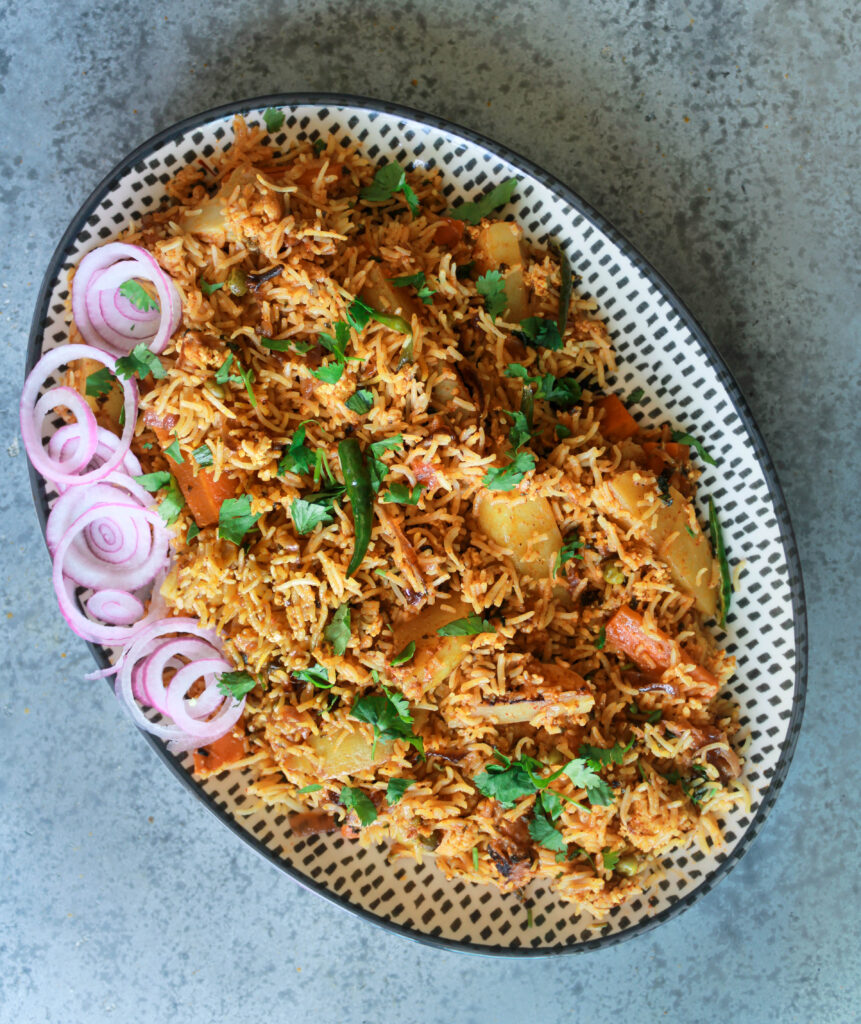 In case, you are wondering, this is just one way I make Biryani. Oh hell no, there are other Biryani recipes I love. I make a more lengthier version for my favorite people, but that is yearly once. You know, you know ... hahahah.
My husband and I love Biryani so much that this has become my weekly affair. This Biryani comes together rather more quickly, plus it is kinda more healthish. This Biryani is every thing delicious. So don't toss this recipe out. This recipe might just become your favorite go- to as well, isn't it?
Tips on cooking the perfect Biryani
Basmati Rice
Lets start with the most essential part of making Biryani. If you got this my friend, your Biryani nearly will be a winner. The secret is to use the best quality long grain Basmati rice you can find in the market. Wash the rice until you see clear water. We do this step before soaking the rice to remove the dirt and little starch that we can. Next, we soak the rice at least for an hour. Again rinse it before adding, to reduce the starch content, this will ensure that your rice is no longer very sticky when it cooks. You cook the rice with whole spices and add it to boiling water only for 2 minutes. You want to make sure you can simply cut the rice in halves with the tip of your finger. Make sure it is not mushy. Strain the rice and run cold water over it.
Biryani Masala
I have tried several ready Biryani Masala's and I haven't still found the one I love. So I make my own. Well in the recipe video, I forget to add cardamom, but I did add it later. The freshly ground masala will take your Biryani to a whole new level trust me.
Marination of the Vegetables and Protein
This is so important, I cannot stress enough to please let your vegetables and paneer marinate for at least 2 hours or more. This brings out a wonderful flavor in your vegetables and it tastes absolutely amazing! Another important part of marination is to make sure your yogurt is not very watery. If yes I would suggest to make sure you squeeze the water out or just use greek yogurt. To make it Vegan, I love this brand https://www.foragerproject.com/all-products/dairy-free-yogurt/ This will work perfectly to make your Biryani Vegan.
Making Caramelized Onions
Thinly slice your onions and cook them on a low- medium heat. The sweetness from this is simply irreplaceable. Patiently wait until it turns brown. Keep them on a paper towel to make sure all the excess oil is strained.
Jump To: Recipe
Equipment
Heavy Bottom Pot

Skillet

Spice Grinder
Ingredients
For Biryani Masala
4

Kashmiri Dried Red Chilies

3

Bay Leaves

3

Cinnamon Sticks

3-4

Green Cardamom

6-7

Black Peppercorns

6-7

Cloves

2

Star Anise

1

Mace

1/2

Tbsp

Fennel Seeds

1/2

Tbsp

Cumin Seeds

1/2

Tbsp

Coriander Seeds

1/2

Tsp

Nutmeg Powder
Marinate the Vegetables and Paneer and The Curry
1

Cup

Plain Yogurt

You can also use plain unsweetened greek yogurt. To make it Vegan, I prefer using Forager Project Cashew milk Unsweetened Yogurt.

1

Tsp

Red Chili Powder

1/4

Tsp

Turmeric

1

Tsp

Cumin-Coriander Powder (Dhanajeeru)

3

Tsp

Biryani Masala

1 Tsp for Marination and 2 Tsps for the Curry

1/2

Tsp

Salt

For Marination

2

Tbsp

Finely Chopped Fresh Mint

we will use this in 2 parts, a Tbsp each for marination and curry

2

Tbsp

Finely Chopped Fresh Cilantro

we will use this in 2 parts, a Tbsp each for marination and curry

2

Tbsp

Finely Chopped Fresh Scallions

we will use this in 2 parts, a Tbsp each for marination and curry

2

Tbsp

Ginger Garlic Green Chili Paste

we will use this in 2 parts, a Tbsp each for marination and curry

2

Medium

Potatoes

Cut into Chips

1

Cup

Cauliflower Florets

1/3

Cup

Frozen Peas

1

Carrot cut into long medium slices

100

Grams

Paneer Cubed

Add Tofu to Make it Vegan

1

Tbsp

Kasuri Methi

2

Tsp

Oil

1

Tbsp

Ghee

Add Vegan Butter or Oil to make it Vegan

1

Tsp

Cumin Seeds

1/2

Part

Caramelized Onions

1

Roma Tomato Finely Chopped

1

Tbsp

Tomato Paste

Salt to Taste

1/4 Cup

Water
Caramelized Onions
3-4

Tbsp

Oil

2

Large

Thinly Sliced Onions
Basmati Rice
1 + 1/2

Cups

Long Grained Basmati Rice

5

Cups

Water

4

Cloves

1

Cinnamon Stick

1

Bay Leaf

3

Green Cardamom Pods

1

Tsp

Salt
Layering
4-5

Slit

Green Chilies

1

Tbsp

Freshly Chopped Mint

1

Tbsp

Freshly Chopped Cilantro

1/2

Part

Caramelized Onions

2

Tbsps

Saffron Milk

Warm 2 Tbsps Milk in Microwave for 20 secs. Add 3-4 strands of Saffron. Give it a light stir
Instructions
Biryani Masala
Dry roast the spices on a low-medium flame until they smell earthy in a skillet. Making sure they don't burn. Don't add nutmeg powder at this time. (Use the same skillet to make the caramelized onions later)

Let it cool down completely

Transfer the whole spices in a spice grinder jar. Add Nutmeg Powder

Give it 2-3 pulses giving it a mix making sure all spices are getting a good pulse
Marinate the Vegetables and Paneer
In a deep bowl add yogurt. Whisk it until smooth.

Next add in red chili powder, turmeric, cumin-coriander powder , salt and 1 Tsp Biryani Masala.

Next goes in 1 Tbsp each freshly chopped mint, cilantro and scallions

Give everything a good mix.

Time to add the vegetables and paneer in 2 parts to make sure you coat them well in the marinade.

Cover it with a plastic wrap. Place it in the refrigerator for minimum 2 hours
Caramelize Onions
Wash and soak the rice before starting to cook the onions

On a medium low flame, add oil in a skillet. Once it is medium hot add thinly sliced onions.

Stir them every now and then. Let them cook until brown.

Place them in a paper towel, to strain the excess oil. keep it aside
Cook the Basmati Rice
Take a heavy Bottom Pan. Add water. Cover it and bring it to a boil.

Add whole spices and salt in the water

Next add in the drained rice

Cover it and let it cook for a minute or two.

Check the grain. If you can break it easily with your tip of a finger its done.

Strain the rice. Run Cold Water over it to stop the cooking process of the rice.
Make the Curry
Give a wipe to the heavy bottom pan you used to make boil the rice.

Add Oil and ghee to the pot. Once hot add cumin seeds and let them splutter.

Next add in the 1Tbsp each of ginger garic green chili paste, kasuri methi, mint and cilantro along with finely chopped tomatoes.

Once the tomatoes are mushy, add in the 2 Tsp's biryani masala and remaining 1/2 part of caramelized onions. Give it a good mix.

Next add in the tomato paste. cook it for 30 secs.

Now add the marinated vegetables and paneer with all the marinade. Give it a good mix.

Add water and let it cook until the veggies are cooked.
Layering
Layer all the cooked rice on top of the curry.

Next layer slit green chilies

Next layer with freshly chopped mint and cilantro

Next layer with remaining half part of the caramelized onions

At this point you can also drizzle about 1/2 Tsp of kewra water or rose water.

Add a splash of water. Let it cook on low flame for about 15 mins.

Serve it with Raita ,Onions and papadams
Tried this recipe?
Let Us Know How it Was!! Tag us @thewhiskaddict, use #thewhiskaddict or leave a comment