Sev Usal is lip-smacking delicious street food from the streets of Vadodara, in Gujarat. This recipe is from my hometown so it's extra special! It is made in a spicy curry with dried white peas, drizzled with a generous amount of sev, and onions.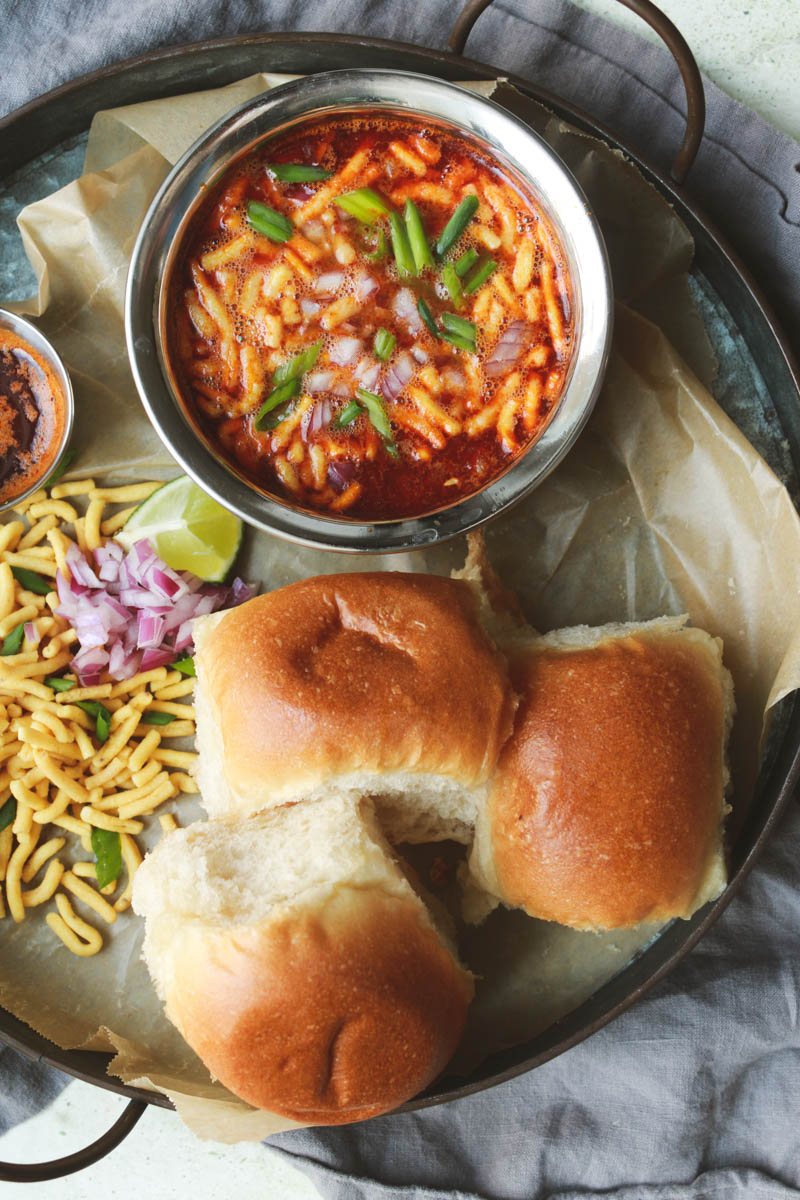 Cooked in a generous amount of oil, with a curry base of onions, tomatoes, and garlic, this recipe is super easy to make and comes together quickly!!!
Usal is a Maharashtrian Dish made with sprouted beans and legumes. You will see a lot of similarities between Gujarati and Maharashtrian cuisines, as they do draw inspiration from one another.
Usal in Maharashtra is made with sprouted beans and legumes. This recipe of Sev Usal is drawn from Maharashtrian cuisine. An adaptation of Misal pav and Usal pav.
This recipe is very close to my heart. I grew up eating this on the streets of Vadodara, my hometown. The city I was born and raised in.
Vibrant Flavors of This Recipe
Usal and Misal pav are famous for their vibrant robust and bold flavors. So this recipe does all the justice to it! Now, the secret ingredient for the recipe is the spice blend for sev usal masala. That's the holy ingredient. You can either choose to make it at home or use store-bought. If you are in Vadodara, the brand Shri Hari sells an amazing blend of this masala, that I love to use and always have it on hand.
If you don't have time to make the spice blend, don't worry. I got you. Mix together Kashmiri Red Chili Powder, Pav Bhaji Masala, Garam Masala and if Possible Kitchen King Masala. Make a blend and add it to the curry.
This recipe is spicy, with tangy hints of caramelization of onions and it just all blends together beautifully. You top the ragda aka the curry made with white peas with sev, spring onions, and red onions, and enjoy it with pav (dinner rolls).
Expert Tips To Make This Recipe
Use a generous amount of oil. Using a generous amount of oil will help you get the red rassa (tari) on the top, which is spicy and bursting with umami flavors, so you definitely want to consider adding a generous amount of oil once in a while.
Remember that your onions to tomatoes ratio should be 2:1.
Cook the onions patiently until the oil starts to separate. You can add salt to cook the onions faster.
If you don't have sev usal masala at home, you can combine together a tsp each of Kashmiri Red Chili Powder, Pav Bhaji Masala, Garam Masala and if possible Kitchen King Masala.
This recipe is naturally vegan, so serve it to your vegan friends and family. I bet they will love it.
Let the curry aka Ragda come to a boil. The more it boils the more flavor it develops.
This recipe is great to make for a get-together with friends for dinner. It is easy to make and filling!
Make it ahead of time. If you are planning to serve Sev Usal for dinner. Make it in the morning. The more the curry rests, the more flavor it develops.
Don't feel guilty after eating this. Just go for a walk after indulging in this bold and fantastic recipe.
More Recipes from the Blog
Jump To: Recipe
Equipment
Instant Pot / Pressure Cook

Heavy Bottom Pot
Ingredients
Boil the White Peas
1

Cup

Dried White Peas

2.5

Cups

Water

1

Tsp

Salt
For The Curry
4-5

Tbsp

Peanut Oil

1

Tsp

Cumin Seeds

1/8

Tsp

Asafetida

6-7

Curry Leaves

1.5

Cups

Onions

Minced

2

Tbsp

Garlic and green chili

Minced

1

Tsp

Salt

1.5

Tsp

Red Chili Powder

1/2

Cup

Tomato Puree

1

Tsp

Coriander Powder

1/4

Tsp

Turmeric Powder

3

Tsp

Sev Usal Masala

4-5

Cups

Water

1

Tbsp

Lemon juice
Toppings
Spring Onions

Red Onions

Sev

Thick Plain Sev

Pav
Instructions
Boil The White Peas
Soak 1 Cup of dried white peas over night for 8-10 hours in 3 cups of water.

Now drain the water, and add the soaked white peas to your instant pot or pressure cooker. Add water and salt. Close the lids.

To pressure cook the white peas in the pressure cooker, cook them for 3 whistles. And let the pressure release naturally.

To Cook the white peas in the instant Pot, Close the lid, and press on pressure cook. Pressure cook Manually on high Pressure for 5 mins.

Quick pressure release after 5-7 mins, once the white peas are cooked.
For the Curry
In a heavy bottom pot, add oil.

Let the oil get hot. Once hot add cumin seeds, asafetida(hing) and curry leaves.

Then add minced onions(I used 1 and half onions and pulsed it in a food processor), garlic and green chilies, red chili powder and salt.

Cook the onions by sauteing frequesntly until the oil starts to seperate.

Now add the pureed tomato. I used one Roma tomato and pulse it in the food processor.

Then add, coriander powder, turmeric powder and sev usa masala. Mix everything well and cook until oil separates

Drain the water from the cooked white peas. You can save this water, and add to knead the dough or cook rice. It can make the curry starchy, so we won't be using this water.

Now add the cooked white peas. Mix everything well.

Add 4-5 Cups of Hot water and bring everything to boil.

Check for salt, and add some lemon juice.

Take the oil floating on the top of the curry out, in a bowl.

You can use this, as a topping, like chili oil

Serve it with side of pav, top the curry with sev, red onions and spring onions.
Notes
Sev Usal Masala
1 Tbsp Coriander seeds
1 Tsp Fennel Powder
1 Tsp Cumin Seeds
1 Tsp Black Peppercorn Powder
6-7 Cloves
1 Small Cinnamon Stick
1 Small Star Anise
1 Tsp White Sesame Seeds
1 Tbsp Kashmiri Red Chili Powder
1/4 Turmeric
1 Tsp Dry Mango Powder 
1/2 Tsp Dry Ginger Powder
1/2 Tsp Salt
In a frying pan, add coriander seeds, fennel seeds, cumin seeds, black peppercorns, cloves, a small cinnamon sticks, small star anise, and white sesame seeds. Roast on low flame until aromatic. let it cool. Add it to a spice grinder jar. Then add powdered spices and salt. Blend and make the spice blend. 
Make sure you boil the dried white peas and stay whole, and not mushy. Cook them exactly as per the instructions. 
You can tone down the spice by adding less chili powder.
Don't forget to squeeze some lemon juice after serving for the delicious kick!!
Nutrition
Serving:
1
Serving
|
Calories:
185
kcal
|
Carbohydrates:
13
g
|
Protein:
4
g
|
Fat:
15
g
|
Saturated Fat:
2
g
|
Polyunsaturated Fat:
5
g
|
Monounsaturated Fat:
7
g
|
Sodium:
1291
mg
|
Potassium:
553
mg
|
Fiber:
4
g
|
Sugar:
4
g
|
Vitamin A:
6187
IU
|
Vitamin C:
90
mg
|
Calcium:
108
mg
|
Iron:
3
mg
Latest Recipes On The Blog