Indian Dahi is a creamy thick and luscious yogurt made with just two ingredients milk and yogurt starter. Every Indian household traditionally makes Dahi at home. Believe it or not, during summers my mom makes yogurt at home every afternoon. Yes, it is that simple.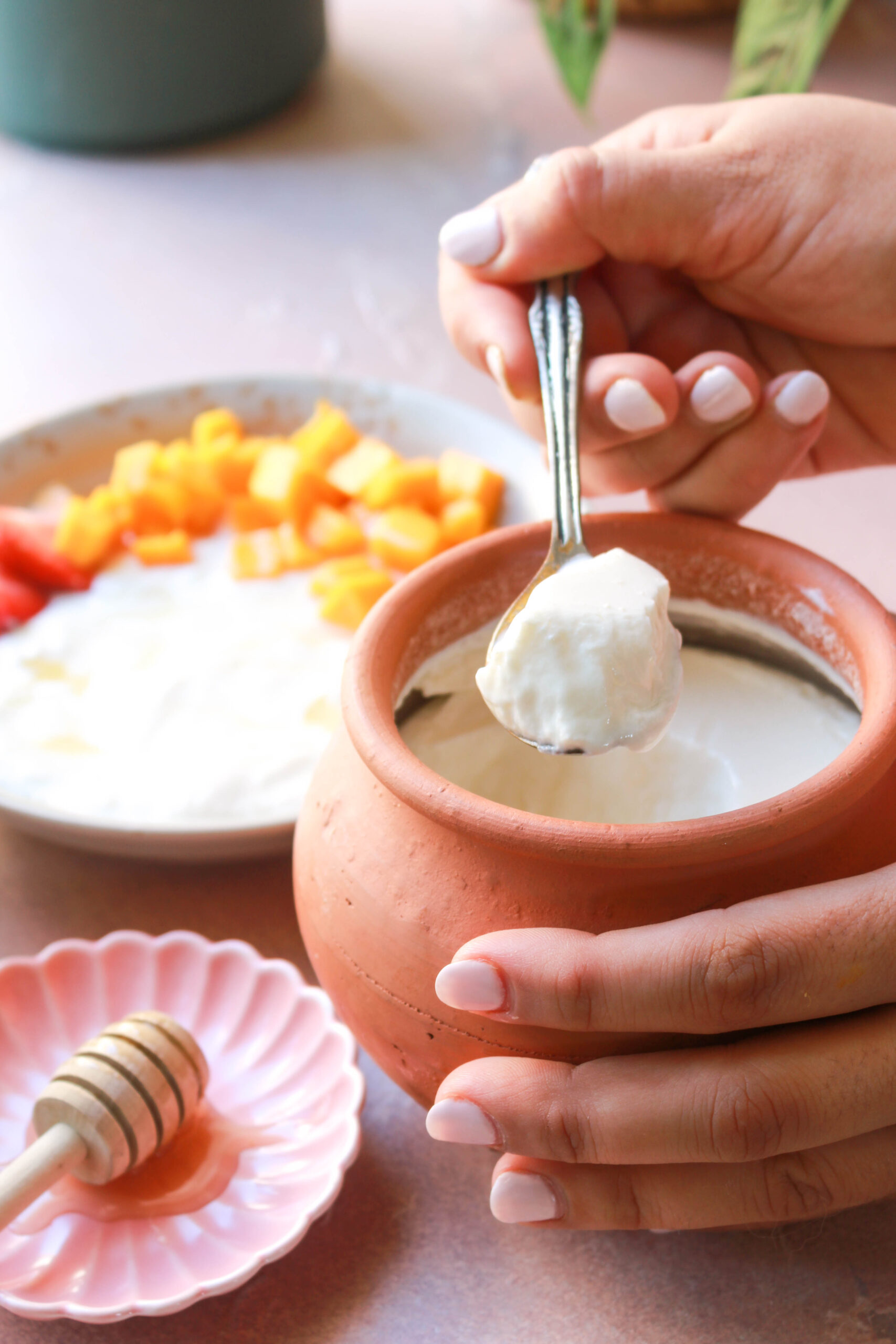 Making dahi can seem to be daunting, but trust me it is not. There are three main factors that make perfect curd. They are milk, yogurt starter, and the weather. My grandma makes prefers only eating homemade curd. We either make Dahi in stainless steel bowls or seasoned earthen pots.
In summers especially, my family makes Dahi using earthen pots as they have innumerable benefits to keep our bodies cool and protect from heat strokes.
What is Dahi?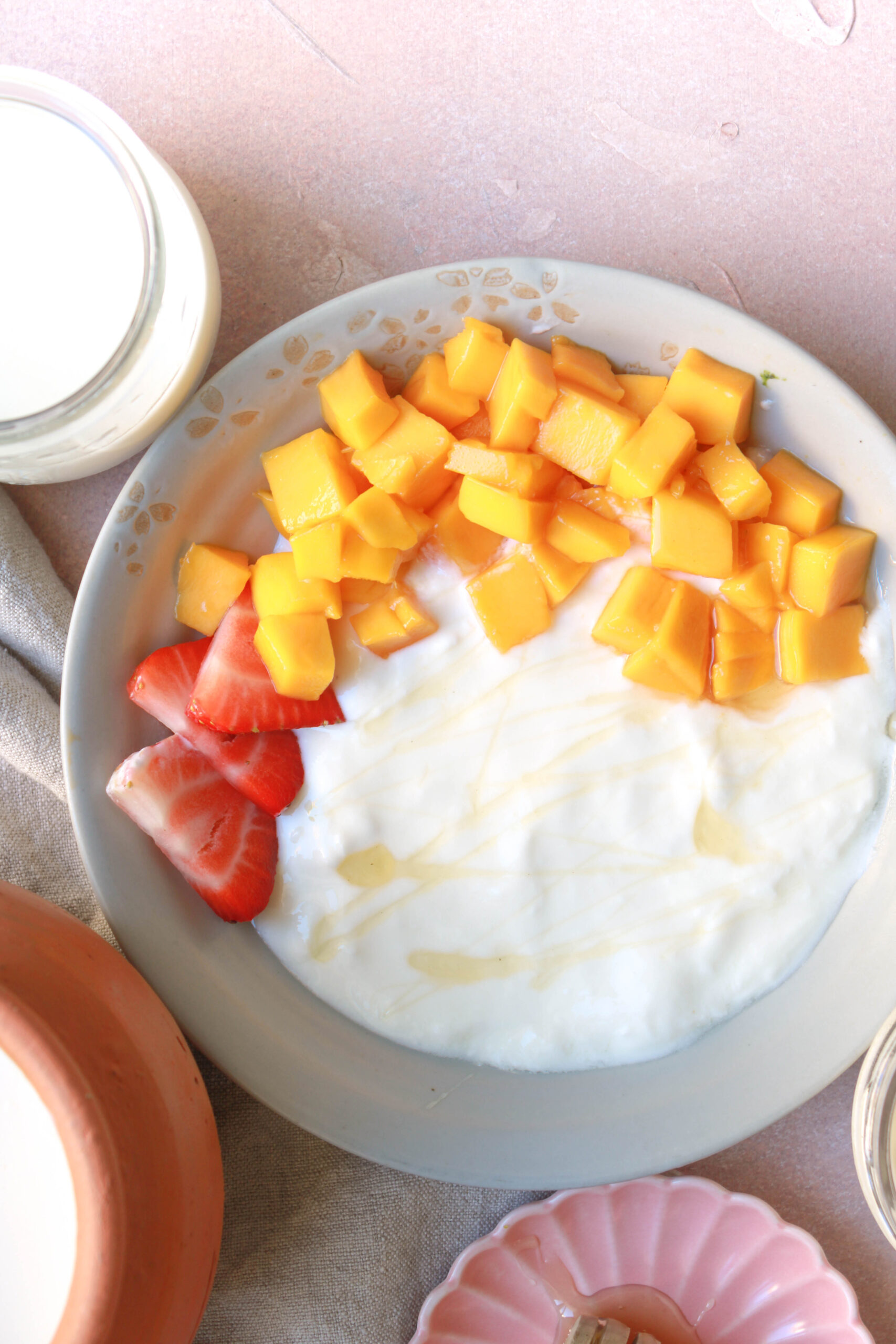 Dahi and yogurt are two different things. Indian dahi is not processed. It is simply made with just two ingredients milk and yogurt starter. The milk is boiled at 180F and later cooled or in some cultures frothed. The milk should be between 115F to 120F when you mix in the yogurt starter. After mixing the yogurt starter, cover the dahi and let it set in a warm place for 5-8 hours. You will see that your curd will be set. I usually prefer refrigerating it for at least 2 hours before serving.
What is a Yogurt Starter?
A yogurt starter is nothing but leftover dahi from the previous batch. But don't worry if you are making it for the first time, and don't have a yogurt starter. If you have friends or family who make yogurt at home, you can ask them to give you a spoonful of curd. Or Indian store full-fat plain dahi works well too.
You can also use greek yogurt for yogurt starter but, that will end up in a very slimy yogurt, which is very different than Indian Dahi.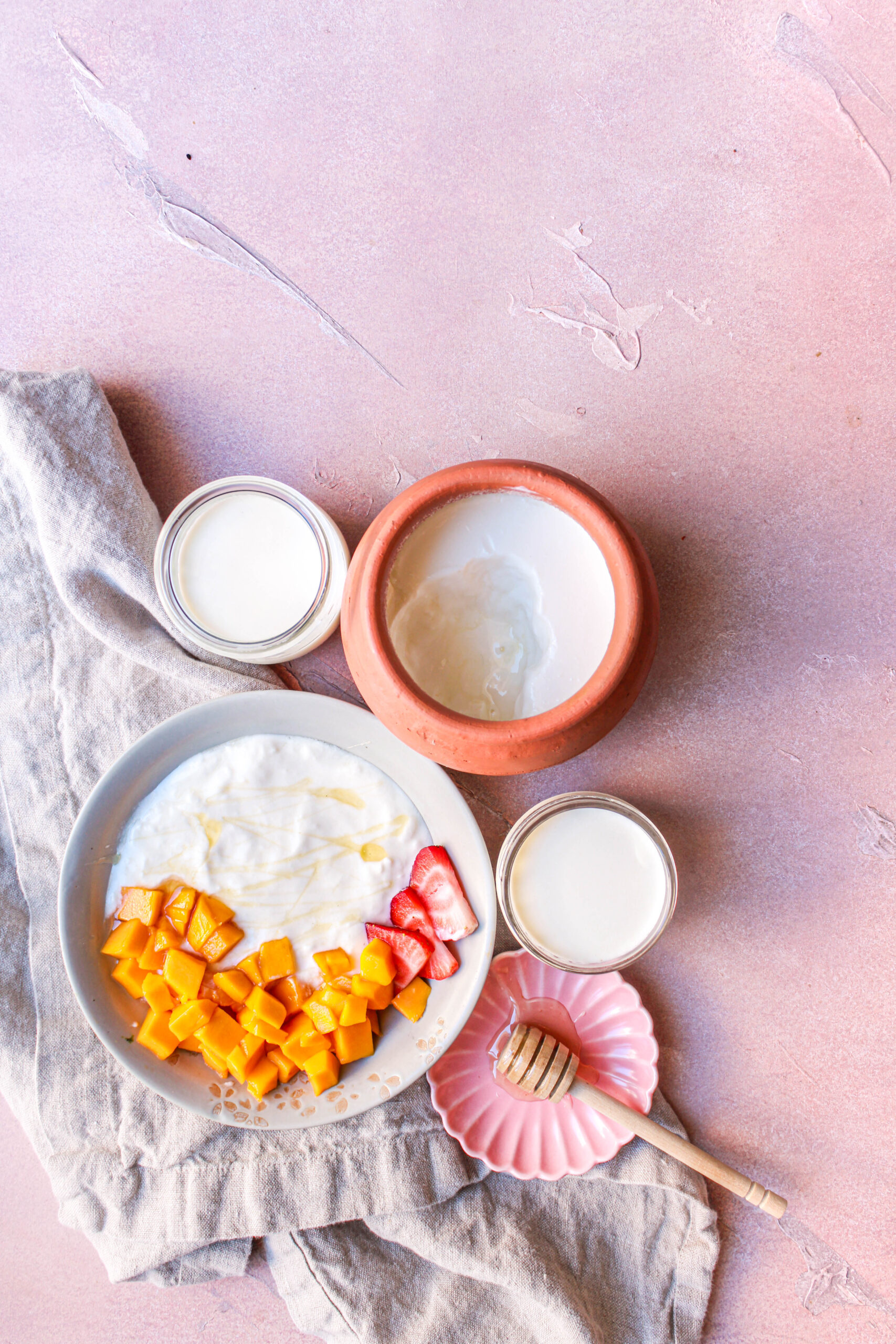 Tips to Make Indian Curd
Use full-fat milk to get the best creamiest yogurt at home. If you don't prefer full fat, you can use 2% milk. It works just fine.
Making dahi depends on three important factors. Milk, Yogurt Starter, and Season to set the yogurt.
I advise you to use a yogurt starter that is 2-3 days old. If you are using store-bought yogurt, be sure to use it when it's fresh and not nearing the expiry date.
Yogurt starter has bacteria that love warm temperatures. In the summers you need as little as 1 tsp of yogurt starter, while in winter you will need a full tablespoon of yogurt starter.
Setting time depends on the season as well. In summers the yogurt takes lesser time to set, mostly about 5 hours. In winter, it might take you up to 8 hours.
If you prefer to have a frothy layer on the top, you will have to froth the milk. This also helps in cooling the milk down after boiling.
Transferring milk from one bowl to another, back and forth a couple of times will create froth in the milk, which will give a frothy layer on the top of your yogurt.
Recipes You Might Like
Equipment

Heavy Bottom Pot

Stainless Steel Bowl

Whisk

Ingredients

4

Cups

Full Fat Milk

1

Tbsp

Yogurt Starter

Instructions

In a heavy bottom pot add a little splash of water. This will prevent milk from sticking to the pot.

Bring the milk to one full boil. Take it off the heat. The milk will be about 180F.

Let the dahi come between 115F-120F. This means just warm enough to stick your finger in the milk. Froth the milk at this stage if you like a frothy layer on top. Read the tips to do this.

Whisk the yogurt starter smooth. Add to the milk once it is warm enough to dip your finger in the milk.

Mix it well. Transfer it in desired stainless steel or glass bowl. Cover and let it set for 5-8 hours in a warm place.

I use clay pot to set my dahi, but you will have to season it. This means that you soak the clay pot in water overnight. The next morning you let it dry completely in the sun. Once dried, add oil and heat it on a high flame. Once cool, your clay pot is ready to use.

Tried this recipe?

Let Us Know How it Was!! Tag us @thewhiskaddict, use #thewhiskaddict or leave a comment

Tomato Chutney | South Indian Tomato Chutney Recipe(Opens in a new browser tab)

Homemade Cajun Spice Seasoning | Cajun Spice Mix Recipe(Opens in a new browser tab)

Lasaniya Bateta(Opens in a new browser tab)

Thandai Masala | Thandai Powder Recipe(Opens in a new browser tab)