I definitely wanted to start with sharing my easiest enchiladas recipe, which literally gets ready in a jiffy. Now, this is a very semi-homemade recipe. And the reason why it is so easy to put together and so delicious!!!
The vegetarian Refried Beans Enchiladas are one of our absolute favorites, especially when I am running low on groceries. I always have a few staples in my pantry and canned beans and a few sauces are one of the main things I always keep in stock.
What are Enchiladas?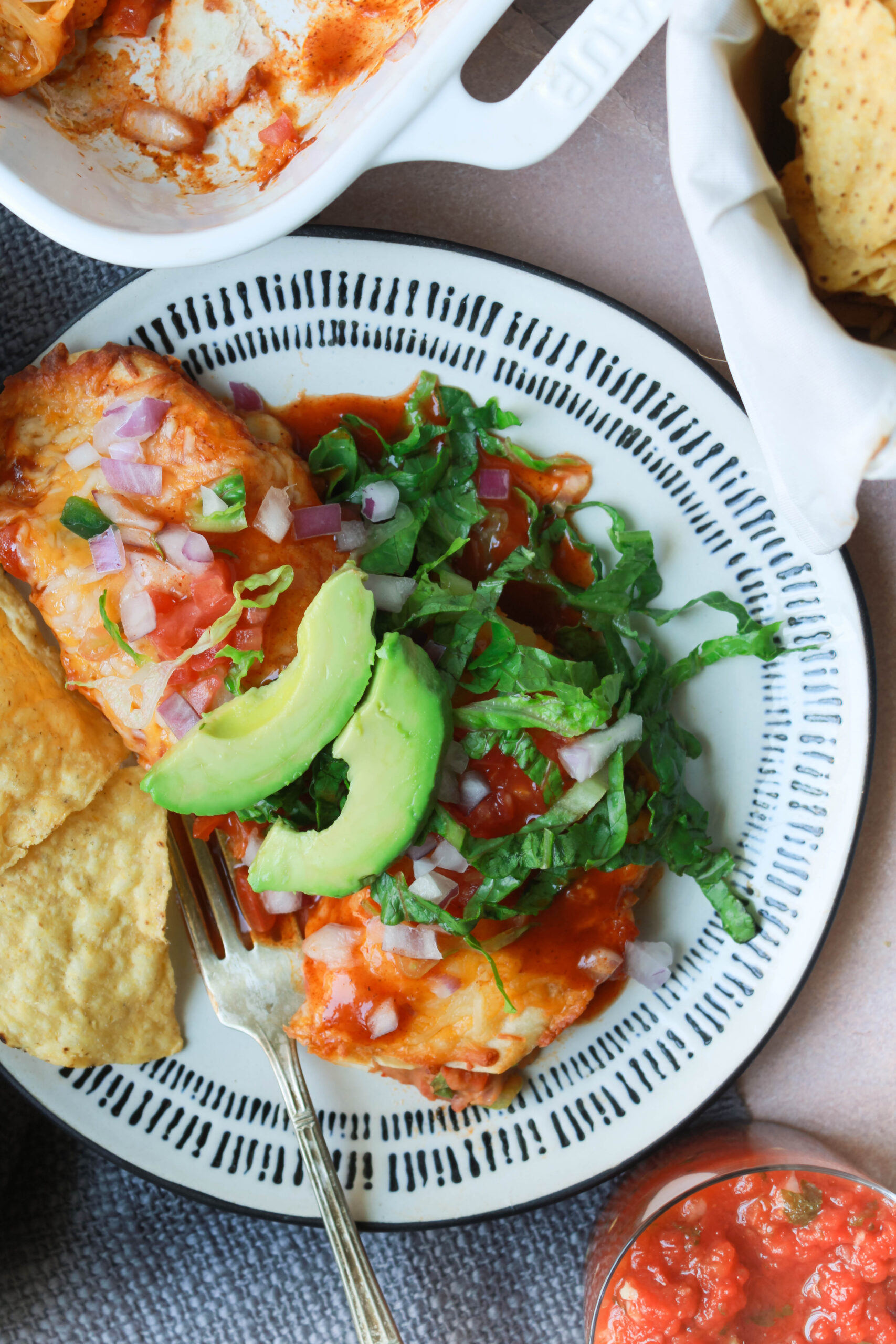 Enchiladas are tortillas filled with protein filling rolled and covered in a savory sauce with some cheese. I like a lot of cheese so I go a little overboard with it. This Mexican dish is traditionally prepared with meat filling. But, we will be making these vegetarian, with refried bean filling.
How do we make Refried Beans Filling?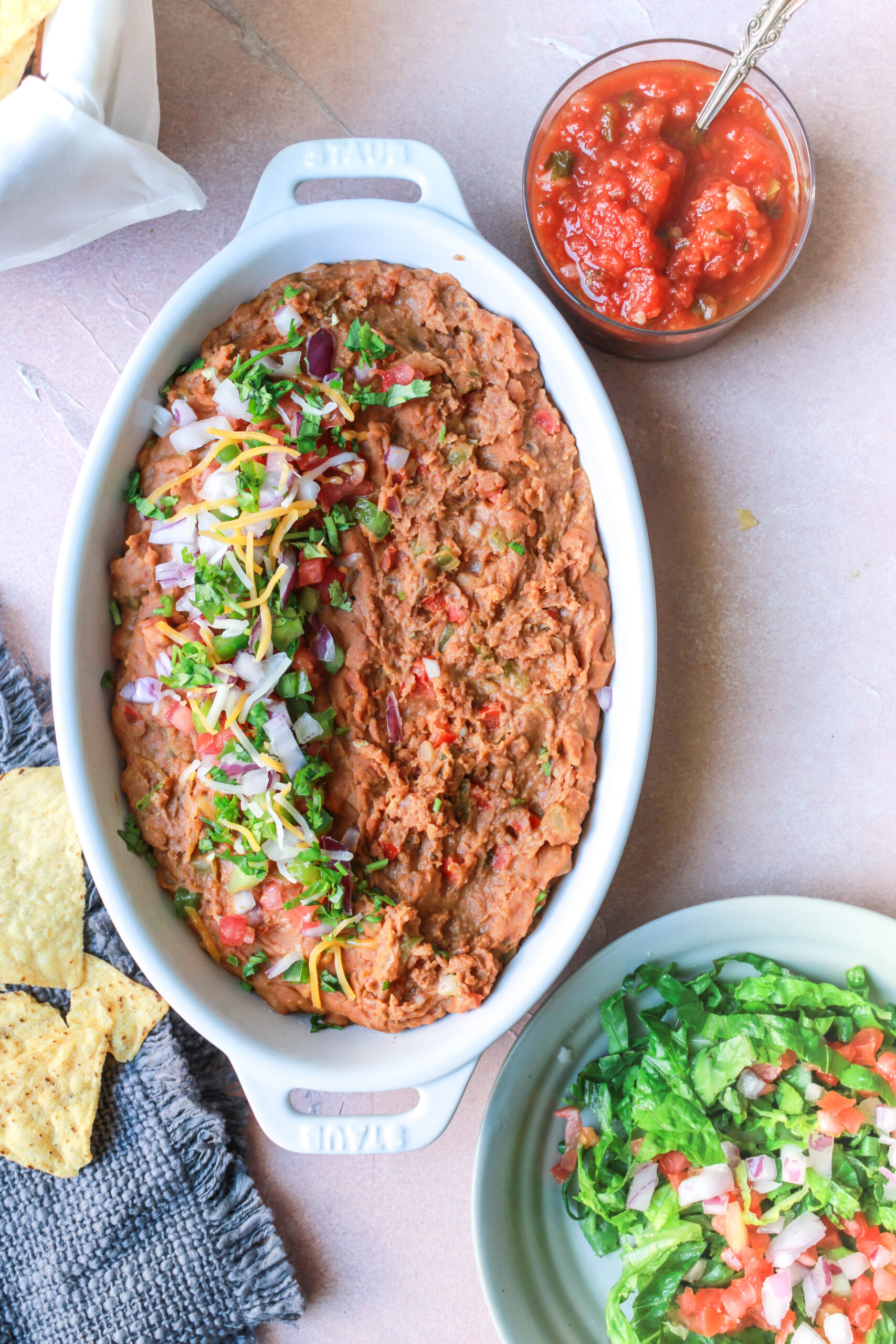 I have already shared my easy peezy refried beans recipe, that I use for these enchiladas too. It has robust flavors and is so amazing. I like to use the canned refried beans to get a head start for this recipe. I refry the beans with garlic, onion, jalepenos, peppers and spices. But, my secret ingredients are cream cheese and salsa that adds the ultimate creaminess and kick to our refried beans. I promise you will love it!!
Linking Refried Beans Recipe Here.
Other Recipes You Might Like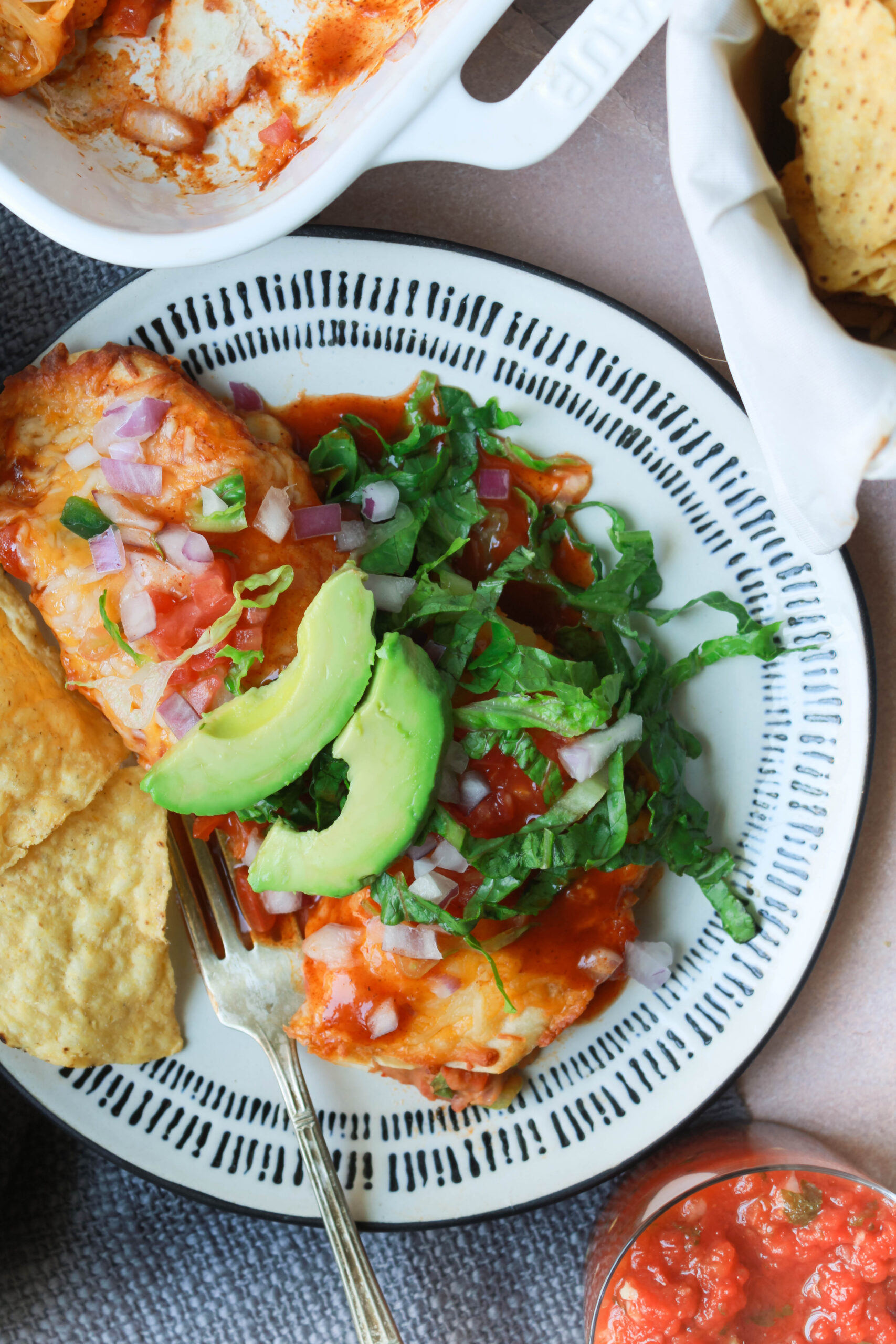 Ingredients
For Refried Beans Filling
1

Tbsp

Avocado Oil

1/2

Tsp

Cumin seeds

1/2

Cup

Finely Diced Onions

2

Tbsp

Minced Garlic

1

Tbsp

Diced Jalepenos

1/2

Cup

Diced Green Bell Pepper

1/2

Cup

Diced Red Bell Pepper

1

Tsp

Salt

1

Tsp

Red Chili Powder

1

Tsp

Dhanajeeru (Coriander-Cumin Powder)

1

Tsp

Taco Seasoning

I get mine from Trader Joe's

2

16 oz Cans

Vegetarian Refried Beans

I use Rosarita's Vegetarian Refried Beans

2

Tbsp

Whipped Cream Cheese

I use Philadelphia Whipped Original Cream Cheese

2

Tbsp

Salsa

I use Casa Sanchez Medium salsa Roja

1/2

Cup

Blend Of Mexican Cheese
For Enchiladas
6

Your Choice of Tortillas (Soft Taco size)

Prefrebaly Corn or Flour Tortilla

Refried Bean Filling

1

Can

Enchilada Sauce

If you like smokey red chili flavored enchilada sauce, Rosarita is amazing. If you like a little tomato red chili base, you can add canned tomato sauce to the rosarita's vegeterian enchilada sauce, or try Signature brand from Safeway Red Enchilada Sauce.

1 and Half

Cups

Mexican Cheese
Toppings
Avocado

Lettuce

More Enchilada Sauce

Sour Cream

Onions

Tomatoes

Jalepenos
Instructions
Make the beans filing
Open 2 cans of refried beans and place them in a bow. Give it a mix.

Place a Heavy Bottom Pan on Medium Flame.

Once hot, add oil. Add cumin seeds and let them splutter.

Next add in Onions, garlic and jalepenos. Cook them until onion softens.

Next add in the bell peppers. Add salt and seasonings with it next.

Mix everything well and cook for a minute.

Now add the refried beans and give everything a mix.

Next goes in whipped cream cheese and salsa along with blend of mexican cheese. Mix until well combined, let it cool down completely.

The beans filling will thicken as it cools.
Preheat the oven at 350 F
open the canned enchilada sauce

Take a 10 inch casserole dish

Add 3 tbsp's of this enchilada sauce and spread it in your casserole dish evenly.

Now take a tortilla, and add 2-3 tbsp's of bean filling and roll it into a roll. Place it in your baking dish.

Keep doing this until you have about 6-8 rolls of tortillas filled with bean filling.

Add about 1/2 cup of enchilada sauce evenly over the enchiladas.

Add Mexican cheese on top evenly.

Bake at 350 F for 20 mins.
Serve
Serve the Enchiladas hot with more Enchilada Sauce on top

And choice of your toppings. My favorites are lettuce, tomatoes, onions, avocados and sour cream.
Notes
For a detailed Refried Beans Recipe and how to make them from scratch, head to the refried beans recipe linked in this blog. 
I will be sharing other varieties of filling for vegetarian enchiladas soon, and also my recipe for my Enchilada Sauce.
You can swap refried beans for kidney beans, black beans, and cannellini beans. They will all taste delicious.
 
Tried this recipe?
Let Us Know How it Was!! Tag us @thewhiskaddict, use #thewhiskaddict or leave a comment