Methi na Gota has always been an emotion for my family. A favorite of all of us, our travel stories always started with these delicious deep-fried delicacies famous on the streets of Gujarat. As simple as the name is, these delicious Gujarati Bhajiyas will win your heart. They are made with simple ingredients and fresh fenugreek leaves aka Methi.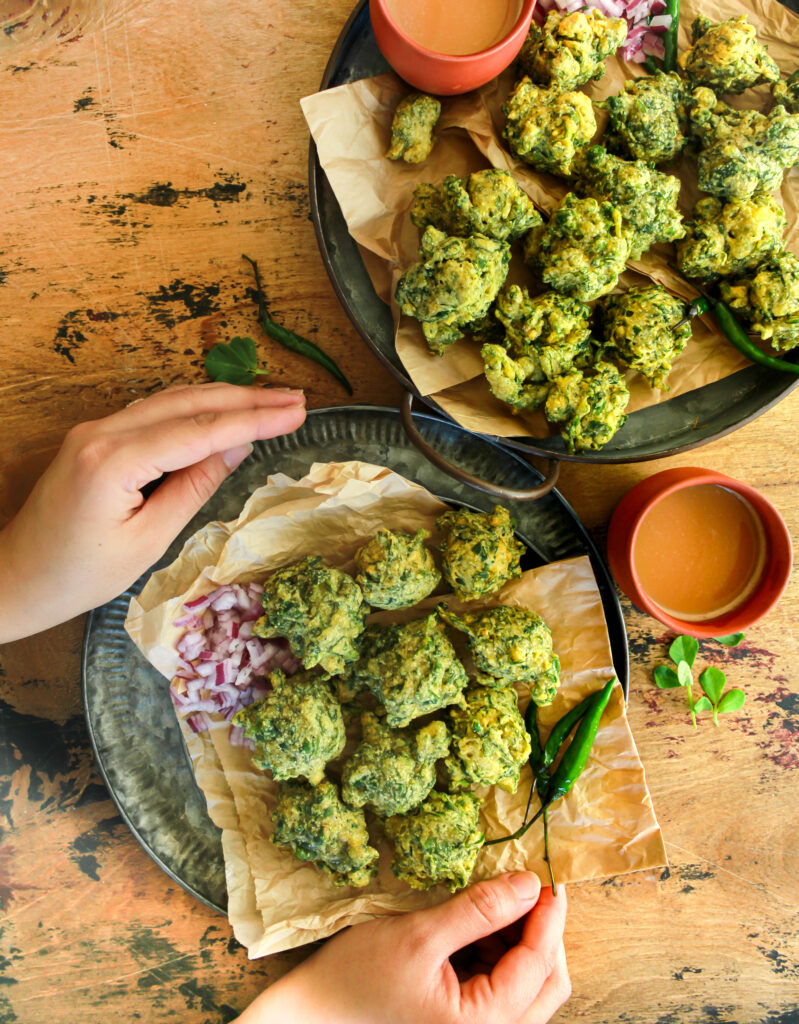 When was the last time you truly felt joy out in what you do? I often find myself questioning this. And every single time, when I cook something that is deeply rooted in my culture, I feel that joy. To write this recipe for you brings me joy. These Methi Na Gota are known for their soft texture and that hint of bitterness from the methi. This recipe is an adaptation from my kaki's recipe.
What is Methi na Gota?
Methi na Gota is a popular snack on the streets of Gujarat. It is made from Besan (chickpea flour), black pepper, crushed coriander seeds, methi, salt, and eno. These are super easy to make. They are soft on the inside and a little crispy on the outside.
What is Eno?
Eno is a fruit salt, that is a combination of baking soda, citric acid, and salt. This helps the batter to become fluffy which gives a beautiful texture to these Bhajiyas. Use fresh eno or the one that is within its shelf life. It is a leavening agent we are using for this recipe, so it is important that it is active,
Are these Vegan?
Yes, they are. we use all vegan ingredients to make these bhajias, and make them with all ingredients we have at home
Let's Jump to the Recipe Right Away!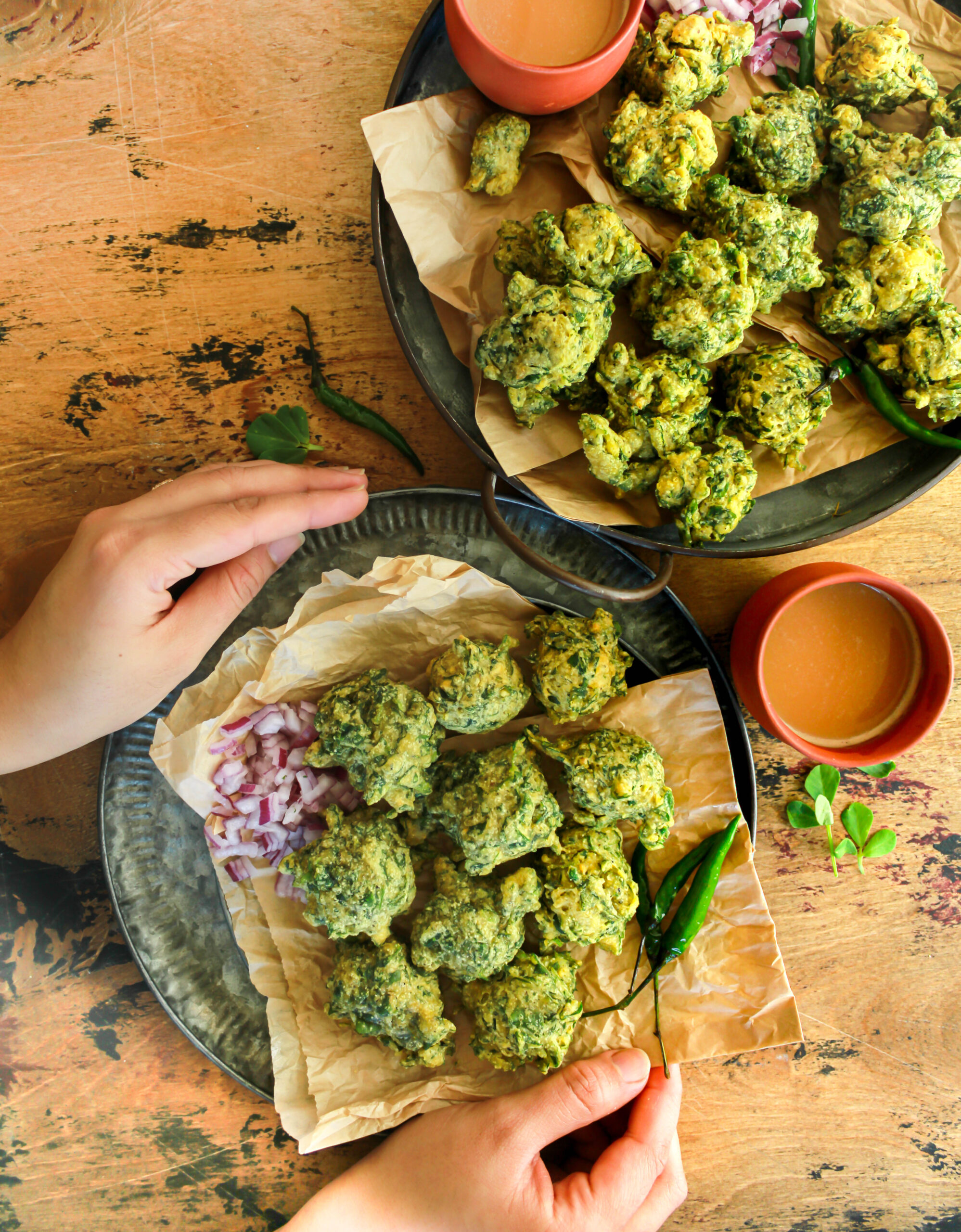 Ingredients
1

Cup

Besan

1

Tsp

Crushed Black Pepper

1

Tsp

Lightly Pounded Coriander Seeds

1

Tsp

Salt

1

Tsp

Sugar

optional

2

Cups

Fresh Methi

2

Thai Green Chilies

Chopped

2

Tbsp

Rava

1/3

Cup

Water to make the Batter

1/2

Tsp

Baking Soda

1/2

Tsp

Eno

Oil for Frying
Instructions
Wash rinse and roughly chop the methi before starting to make these gota.

Pour oil in a heavy bottom deep frying pan and start it on a medium flame.

Start with adding Besan to a bowl.

Then add in the crushed black pepper, lightly pounded coriander seeds,Rava, salt and Sugar

Add in your Methi Leaves and give it a mix with your hand by adding little water at a time, and forming a thick batter.

Now add the pinch of baking soda, eno and activate it with 1 tbsp hot oil from the frying pan. Mix it, and you will notice your batter gets fluffy.

Test little batter, in the frying pan, if it comes up right away, that means your oil is hot enough and ready.

Start to add dollops of batter with your hand or using a spoon.

You want to fill the pot with the the gota's. They will fluff up and come on the surface on their own.

Give it a minute and turn and cook them for another 30-45 seconds.

Enjoy with chai and your favorite chutneys.
Notes
You don't want to let the batter rest after adding eno, so make sure you make all the gotas right away. 
If you want to store the batter, add salt, baking soda, and eno, as and when you want to use the batter. 
I don't add turmeric to my Methi na Gota as they turn red. Turmeric reacts with both baking soda and eno, and gives red coloring. 
Tried this recipe?
Let Us Know How it Was!! Tag us @thewhiskaddict, use #thewhiskaddict or leave a comment
Sabudana Vada | Sabudana Na Vada(Opens in a new browser tab)
Tomato Chutney | South Indian Tomato Chutney Recipe(Opens in a new browser tab)
Easy Weekly Veg Biryani with Freshly Pounded Biryani Masala(Opens in a new browser tab)
Lachko Dal | Mag ni Dal(Opens in a new browser tab)
Gujarati Kadhi | Kadhi(Opens in a new browser tab)
10 minutes Instant Pot Date and Tamarind Chutney | Khajur Amli ni Chutney(Opens in a new browser tab)