Sabudana Vada is a very popular recipe that originated from Maharashtrian Cuisine. I learnt to make Sabudana Vadas from my mom. My mom's recipe is very simple and is perfect every time you make it. This recipe of Sabudana na Vada is made in a Satvik way, so it can be eaten on fasting days, and offered to God.
What is Sabudana?
Sabudana also commonly known as Sago are beautiful white pearls, which are naturally gluten-free. These are also known as tapioca pearls in English. Sabudana's are widely used in the Maharashtrian cuisine of India. They prepare beautiful delicacies like Thalipeeth, Sabudana Kheer, Sabudana Khichdi and Sabudana Vada to name a few.
Tapioca Pearls are very high in starch and carb content, which helps you to be full for a longer time. Hence, they are more commonly used in fasting recipes. Nowadays Tapioca Pearls have gained a lot of popularity in International Cuisines, because of it being naturally Gluten-Free and higher starch content.
What are Sabudana na Vadas?
Sabudana na Vadas are easy and super delicious. This fried delicacy is made with boiled potatoes, crushed peanuts, tapioca pearls (Sabudana), ginger, green chillies, salt, sugar and lime juice. The sago (sabudana) are soaked overnight, fluff them and then mixed with all the ingredients. We then make beautiful patties out of them, and deep fry them. Fried to perfection, the gorgeous golden beauties never fail to please.
Step by Step Recipe
Add Sabudana to a bowl. Make sure you use fresh sabudana. If you use very old, they might turn out mushy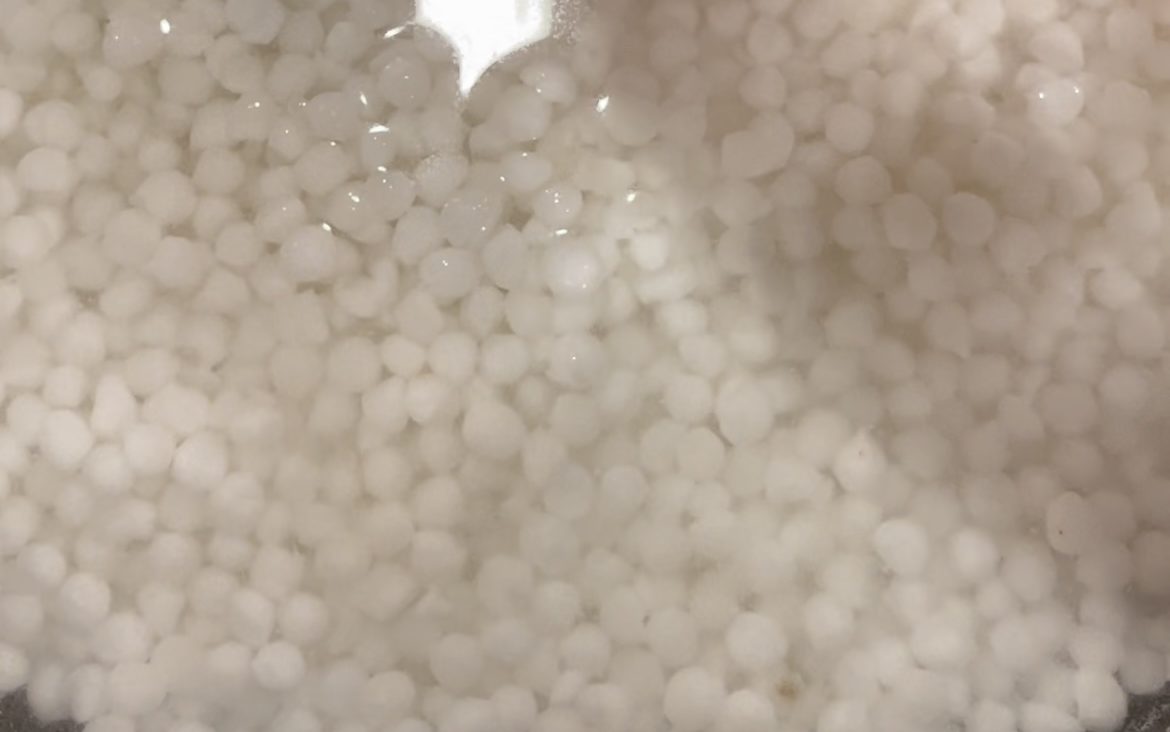 2. Wash and rinse the sabudana until you get clear water. We will soak them overnight to fluff them. These are soaked a little differently than Sabudana Khichdi. The Tapioca Pearls need to fluff right and should be perfectly fluffed and dry in the morning.
3. The correct measurement to add water is using your finger. Place your finger in the bowl. Add water till the first line on your finger. Your sabudana's will be perfectly fluffed and you won't have to spend time drying them before making the vadas.
4. In a bowl add boiled potatoes. I pressure cook the who potatoes for 4 whistles. Mash the potatoes using a potato masher.

5. Now, add the fluffed sabudana's to the mashed potatoes.
6.Next goes in all the aromatics, spices and peanuts. along with lime juice.
7. Mix it all thoroughly and add fresh roughly chopped cilantro.

8. Rub oil between your palms and start making the vadas. Fry the vadas on medium high heat until golden and crisp on the outside.
Ingredients
2

Cups

Sabudana

Soak Overnight

4

Medium

Boiled Potatoes

4

Tbsps

Ginger and Green Chili Paste

2/3

Cup

Crushed Peanuts

Roast the peanuts and then crush them using a high powered blender

2

Tsp's

Kashmiri Red Chili Powder

Salt to taste

I add about 2 Tsp's of Salt.

1

Tbsp

Lime Juice

1/3

Cup

Roughly Chopped Cilantro

Vegetable Oil for Frying
Instructions
Soak the Sabudana
Add 2 Cups of Sabudana in a bowl.

Wash the sabudana until the water is clear, in the same way how we wash rice. You will have to do this 3-4 times, to make sure Sabudana is washed properly. Drain all the water.

Place the tip of your index finger on the sabudana and start to add water until it reaches the first line on your index finger. Refer to the picture here.

Soak it overnight. Your Sabudana's will be beautifully fluffed in the morning.
Boil The Potatoes and Prep The Sabudanas after Soaking
Boil 4 medium sized potaoes using a pressure cooker. I boil whole Golden potaoes, for 4 whistles and let the pressure release naturally.

Fluff the Sabudana's after 8 hours with a form. Tranfer them to a strainer and place it over the bowl. This will ensure there is no water in our Sabudana and they are completely dry before adding it with the potatoes to make the vadas.
For the Vadas
Add the peeled boiled potatoes to a bowl. Mash them using a potato masher.

Next add in the fluffed Sabudanas.

Now add the ginger and green chili paste, Kashmiri Red Chili Powder, Crushed Peanuts and Salt and Lime Juice

Give everything a good mix. Taste it to make sure all the masalo tastes good. Add extra salt if you need to. Make sure you can taste all the ingredients distinctly. Adjust the spices and aromatics according to your taste.

Lastly, add the cilantro and give it a final mix.

Put the vegatable oil for heating up.

While the oil is heating up, we will start to make the patties.

Rub oil in your palms, and start making patties with your hands. Make equal sized roundels of the mixture and press lightly between your palms to give a perfect shape.

You can make any size you prefer to. Just make sure they are qually sized, so they fry evenly.

Fry these vadas on medium high heat until golden crisp on the outside.

Serve hot with masala chai, green chutney and ketchup
Notes
Make sure to not use very old Sabudanas. Sometimes they mulch when soaked for 8 hours. 
Soak the sabudanas in the water as shown above. 
The masala for the vada should taste distinctively before frying. As Sabudana's and potatoes are bland, you need to jazz things up with the spices you add. so giving a taste test is important. 
You can also add a tiny bit of sugar to the vada mix. 
If you want to make it healthier, you can use 2-3 sweet potatoes instead of potatoes. Add the Sweet Potatoes to a heavy bottom pot when water comes to a boil. Boil until fork-tender. 
Tried this recipe?
Let Us Know How it Was!! Tag us @thewhiskaddict, use #thewhiskaddict or leave a comment
Gujarati Zucchini Muthia Recipe | Step by Step Zucchini Muthia(Opens in a new browser tab)
Handvo Recipe | How to Make Gujarati Handvo(Opens in a new browser tab)
Instant Thandai Recipe | Vegan Thandai Recipe Option(Opens in a new browser tab)
Cabbage Peas nu Shaak | Aloo Patta Gobi Recipe(Opens in a new browser tab)