Black Chickpeas Falafel is a beautiful recipe that is easy to make, delicious and herby. This makes them so delectable and they are air fried. These are perfect to make for snacks or a quick lunch.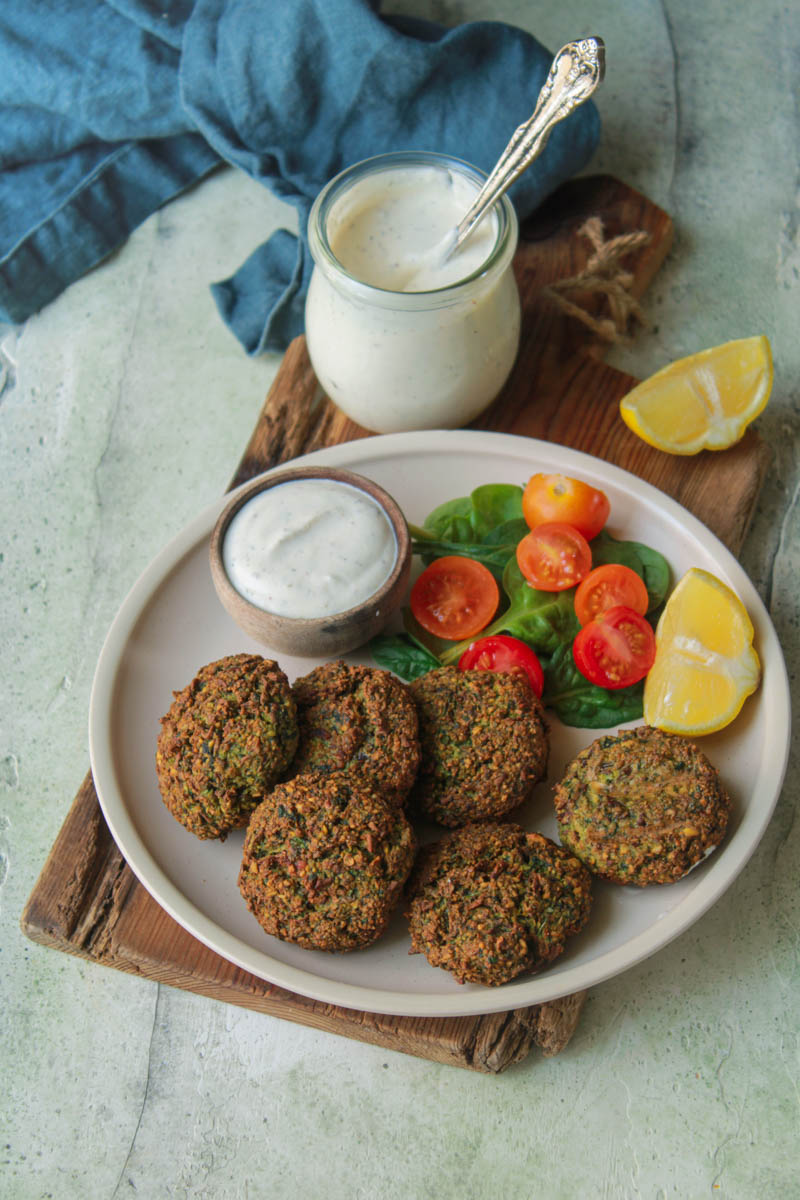 What are Falafels?
Falafels are very delicious Mediterranean fast food. These are made with chickpeas, herbs, and a few spices that are rolled into balls or patties and deep-fried. These continue to be a daily grub in Egypt on the streets! To say they are delicious is definitely an understatement.
These are served stuffed in warm pita bread with sauces. You can also serve them along with hummus, easy sour cream sauce, tahini sauce, or make yourself a mezze platter! They also taste great in salads and are a great way to add protein to your salads.
Why You Should Try This Recipe!
I am using black chickpeas while the traditional recipe uses white chickpeas. Both chickpeas have their own share of nutrients so we should incorporate both kinds into our diet. Making these falafels, with black chickpeas, gives us an opportunity to start incorporating black chickpeas into our diet.
This recipe is loaded with cilantro, mint, and spinach! They are deliciously crispy on the outside, and beautifully moreish on the inside. All in all, this is a pantry staple recipe and super easy to make. Thank you, Air Fryer! It makes the job easy and less messy.
I think I have given you all the reasons why this recipe is a must-try for you!
Expert Tips to Make Falafel Recipe
Soak The Chickpeas - So here's what you need to do. Remember to soak the kala chana for at least 10 -12 hours. If so, you can soak them for up to 24 hours. This ensures that your chickpeas are soaked well as we don't boil them for this recipe.
Dry the Soaked Chickpeas - The next best thing you want to do is, drain your soaked chickpeas and towel dry them. This will make sure that your fritter mix is not too wet. This will help you shape the fritter mix into balls or patties.
Use Herbs and Aromatics - Add parsley, cilantro, mint, dill, etc. The world is your oyster. I also add spinach for that added nutrition. Onions, garlic and green chilies are here to work the magic in this recipe. Yes, I am a mom now, and stuffing nutrition in every meal my child eats is legit the only thing I think about.
Make the Batter - Use a food processor to make this fritter mix and pulse until a smooth batter is formed.
Refrigerate the Batter - Refrigerate the batter for at least 30 mins to an hour. This will make sure you can form the falafel balls or patties easily.
Baking Powder - Don't skip adding the baking powder, I use aluminum-free baking powder. This will act as a rising agent, which will make the falafels airy and fluffy inside.
More Recipes on The Blog
Jump To: Recipe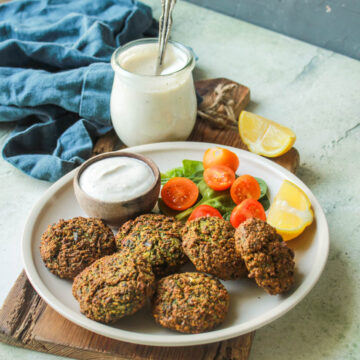 Black Chickpeas Falafel | Air Fryer Recipe
Black Chickpeas Falafal recipe is a delicious falafel recipe that is healthy and herby, and super flavorful!
Print
Pin
Rate
Ingredients
1.5

Cups

Black Chickpeas

1

Cup

Cilantro Leaves and Stems

1/2

Cup

Mint Leaves

1

Cup

Spinach

5-6

Cloves

Garlic

1

Medium

Onion

Roughly Chopped

2

Thai Green Chilies

1.5

Tsp

Salt

1

Tsp

Black Pepper

1/4

Cup

Chickpea Flour (Besan)

1

Tsp

Baking Powder
Instructions
Soak the Black Chickpeas for atleast 10-12 hours.

Drain the chickpeas and place them on a clean kitchen towel to air dry them for a few minutes, while you prep your herbs and aromatics.

Now add the black chickpeas to a food processor. Add spinach, cilantro, mint, and any other herbs you have on hand. You can use parsley if you don't like cilantro. I just had cilantro on hand, so I am using it in the recipe.

Next goes in the aromatics, and spices. So add garlic, green chilies, onion, salt and black pepper. Now you can also add a tsp of cumin powder and coriander powder. I personally like the refreshing taste of herbs, and not like to over pwoer them by adding a ton of spices.

Pulse until you get a smooth batter bis formed.

Now refrigerate the batter for atleast an hour.

Preheat the air fryer for 2 mins at 350F.

Add besan (chickpea flour) and baking powder and mix.

Now start making the patties, so take a cookie scoop and make small patties.

Lay the prepared patties on a baking tray.

Once the Air Fryer is preheated, spray cooking oil/ lay a parchment paper carefully as the air fryer basket will be hot

Add 5 -6 falafel patties and brush them with little oil.

Air fry them at 350F for 12 mins.
Bake the Falafels
To bake them, line a cookie tray with parchement paper and preheat the oven at 350F or 180C

Now start making the falafel patties and place them in the prepared cookie sheet.

Brush them with oil, and bake at 350F or 180c for 15-20 mins. Until the crust is golden and crispy.
Notes
This is a naturally vegan recipe. 
Store them in the refrigerator for up to 2-3 days. Reheat them at 350F in an air fryer or oven for 2-3 minutes.
Freeze the falafels for up to 3 months. To freeze them place them in a baking tray lined with parchment paper for 2 hours. Once frozen transfer them to a freezer-safe ziplock or container. Reheat them at 350F in an air fryer or oven for 5-7 minutes.
You can use any beans to make this recipe. The green lentils (green moong dal) batter can easily become soggy so you can add chickpea flour as needed.
If you are making these for your young toddler, you can use boiled chickpeas. 
Don't use canned chickpeas for this recipe. 
Nutrition
Serving:
3
Servings
|
Calories:
53
kcal
|
Carbohydrates:
9
g
|
Protein:
2
g
|
Fat:
1
g
|
Saturated Fat:
0.01
g
|
Polyunsaturated Fat:
0.01
g
|
Monounsaturated Fat:
0.001
g
|
Sodium:
334
mg
|
Potassium:
133
mg
|
Fiber:
1
g
|
Sugar:
0.4
g
|
Vitamin A:
230
IU
|
Vitamin C:
2
mg
|
Calcium:
45
mg
|
Iron:
1
mg
Latest Recipes on The Blog