Cabbage and carrot fritters are so easy to whip for a quick snack or breakfast for yourself or your toddlers. These fritters are pan-fried and so good, packed with fiber.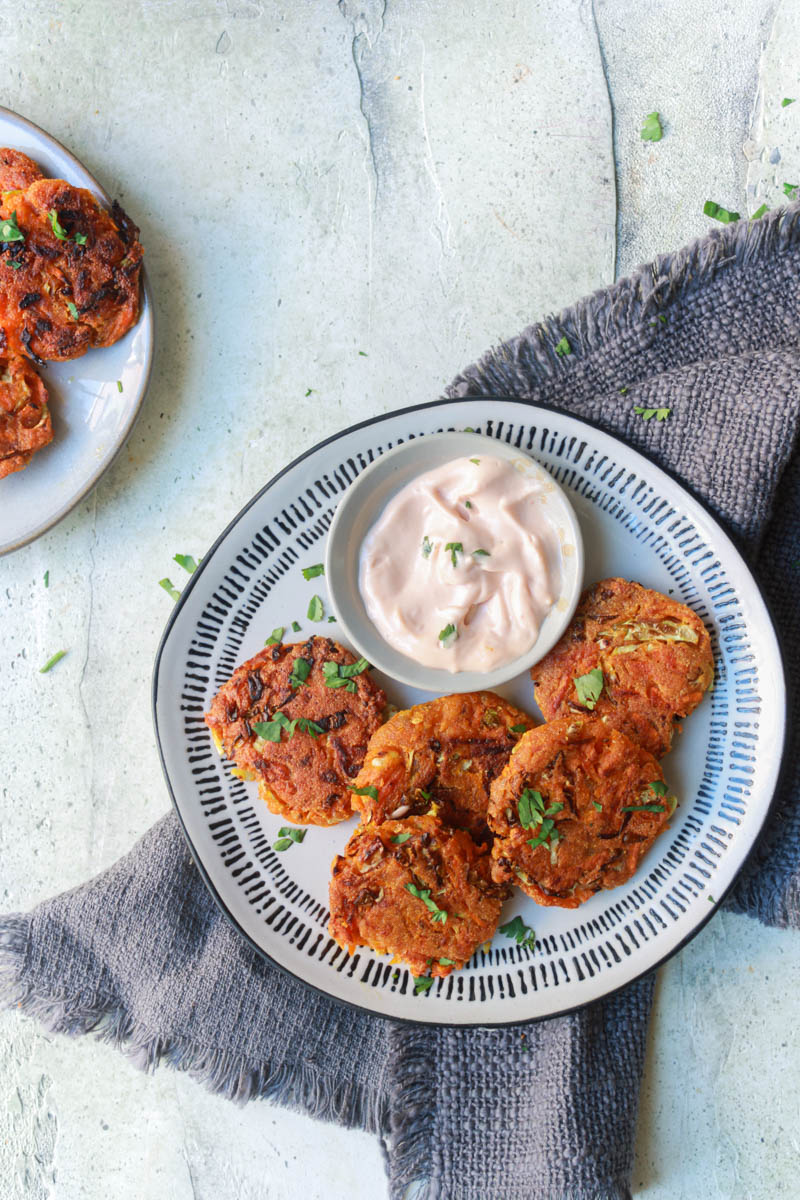 I make these fritters for us very often, be it any season, any time. We enjoy it with a hot cup of masala chai and sometimes with a tall glass of masala coke! They are just so addictive. I cannot rave enough about them.
All you need is cabbage and carrots, along with flour and spices. These get ready in no time.
What are Cabbage and Carrot Fritters?
Mixed vegetable deep-fried fritters are a monsoon delicacy all over India. And they are the inspiration for me to make these fritters. These fritters are crispy, delicious, moreish, and healthy. They are also vegan and can be easily made gluten-free too. You can make these gluten-free by replacing semolina with cornmeal.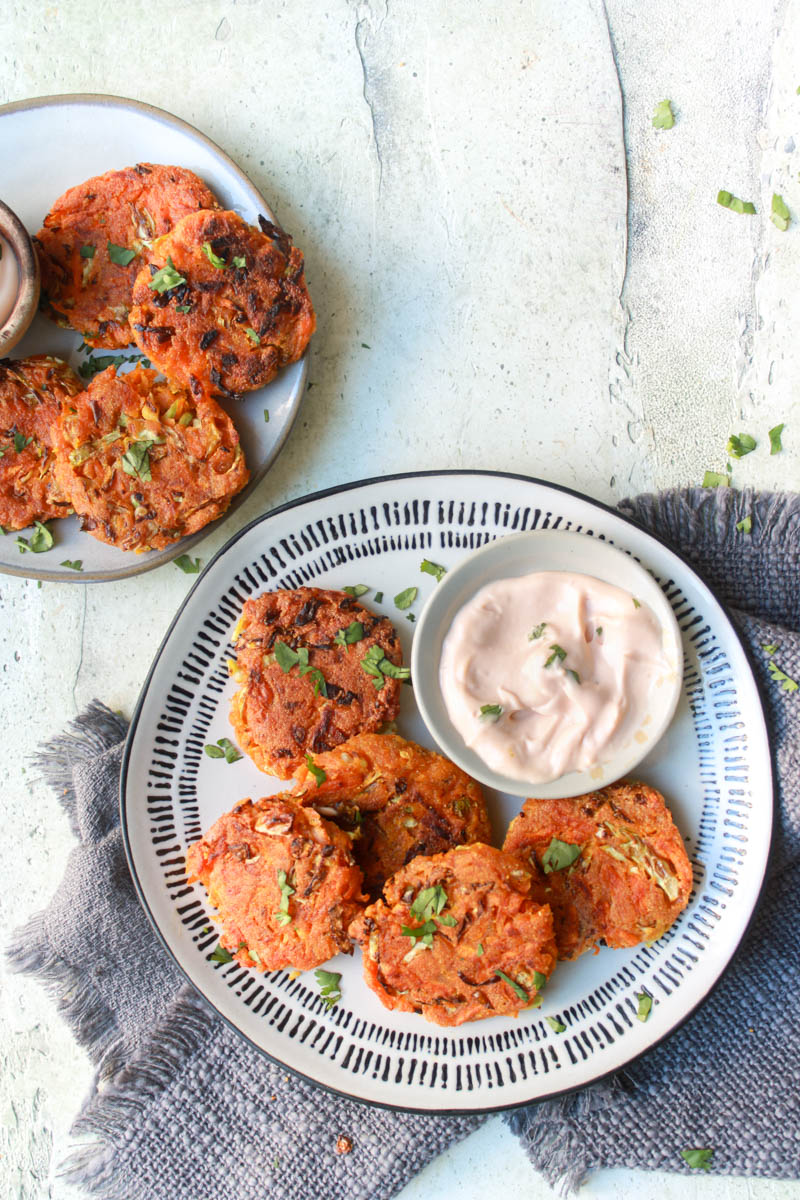 Ingredients to Make Cabbage and Carrot Fritters
The Key Ingredients To make the fritters are some vegetables, flour, and spices. Literally, that's all you need.
Vegetables - I am using cabbage and carrots. But you can use other vegetables like beetroots, spinach, onions, green onions, etc. In total, you need 2 cups of shredded vegetables.
Flours - For flours, I use a combination of Semolina, Chickpea Flour, and Almond Flour. I want to inculcate nutrition with flavor, so working with these flours help me achieve the goal. To make these fritters gluten-free replace semolina with cornmeal.
Spices - For the fritters, I will be using cumin seeds, red chili powder, turmeric, coriander powder, garlic powder, salt, and nutritional yeast. You can totally skip nutritional yeast, I add it for that cheesy undertones and earthiness.
Variations and Substitutions To Make these Fritters
You can make these delicious fritters with vegetables like Onions, Bell Peppers, Zucchinis, or Paneer.
You can skip adding Almond Flour. Add an extra tablespoon of chickpea flour instead.
You can add other spices like nigella seeds, fennel seeds, onion powder to the fritter mix.
More Appetizer Recipes You Might Like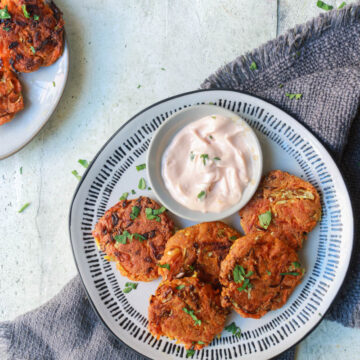 Cabbage and Carrot Fritters
Mixed vegetable deep-fried fritters are a monsoon delicacy all over India. And they are the inspiration for me to make these fritters. These fritters are crispy, delicious, moreish, and healthy. They are also vegan.
Print
Pin
Rate
Ingredients
1

Cup

Carrots

Thickly Shredded

1

Cup

Cabbage

Finely Sliced

2

tbsp

Cilantro

Finely Chopped

1

Thai Green Chili

Finely Chopped

1/4

Cup

Semolina

2

Tbsp

Chickpea Flour

2

Tbsp

Almond Flour

1

Tsp

Cumin Seeds

2

Tsp

Garlic Powder

1

Tsp

Kashmiri Red Chili Powder

1.5

Tsp

Coriander Powder

1/4

Tsp

Turmeric

2

Tsp

Nutritional Yeast

Optional

1

Tsp

Salt

1-2

tbsp

Water

If Needed

5

Tbsp

Oil

For Frying
Instructions
Roast the chickpea flour.
Add 2 tbsp's of chickpea flour to the frying pan on medium low flame. Stir it continuosly and roast for 2 minutes, or until it turns golden brown and smells nutty.

If you have never roasted chickpea flour before, you will notice that in the begining it is hard to stir the chickpea flour, but as it gets roasted the flour lightens and moves around beautifully. This is when you know, that your chickpea flour is roasted.

The key is to roast it on low flame, stirring it continously.

This extra step helps you bring out the nuttiness of the chickpea flour and the fritters won't be sticky in texture.
Make the Fritter Batter
Finely slice the cabbage head and shred the Carrots.

Add the cabbage, carrots, cilantro and green chilies to the mixing bowl bowl.

Next add in the semolina, roasted chickpea flour, and almond flour.

And next add all the spices mentioned in the ingredients list. Mix everything well with your hands. This will help the cabbage and carrots sweat all the water out for us to make the batter.

The batter doesn't have to be runny. It has to be moist enugh, so we can bind everything together.

If your batter isn't binding add a tbsp of water and try bringing everthing together.

Once your batter is ready and binding together.

Take 1.5-2 Tbsp full of batter, roll it between your palms and flatten them. Don't worry if they are not perfectly round.

Shape all the fritters, and set them aside.
Cook The Fritters
Place a frying pan, and add 3 tbsp's oil to the pan on a medium flame.

Once the oil is hot, add fritters to the pan. The key is not to crowd the pan and let them cook evenly for 2 minutes on each side on medium flame. I cooked 4 at a time in a 10inch pan. You can use a bigger frying pan to make more at the same time.

Keep cooking the fritters until you are done.

Serve them hot with whipped yogurt with a drizzle of hot honey and pinch of salt, or mayo mixed with some sriracha.
Notes
The veggies will keep releasing water the more the batter sits, so after the batter is ready, you either want to work fast or place the batter in the refrigerator. 
Replace semolina flour with cornmeal to make these fritters gluten-free. 
If you think your batter is moister then you would like to add some almond flour. 
When you add spices and salt to veggies, the veggies sweat the water. So don't add extra water to the batter until and unless you are unable to bind the batter together. 
Your batter shouldn't be runny. It should be just moist enough just so you can bind it together and make little patties out of it. 
For extra herby flavors, you can add some mint, chives, or dill to the batter as well. 
For cooking these fritters all the way, you will have to cook them slowly on medium flame on both sides.
You can also bake these at 350F for 30 mins. 
Nutrition
Serving:
1
Serving
|
Calories:
110
kcal
|
Carbohydrates:
8
g
|
Protein:
2
g
|
Fat:
8
g
|
Saturated Fat:
1
g
|
Polyunsaturated Fat:
2
g
|
Monounsaturated Fat:
5
g
|
Trans Fat:
0.03
g
|
Sodium:
246
mg
|
Potassium:
100
mg
|
Fiber:
2
g
|
Sugar:
0.5
g
|
Vitamin A:
1033
IU
|
Vitamin C:
5
mg
|
Calcium:
18
mg
|
Iron:
1
mg
Cabbage Peas nu Shaak | Aloo Patta Gobi Recipe(Opens in a new browser tab)
Beetroot Cutlets | Veg Cutlets Recipe | Beetroot Cutlets Recipe(Opens in a new browser tab)
Roasted Carrots and Rainbow Chard Salad(Opens in a new browser tab)
Carrot Greens and Sweet Potato Soup(Opens in a new browser tab)