Egg Bhurji, popularly known as anda bhurji, are Indian spiced scrambled eggs. This is one of the most popular street foods in India. They are very easy to make, and usually enjoyed with a delicious buttery toast for breakfast. You can also enjoy this egg bhurji with the side of paratha or rotis.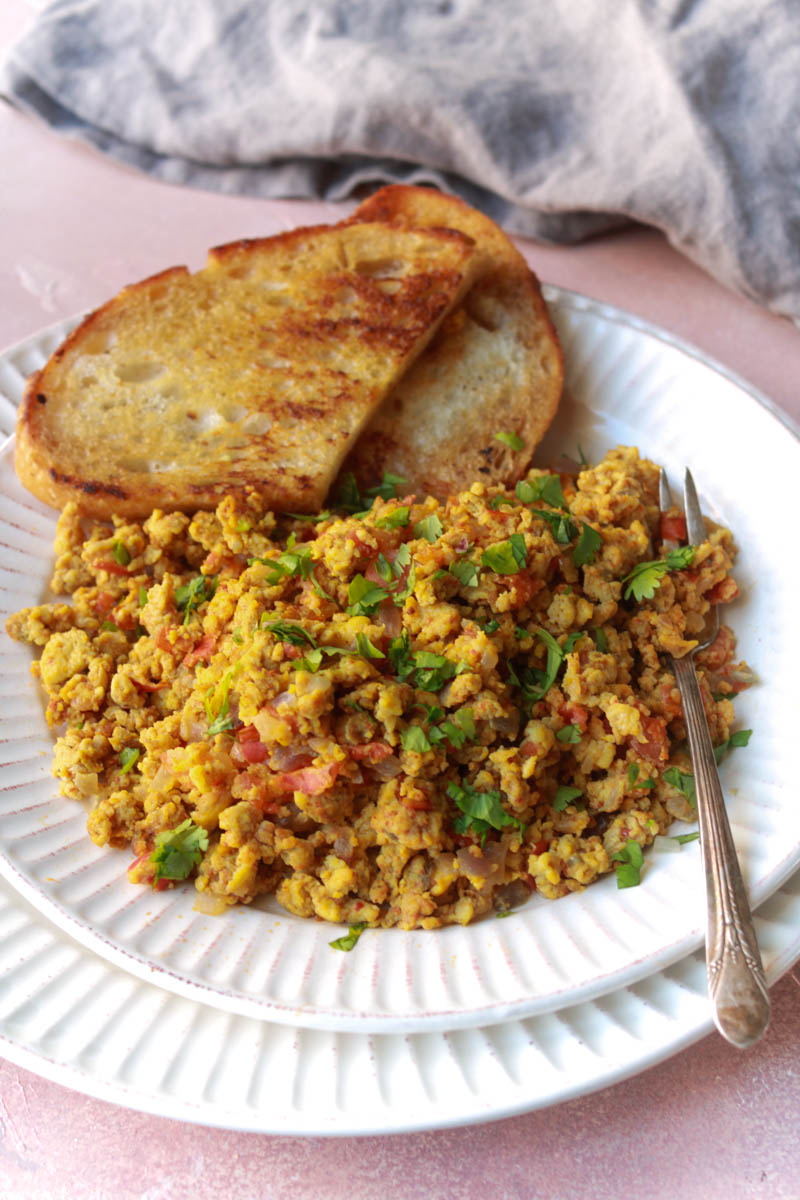 Growing up we never had eggs at home. My grandparents did not approve of cooking eggs at home, so we always would eat at the famous small street-side shop Raju Omlet. I have very fond memories of their eggs, and for the past 8 years, I have successfully created a few dupes of their menu.
What is Egg Bhurji?
Egg Bhurji is a delicious Indian Spiced Scrambled egg, prepared with onions, tomatoes, garlic paste, fresh whisked eggs, spices, and lots of cilantro. I like to make my scrambled eggs in butter, but you can use oil too. The butter just reminds me of the street-style eggs we get in India.
How To Make Indian Scrambled Eggs?
One thing that you want to keep in mind when you are cooking eggs, is to whisk them thoroughly. The yolk and the egg whites should be perfectly whisked to give you the best result. The more you beat the eggs, the fluffier the texture becomes.
To make anda bhurji, we have to start with sauteing onions, garlic, and tomato in butter. Then add the whisked eggs along with spices. The key is to add spices after your eggs. This will make sure, that the spices are well distributed throughout your scrambled eggs. End with garnishing with a lot of cilantro.
Other Breakfast Recipes You Might Like,
Ingredients

3

Eggs

1.5

Tbsp

Butter/ Oil

1/4

Cup

Finely Chopped Onions

1

tsp

Garlic Paste

1/4

Cup

Finely ChoppedTomatoes

1

Thai Green Chili Finely Chopped

1

Tsp

Kashmiri Red Chili Powder

1/2

Tsp

Dhana Jeeru

1/4

Tsp

Turmeric

1/2

Tsp

Salt

1/4

Tsp

Pav Bhaji Masala/ Garam Masala

1-2

Tbsp

Chopped Cilantro

Instructions

Finely chop onions, tomatoes and green chilies.

Whisk 3 eggs until fluffy and set them aside.

Add butter/oil to a pan. Once it melts, add onions, green chilies and garlic paste.

Once the onions are soft add tomatoes and wait until they soften.

Pour the whisked eggs, and add spicies.

Once the eggs start to cook a little start scrambbling them. Cook until the eggs no longer look slimy.

Serve them with toasted bread, paratha or rotis

Tried this recipe?

Let Us Know How it Was!! Tag us @thewhiskaddict, use #thewhiskaddict or leave a comment