Spinach Dhoklas are delicious and healthy-ish with the added goodness of spinach. These dhoklas are perfect for a quick breakfast, picnic snacks, or packing them in your kids' lunch box. They are super easy and delicious and one can never say no to dhoklas, not even my toddler.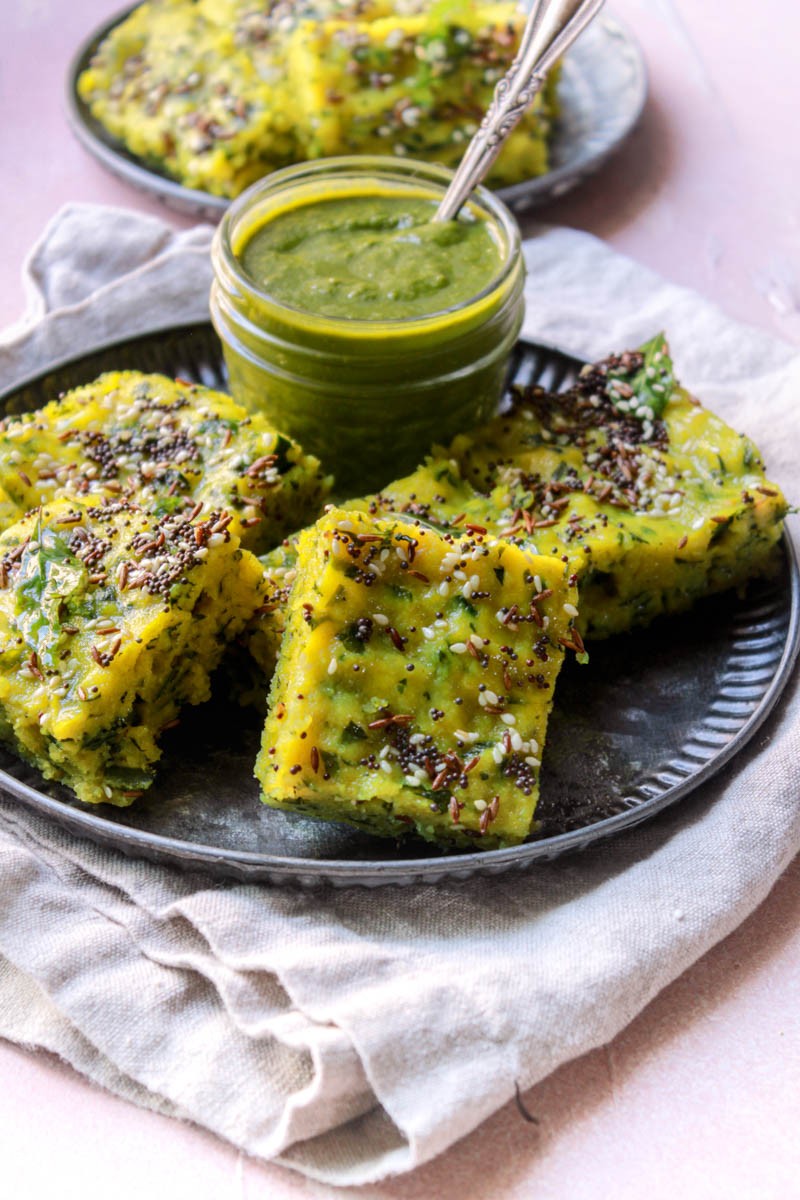 My mom often makes these spinach dhoklas for breakfast. It was one of the tricks to make us eat spinach. Dhoklas always made an appearance in my lunch box every week. If you have a toddler, and if you are wondering what to make for their breakfast. Try this Spinach Rava dhokla recipe. I am pretty sure your little one will love them.
WHAT ARE DHOKLAS?
Dhoklas are very famous steamed savory cakes from the state of Gujarat in India. These savory cakes can be made from besan (chickpea flour), semolina, or any lentils. They make for the easiest and most delicious breakfast or snack. These savory cakes always make the best appetizer for parties and finger foods for picnics too. The main ingredients for the dhoklas are ginger and green chilies, salt, sugar, yogurt, and eno (fruit salt). For tempering, we add sesame seeds, mustard seeds, cumin seeds, and curry leaves. Lastly, garnish with fresh lush cilantro.
How to Make Spinach Rava Dhoklas?
It is very easy. You start with adding Rava (semolina) to a bowl. Then, add turmeric, salt, ginger & green chilies paste, yogurt, and chopped spinach. Take a silicone spatula and give everything a mix. Add warm water and start whisking the batter with a whisk. Add little water at a time, and keep whisking. This will make sure there are no lumps in the batter. Rest the batter for 20 mins. The Rava should have absorbed the water. Now add very little water to make the batter. In goes the eno, and then we steam the dhoklas. Grease the dhokla tray, or a round 9-inch cake pan. Pour the batter and steam it for 15 mins. Let them cool down for 5 mins. Take a sharp knife and cut the dhoklas into a square or diamond shape. Make the tempering and pour it over the dhoklas. Enjoy with fresh Green Chutney and masala chai.
WHAT TYPE OF RAVA TO USE TO MAKE THESE DHOKLAS?
I use a fine variety of semolina for the dhokla recipe. Deep India Brand's fine semolina works well. You can use roasted Rava of fine variety too to make these dhoklas.
How to Make These Instant Spinach Rava Dhoklas Vegan?
The only ingredient that is not vegan in this dhokla recipe is yogurt. And I like to use cashew yogurt for all my vegan recipes and replacements. But, if you don't have access to vegan yogurt, you can also use lemon juice. For every 1 Cup of Rava, you will need about 1 tbsp lemon juice.
Ingredients to Make Spinach Dhoklas
Rava - Semolina is the base of this recipe. I recommend using a fine variety of Rava for the dhokla recipe.
Spinach - I chop spinach finely, so my toddler doesn't actually have to chew on spinach and it works perfectly for this recipe. Use fresh and lush spinach. It makes all the difference.
Seasonings - For the dhokla recipe, we will use minced ginger and green chilies, salt, and turmeric.
Water - I like to use warm water to make the batter, but room temperature batter works fine too.
Fermenting Agent - I use yogurt to ferment the batter for Rava dhoklas, but you can also use lemon juice.
Rising Agent - I use Plain Eno (Fruit Salt) as the rising agent. You can also use baking soda, but you get a better texture using eno. As it is a combination of baking soda, citric acid, and salt. You will have to use baking soda + Citric acid, or Use more baking soda to replace eno.
Tempering - Using peanut oil, makes all the difference for this step. It adds a beautiful light nutty flavor. To the oil, we add black mustard seeds, cumin seeds, white sesame seeds, and fresh curry leaves.
Garnish - We will use fresh finely chopped cilantro for garnishing.
You Might Also Want to Try
Equipment

Bowl

Whisk

Dhokla Steamer or Heavy Bottom Pot

Dhokla Plate or 9 inch Square or Round Cake Pan

Ingredients

To Make The Spinach Dhokla Batter

1.5

Cups

Fine Rava

1

Cup

Chopped Spinach

1/2

Tsp

Turmeric

1

Tsp

Salt

1

Tsp

Ginger & Green Chilies Paste

1.5

Tbsp

Yogurt

1.5

Cups

Warm Water

1/3

Cup

Water To smoothen the batter after resting.

1

Tsp

Eno

For Tempering

1.5

Tbsp

Peanut Oil

1

Tsp

Mustard Seeds

1

Tsp

Cumin Seeds

1

Tsp

White Sesame Seeds

2

Slit Green Chilies

Add if you like it spicy

8-10

Fresh Curry Leaves

Instructions

Grease a Dhokla Plate or 9 inch round or square cake pan

Make the Spinach Dhokla Batter

Add rava to a mixing bowl.

Next add in chopped spinach, ginger and green chili paste, salt and turmeric.

Add 1 and half Cups of warm water little by little, and start whisking the batter until smooth and lump free. Let the batter rest for 20 minutes.

After 20 minutes, the rava would have swelled soaking up all the water. Spinach releases water, and if you see a layer of water on the top that is fine. Just whisk it to see if the batter needs more water or not.

Now add remaining third cup water little by little (if needed). And make a thick smooth batter. Spinach also releases water, so if your batter feels smooth after 20 minutes, skip adding water.

Add about 3 Cups of water to dhokla steamer or a deep wide mouthed pot.

Now add eno to the batter and whisk well. The batter will become fluffy.

Pour the batter in the prepared dhokla plate or cake pan

Place the Spinach dhokla plate in the dhokla steamer. Or add a trivet and place the cake pan in the pot.

Cover and Steam for 15 mins.

After 15 minutes, do a knife test. The tip of the knife should come out clean. This means your dhokla is ready.

Cut the dhoklas into squares or diamond shape

Make the Tempering

Add oil to a small sauce pan

Once hot, add mustard seeds, once they start to crackle add cumin seeds, white sesame seeds. Once they splutter. Tun off the heat. Add curry leaves. Be careful, the tempering will crackle.

Notes

You can store the dhoklas for up to 3 days in the refrigerator. 
 Add water to the batter a little at a time and keep whisking to make sure it is lump-free. 
Adjust the spice level according to your spice palate. 

Tried this recipe?

Let Us Know How it Was!! Tag us @thewhiskaddict, use #thewhiskaddict or leave a comment

Chana Bateta - Black Chickpeas and Potato Curry - A Family Recipe(Opens in a new browser tab)

Papdi Khichu Recipe| Khichu Recipe | Papdi no Lot(Opens in a new browser tab)

Sukhi Bhaji | Batata ni Sukhi Bhaji | Faral Potato Bhaji(Opens in a new browser tab)