Airfried Plantain Fries are super easy to make and uber delicious! I love to add different spices and make a nice savory snack to munch on.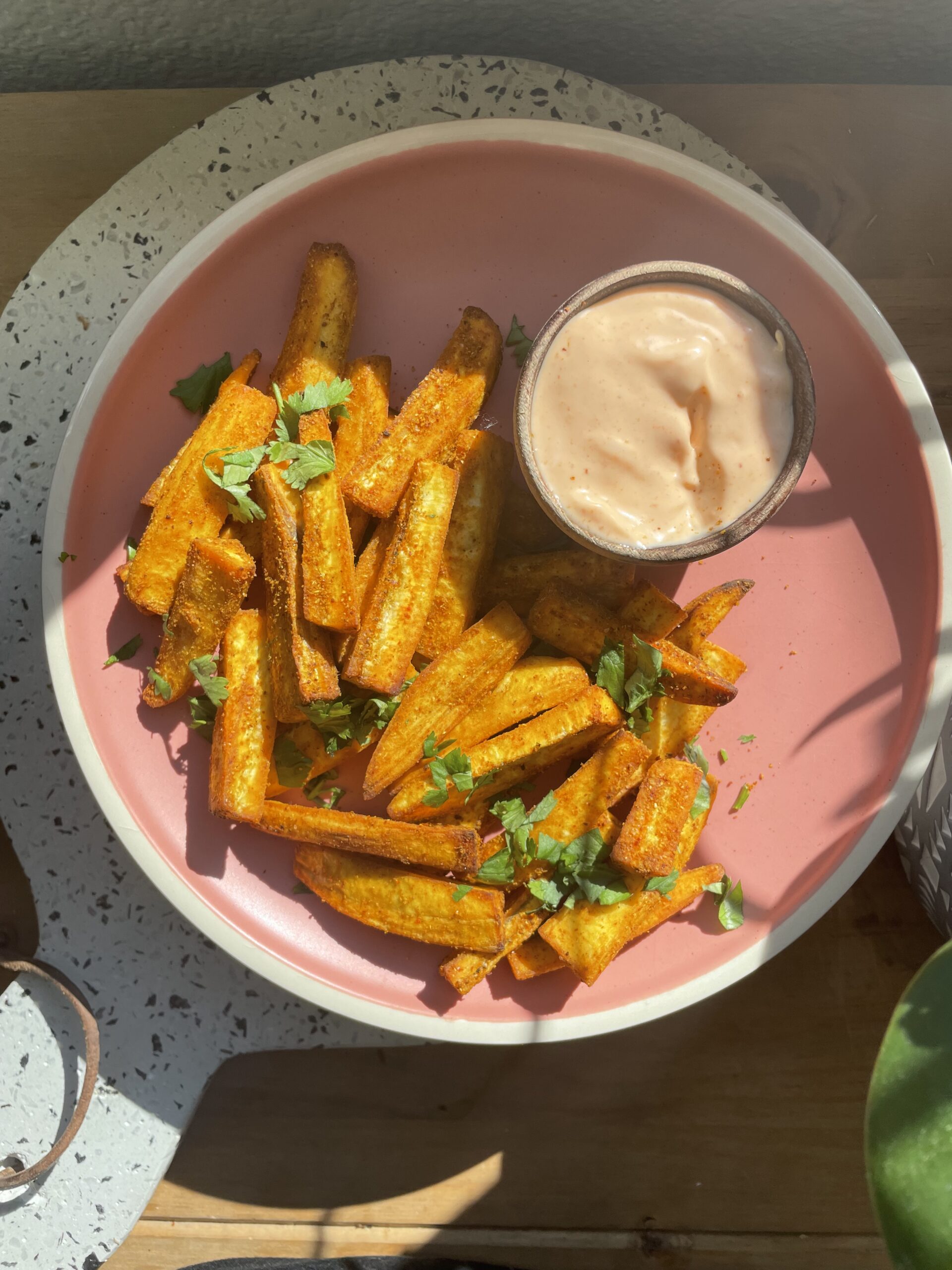 What are Plantains?
Plantains are beautiful green banana-shaped fruit. For someone, who doesn't know anything about plantains, mistake them for unripe bananas. This fruit is more like tomatoes. They are always cooked and eaten, no matter what stage of ripeness they are at.
I like to use plantains with black smudges on them, this only means that they are about to ripen, which adds a delicious caramelized flavor to them. Plantains are a huge part of South American, South Asian, and African Cuisine.
How to Make these Fries?
Plantain Fries are nothing but plantain cut into fries and then either deep-fried, baked, or air-fried. Basically, you can cook them however you want. I like to bake them or air fry them, as it is super simple to do it, and kind of healthy-ish.
Plantain fries taste absolutely delicious on their own, but I love to add a spicy twist to them.
How to Peel The Plantains?
While a lot of people make slits in the plantains and peel the skin using their hands. The nature of plantains is sticky. So I personally like to use a vegetable peeler to peel the skin of the plantains. I cut half an inch of plantain ends. Then use a vegetable peeler to peel the skin off. It's quick and easy.
To cut the plantain fries, cut the plantain into half and then cut it into fries shapes. Refer to the picture below for reference.
Spice Mix to Make these Spicy Fries
You will need
Red Chili Powder
Turmeric
Cumin Coriander Powder
Curry Powder
Achari Masala
Other Spices That You Can Use
Red Chili Powder and Sea Salt
Garlic Powder and Onion Powder
Truffle Powder and Salt
Expert Tips To Make These Fries
The plantains are sticky in nature so don't let them scare you. They cook perfectly and won't stick to one another.
I like to use plantains that are green in color with black specs, more than using yellow plantains.
Plantains are not bananas. They are larger than bananas, and a little hard in texture.
You can also use Matokis (Small Green Bananas) for this recipe.
Coat the plantain fries with a little bit of oil and then add the spices. This helps the spices to stick to the plantains well.
Cut the fries into same shape and size to ensure even cooking.
To air fry or bake these fries make sure you layer them in a single layer. This will make sure they all cook evenly and get crispy evenly. Don't layer them one on top of the other.
More Recipes that You Might Like From The Blog
Jump To: Recipe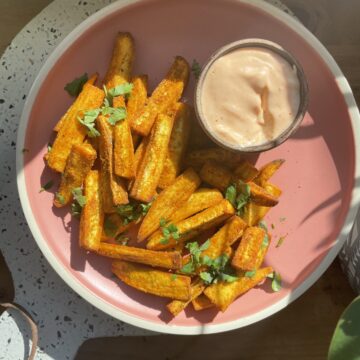 AirFried Plantain Fries
Airfried plantain fries are an amazing spicy snack to munch on, and is uber delicious. They are so easy and quick to make. They taste delicious as side to salads, and burgers
Print
Pin
Rate
Ingredients
4

Plantains

1.5

Tbsp

Olive Oil

1/2

Tsp

Red Chili Powder

1/4

Tsp

Turmeric

1/2

Tsp

Cumin Coriander Powder

1/2

Tsp

Curry Powder

1/2

Tsp

Achari Masala

1/4

Tsp

Chaat Masala

1/2

Tsp

Salt

1

Tbsp

Cilantro

Finely Chopped for Garnish
Instructions
Cut either ends of the plantains. Then, using a vegetable peeler, peel the skin. Cut the plantains into halves and then thirds. Cut them into fries shape.

Preheat the air fryer for 1-2 minutes on 400F.

Now add the cut plantain fries to a mixing bowl. Add olive oil and the spices mentioned in the ingredients list. Mix it well and make sure the spices are coated evenly on the cut plantains.

Now add a single layer of plantain fries in the air fryer basket. Air fry them on 400F or 200C for 12 mins. Give them a shake at 6 mins mark to cook them evenly.

Repeat until all the fries are cooked, if they don't fit in the air fryer together.
Notes
Read the blog thoroughly
For how to cut the plantains, refer to the blog
Serve them with your favorite dipping sauce like ranch or sriracha mayo. 
Nutrition
Serving:
0.5
Cup
|
Calories:
1069
kcal
|
Carbohydrates:
230
g
|
Protein:
10
g
|
Fat:
24
g
|
Saturated Fat:
3
g
|
Polyunsaturated Fat:
2
g
|
Monounsaturated Fat:
15
g
|
Sodium:
1209
mg
|
Potassium:
3537
mg
|
Fiber:
13
g
|
Sugar:
125
g
|
Vitamin A:
8424
IU
|
Vitamin C:
132
mg
|
Calcium:
32
mg
|
Iron:
5
mg
Latest Recipes on the Blog