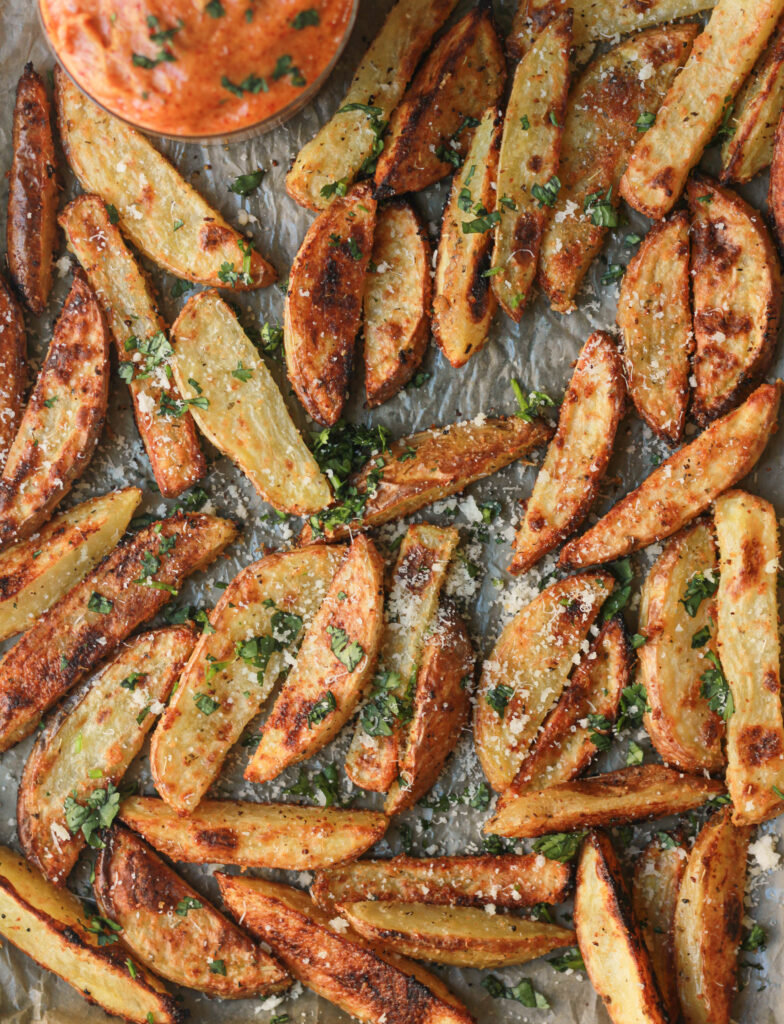 This whole pregnancy, potatoes and rice have been my absolute favorite. Yes, having a carbs loving baby right here. Potato wedges are my favorite to snack on, and I can even have a plate full of them for my lunch.
To make delicious crispy baked potato wedges, you need good organic russet potatoes. Throw in the seasonings you like very generously and bake them until they are golden and crispy. Voila! You have the best wedges ever.
Key To Make Crispy Potato Wedges
The most important key to make the wedges crispy, depends on the type of potatoes you use. I highly recommend you to use the dusty Organic Russet Potatoes, over the pretty looking Waxy Golden Potatoes. You must be wondering why? The Russet Potatoes contain very low amount of moisture and the waxy ones are higher in moisture. So definitely try to get russet potatoes for the wedges.
The another important step is to cut the wedges into even size, so they bake perfectly and evenly.
Soak the Potato Wedges in Ice Cold water for 30 mins to 1 Hour. This will make sure that all the starch from the potatoes is removed. Then thoroughly patt dry them, and then coat them into the desired seasoning.
Seasoning the Wedges
You can season the potato wedges as you like. I usually season them with Onion Powder, Garlic Powder, Oregano and Salt. But you can season them with dried rosemary, freshly minced garlic, smoked paprika, etc.
It all mainly depends on your taste palette. The only thing is that you season your potatoes generously and I promise they will taste amazing.
I most usually serve these potatoes with my Cajun Mayo dip. If you would like to try the recipe, I will leave the link here.
Ingredients
4

Russet Potatoes

Cut Into Wedges with Skin On

4

Cups

Ice Cold Water

4

Tbsps

Olive Oil

2

Tsp

Granulated Onion

2

Tsp

Garlic Powder

1

Tsp

Dried Oregano

Salt to Taste
Instructions
Cut and Prep the Potatoes
Take even sized 4 Russet Potatoes. Wash them thoroughly as they are very muddy.

Cut them into long even sized wedges.

Now in a big bowl add 4 Cups of Ice Cold Water.

Add the Wedges to the water. Let them sit for 30 mins. This step will ensure that the potatoes loses as much starch as possible.

After 30 mins, pat dry the potato wedges thoroughly using a clean kitchen towel. Dry them as much as possible
To Bake the Potato Wedges
Preheat the oven at 450F.

In a bowl add the pat dried potato wedges.

Next add the olive oil followed by the spices and salt.

Mix everything well, until all the potatoes are coated with the seasonings thoroughly.

Now prepare 2 large baking trays by lining them with parchment paper. Place the wedges in the tray skin side down. Don't let the wedges touch each other, and arrange them symmetrically.

Bake the wedges for 25- 30 minutes. For even browning on both the sides, flip the wedges around 18 minutes. My wedges are usually ready at about 25-27 mins so keep an eye.
Tried this recipe?
Let Us Know How it Was!! Tag us @thewhiskaddict, use #thewhiskaddict or leave a comment
Ingredients
1

Cup

Mayonnaise

2

Tbsp

Cajun Spice Mix

1

Tsp

Olive Oil

Salt if Needed
Instructions
In a bowl add 1 Cup Mayonnaise. Whisk it thoroughly.

Now add the Cajun Spice Mix and Olive Oil.

Mix until everything is well incorporated.

Use it as a dipping sauce or a spread.

This refrigerates well in an air tight jar for upto a week.
Tried this recipe?
Let Us Know How it Was!! Tag us @thewhiskaddict, use #thewhiskaddict or leave a comment
Chutney Podi (Spiced Lentil Powder)(Opens in a new browser tab)
Creamy & Healthy Mac and Cheese(Opens in a new browser tab)
Homemade Cajun Spice Seasoning | Cajun Spice Mix Recipe(Opens in a new browser tab)
Watermelon Strawberry Juice Recipe | Watermelon Strawberry Juice(Opens in a new browser tab)