Masala Chai is not only a beverage, it is an emotion. Growing up I would see my mom enjoying her "Me Time" with her cup of chai and Times of India, in her solitude. She would admire her plants, and sit by herself in peace before the chaos started.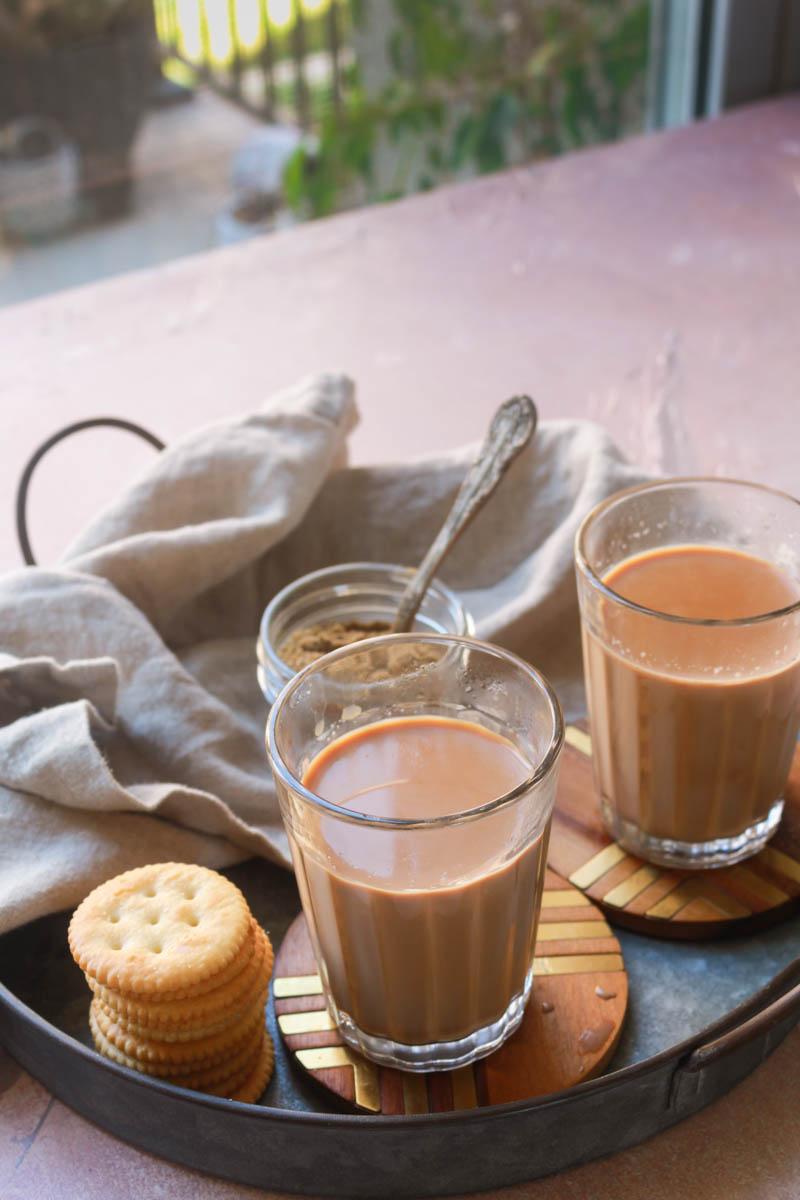 What is Masala Chai?
Masala chai is a warm hug in a cup. It is made with black tea leaves, with freshly pounded ginger, chai masala, milk and sugar. I love to add fresh mint leaves and lemon grass to my masala chai too. I inherit my love for masala chai from my mom. The tapri wali masala chai is our favorite. If you are not from India, you might wonder what tapri means. It simply means masala chai sold on the streets.
History of Chai
Nearly 5000 years old, this delicious chai tea beverage has won hearts of not only South Asian Countries, but has found its permanent place throughout the world. Chai was discovered in the 17th Century when trade began with China. The Dutch introduced Tea as a medicinal drink in Europe and was brought to India during the British Raj. The kings introduced chai tea as a medicinal drink, with the added goodness of warm spices and herbs, along with milk. This chai tea instantly became the most loved beverage throughout the country. Every falimy, every region, village, and different South Asian country has its own way of making chai.
What is an Authentic Masala Chai?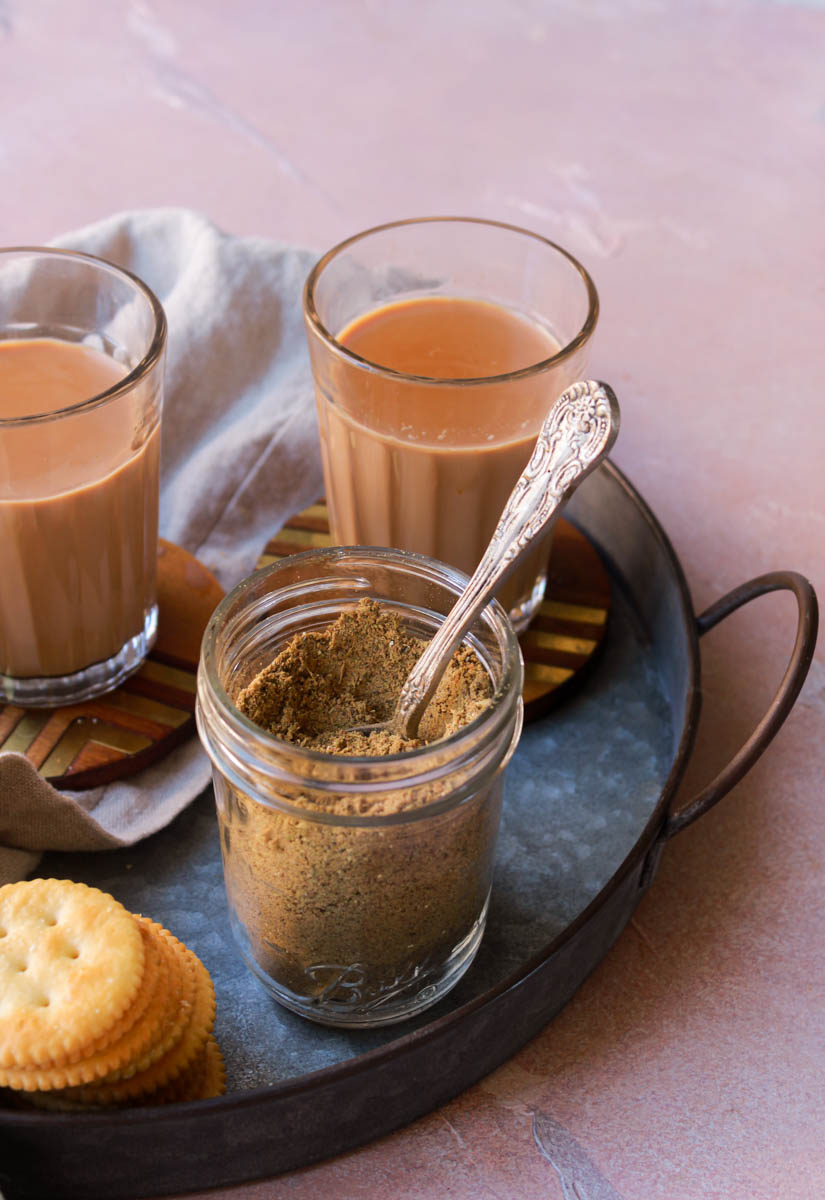 Masala Chai is traditionally made with chai ka masala. This masala is prepared at home, based on the preference of how every family likes their chai. But, you can make it without chai ka masala too. Usually a 2:1 Water to Milk Ratio is used to make this chai, but I like to use 1:1 Water to Milk Ratio for my Tea. The water is first boiled with loose black tea leaves and freshly pounded ginger along with whole spices like cardamom, cinnamon, and cloves. Then the milk is added to this concoction, along with sugar. This concoction is brought to a boil again and strained using a sieve. Served hot, with a side of cookies, rusk, or your favorite pastry.
Enjoy Your Masala Chai with These Sides
Benefits of Drinking Masala Chai

Masala chai is an ayurvedic decoction of chai with whole spices made for several health benefits, mainly for anti-inflammatory properties and a rich source of antioxidants. Chai is acidic in nature, and these whole spices added to the chai reduce the acidic nature of chai. Chai mainly gives you a refreshing boost of energy, making you feel less fatigued. It is a great alternative to coffee, as it has a very tiny amount of caffeine in it.

Tips to Make Masala Chai

Ginger is a must in Masala Chai. Letting the freshly pounded ginger boil with tea leaves is very very important. If the ginger is not boiled, your tea can curdle.
You can add fresh mint and lemon grass for a refreshing flavor boost. These are definitely a must for me.
Don't let the tea leaves boil for more than a minute.
I like my tea either with a 2:1 Water to Milk ratio or a 1:1 Water to Milk Ratio.
If you are making with 2% or 1%Milk or Nut Milk, I insist you make Chai with a 1:1 Water Milk Ratio.
If you are making this chai vegan, you can use oat milk or almond milk. All you need to do is bring the milk to a light simmer. You don't have to wait for it to boil.
You can adjust sugar as per your preference.
To stir the chai use a ladle.

Here's a Video On How to Make Chai Spice Blend and Masala Chai

Let's Jump Right Into The Recipe

Masala Chai

Masala Chai is gingery, warm spiced chai with sweet notes from cardamom and earthiness from cinnamon and nutmeg. The floral notes from dried rose petals makes it extra delicious!

Print Pin Rate

Equipment

1 Sauce Pan

1 Fine Mesh Strainer

Cups to Serve Chai

Ingredients

3

Tsp

Black Tea Leaves (Chai leaves)

2

Cups

Water

1

Inch

Knob of Ginger

4-5

Green Cardamom Pods

1-2

Black Peppercorns

1

Clove

1/2

Cinnamon Stick

6-7

Fresh Mint Leaves

Optional

1

Lemon Grass Stalk

Optional

1

Cup

Milk

3

Tsp

Sugar

Instructions

If you are using chai masala skip adding whole spices. Only pound fresh ginger.

In a mortar pastel, add your sliced ginger, along with cardamom pods, black peppercorns, and cloves. Lightly pound them.

In a sauce pan add water. Let it heat up on a medium high flame. To this add black tea leaves. Add the pounded ginger and spices. Bring it to a boil.

Once the tea decoction starts to simmer, add fresh mint leaves and fresh lemon grass stalks. Let it boil for a minute.

Now add milk and sugar. If you have chai spice blend (aka chai masala) add 1/4th tsp now along with sugar.

The chai can boil too fast, so keep a close eye on it.

On a medium flame, let your chai boil. Once the chai boils and starts to rise, lower the flame to low. Now once again bring the flame to medium high. Once the chai starts to rise, turn off the stove.

Strain through the mesh strainer in your Kettle or directly in the serving cups.

Serve with your favorite cookies or snacks.

Notes

It takes a few tries to know your preference on how you prefer your tea. 
Ginger in tea is a must. Make sure you add the pounded ginger and let the tea leaves boil for a minute before adding milk. If the ginger is not boiled with the tea leaves, the milk might curdle. 
You can either use whole milk, or 2% milk to make this chai. If you are using 2% milk, I would suggest you use 1:1 water to milk ratio. 
Add sugar after adding milk. Adjust as per your taste. 
Add the whole spices according to your preference. 

Nutrition

Serving:

6

oz

|

Calories:

86

kcal

|

Carbohydrates:

12

g

|

Protein:

4

g

|

Fat:

3

g

|

Saturated Fat:

2

g

|

Polyunsaturated Fat:

0.1

g

|

Monounsaturated Fat:

1

g

|

Cholesterol:

10

mg

|

Sodium:

75

mg

|

Potassium:

305

mg

|

Fiber:

2

g

|

Sugar:

8

g

|

Vitamin A:

2571

IU

|

Vitamin C:

22

mg

|

Calcium:

152

mg

|

Iron:

1

mg

Chai Masala | Chai Spice Blend + Video Recipe(Opens in a new browser tab)

Chai Concentrate | Homemade Chai Concentrate(Opens in a new browser tab)

Bhaat na Muthiya | Gujarati Bhaat na Muthiya Recipe(Opens in a new browser tab)