Chai masala is an aromatic and flavorful spice blend added to the masala chai. Masala chai has made its way to millions of hearts all over the world. This chai no masalo(chai spice) as well call it, is the heart of every Indian home.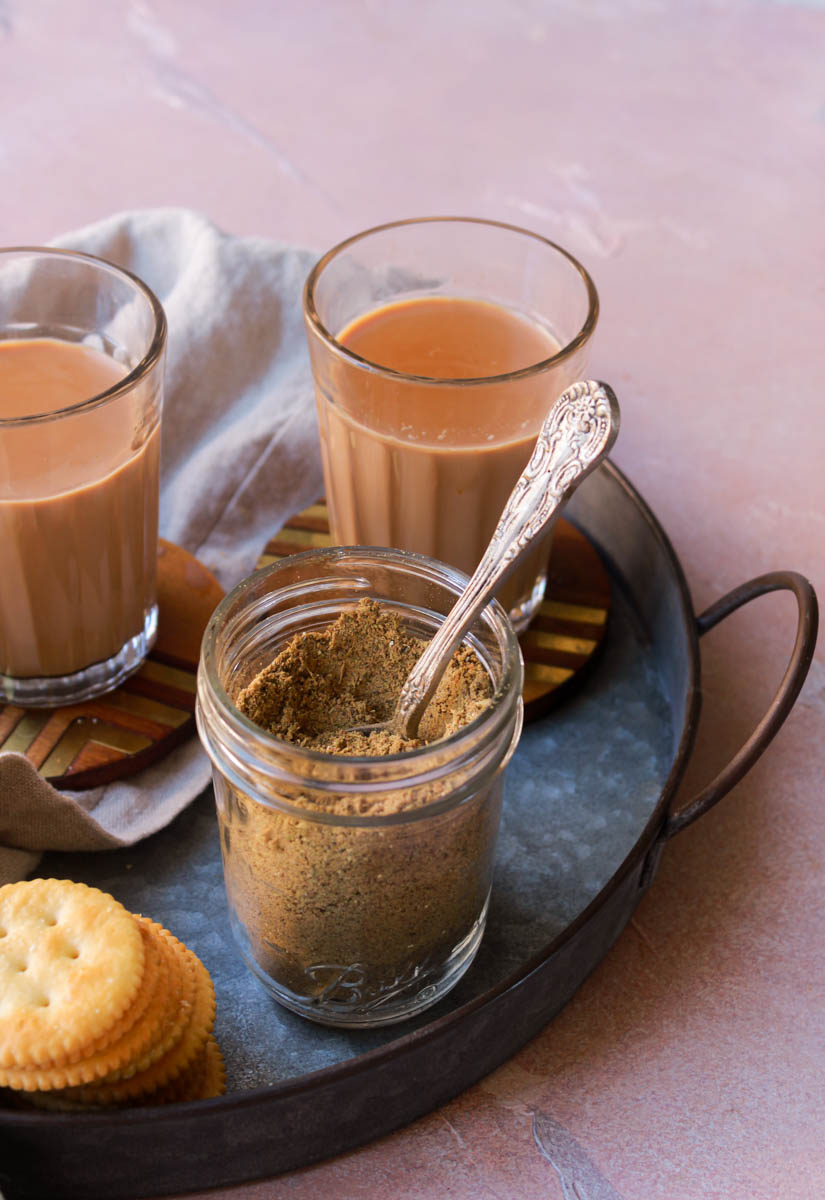 We live in a world of busy routines, but there is one moment of peace that we all want to enjoy our chai. However mundane our lives become, the aroma of the masala chai speaks morning to me and a lot of us.
What is Chai Spice Blend?
Chai spice is a delicious warm spice blend used to make the very famous masala chai. This spice is made with lots of green cardamoms pods, black peppercorns, white pepper powder, ginger powder, cloves, fennel seeds, cinnamon stick, mace, nutmeg, star anise, and rose petals.
How to Make Chai Masala?
Chai Masala is very easy to make. I like to make a small batch of chai masala, so the flavors are always warm and refreshing. All you have to do is measure the spices and blend them using a spice or a coffee grinder. This powdered spice blend is chai ka masala. Every home has a different recipe for its own chai ka masala. Some people like it spicy, while some people like the sweetness of cardamom.
Ingredients for Making Chai Masala
Chai Spice Blend is made with warm whole spices, and these spices are easily available at your local grocery store. Now the flavors truly depend on the quality of your whole spices. I like to buy my whole spices online from Burlap and Barrel and Diaspora Co. If you are going to get the spices from your local grocery store, I like the brand Morton and Bassett.
Cardamom (Elaichi) - Cardamom has anti-inflammatory properties and is rich in antioxidants. It brings a delicious earthy, refreshing flavor to the chai spice with sweet undertones.
Mace (Javitri) - Mace simply is a less intense version of nutmeg, with subtle notes of cinnamon and black pepper
Star Anise (Chakra Phool) - Star anise has a beautifully mild and fragrant licorice flavor.
Cinnamon (Dal Chini) - Cinnamon has sweet undertones with an earthy woody taste, with light notes of citrus.
Cloves (Laung) - Cloves add light notes of citrus and earthy flavor to the chai spice.
Black Peppercorns (Kali Mirch) - This add a warm spicy peppery taste to the masala
White Pepper Powder (Safed Mirch) - White Pepper Powder gives a gingery, earthy taste, which is spicy yet has nice notes of earthy flavor.
Dried Ginger Powder ( Sonth) - It adds a delicious yet subtle kick with warmth to chai ka masala
Nutmeg (Jaiphal) - Nutmeg adds a beautiful nutty and sweet flavor that compliments perfectly cinnamon and cardamom.
Fennel Seeds (Saunf) - Fennel seeds add a delicious refreshing touch to the chai ka masala.
Dried Rose Petals ( Sukhi Gulab ki Patiyan) - If you like floral flavors, add dried rose petals to your chai spice. The rose petals bring subtle sweet and floral flavors which is definitely a winner.
How to Use Chai ka Masala?
A little goes a long way. For every 1 Cup of Masala Chai, you need about 1/4th Tsp of Chai Spice.
You can use Chai Spice Blend to Make delicious Chai Spiced Cookies, Brownies, Pie, Lattes, etc.
Video Of How To Make Chai ka Masala
More Recipes You Might Like
Chai Masala | Chai Spice Blend

Chai spice is a delicious warm spice blend used to make the very famous masala chai. This spice is made with lots of green cardamoms pods, black peppercorns, white pepper powder, ginger powder, cloves, fennel seeds, cinnamon stick, mace, nutmeg, star anise, and rose petals.

Print Pin Rate

Ingredients

10-12

Cloves

1

Cinnamon Stick

1

Mace

1

Star Anise

1

Tbsp

Fennel Seeds

1

Tbsp

Black Peppercorns

2

Tsp

White Pepper Powder

2

Tbsp

Dried Ginger Powder

2

Tbsp

Dried Rose Petals

(Optional)

1/2

Nutmeg Grated

If you are using nutmeg powder, use 1 Tsp Nutmeg Powder

1/3

Cup

Green Cardamom

Instructions

Add all the spices to your Spice Grinder Jar. Grind the spices to a powdered form.

Store the Chai Spice in a clean glass jar, in a cool dry place.

Notes

We prefer a less peppery chai spice blend. 
This Chai Spice has a subtle spice, refreshing, floral, and sweet tones. 
This Chai Spice can be stored for up to 6 months. 
Homemade Spice Blends make a great gift, so gifting homemade chai ka masala is like offering a warm hug and saying I love you. 

Nutrition

Serving:

0.5

Teaspoon

|

Calories:

7

kcal

|

Carbohydrates:

5

g

|

Protein:

1

g

|

Fat:

1

g

|

Saturated Fat:

0.1

g

|

Polyunsaturated Fat:

0.1

g

|

Monounsaturated Fat:

0.1

g

|

Trans Fat:

0.001

g

|

Sodium:

2

mg

|

Potassium:

82

mg

|

Fiber:

2

g

|

Sugar:

0.1

g

|

Vitamin A:

6

IU

|

Vitamin C:

1

mg

|

Calcium:

31

mg

|

Iron:

1

mg

Puff Pastry Samosa Chaat - Indian Chaat(Opens in a new browser tab)

Chai Concentrate | Homemade Chai Concentrate(Opens in a new browser tab)

Makai Na Vada | How to Make Makai na Vada(Opens in a new browser tab)