Chai has clearly become a necessity these days. I am not sure how I became that Chai person, that I am now. But I think lemongrass did it for me. How do you like your chai? I am an avid tea lover. I love to try different types of teas, but in the end it all comes own to my roots, and Indian Masala Chai is my absolute favorite.
If you are a regular reader, you know I am a mom to a year old daughter Inaaya. She definitely keeps me on my toes, and hardly gives me time to make tea. Most of the time, when I tried making my chai, it would just end up boiling for too long, or just spill out. It is just not a good day, when you start your day with bad tea, isn't it. So I started meal prepping my Chai Concentrate.
What is Chai Concentrate?
Chai Concentrate is a beautiful concoction of fresh aromatics and spices that are simmered with black tea leaves. This concoction is then strained through a mine mesh strainer, and stored it in the refrigerator for up to 5 days. The classic aromatic that go in making this concentrate is ginger. Now if you want to take it up a notch, here is the recipe for you! I love to add lemongrass and mint and god, it is so refreshing, with the kick of masala chai spices.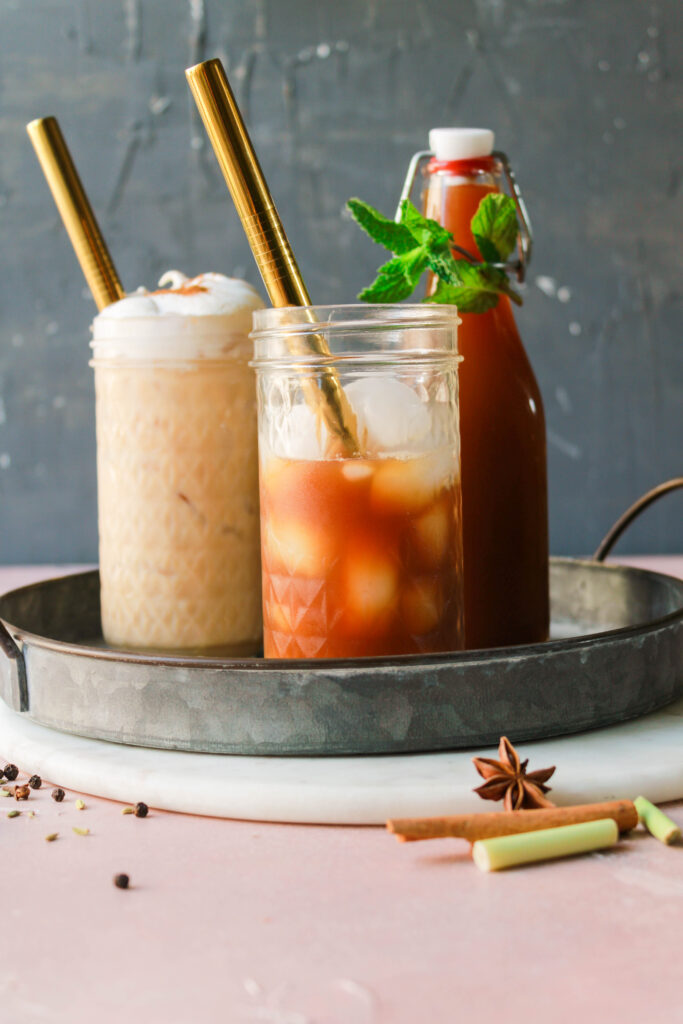 How to Use this Chai Concentrate?
The Chai Concentrate works the best into 1:1 ratio. That means if you take 1/2 cup of concentrate, you will need half cup of milk for it. You can use this chai concentrate to make yourself hot or cold chai, whatever you prefer. Honestly, you won't get that deep color you get when you make fresh chai, but I promise you, you will get that exact kick and beautiful refreshing flavors.
Is this Recipe Vegan?
Yes, this recipe is vegan. When you prepare the chai, just add any plant based milk of your choice. I personally oat milk chais.
Let's Jump on to the Recipe
Equipment
Mortar Pastel

Sauce Pan

Fine Mesh Strainer

Sterilized Large Mason Jar
Ingredients
1

Inch

Knob of Ginger

5

Stalks

Lemon Grass

15

Fresh Mint Leaves

1

Tsp

Fennel Seeds (Variyadi)

1

Tsp

Black Peppercorns

6-7

Cloves

1

stick

Cinnamon

1

Small

Star Anise

15

Green Cardamom Pods

6

Cups

Water

5

Tsp

Lose Black Tea Leaves or Black Tea Bags
Instructions
Start with measuring the ingredients and take them in a plate.

Now grab your mortar pastel. Add the aromatics. That is your ginger, lemon grass and mint. Pound them lighthy to release the aroma and the juices of these aromatics. this will make your tea so refreshing.

Now add all your whole spices to this, start to pound them until they are lightly crushed. This will release the oils from the whole spices and will give it so much depth of flavor.

Take a sauce pan. On a medium low heat, add this concoction of aromatics and whole spices to the sauce pan, and roast them for about 5 minutes.

To this add about 6 cups of water. Add warm water if possible, so the pot retains the same heat.

Bring this to a light simmer.

Next add in the black tea leaves. Let it simmer slowly for 5 - 7 minutes, and take it off the heat.

Let the mix cool down, and sip the flavors in for 10 minutes. Now strain the chai concentrate using a fine mesh strainer into the desired glass bottle or jar.

Let it cool completely, before refrigerating.
Notes
This Chai Concentrate stays good for up to 5 days and makes 5 cups of Chai
You can also add rose petals for a more floral flavor to the tea if you like
Add more or fewer spices, according to the quality of the ingredients you are using and your taste preferences. 
Store the concentrate in a glass bottle or glass jar only. This helps it stay fresh for 5 days. 
You can store this concentrate in the form of ice cubes, for up to 3 months.
The concoction will stay good only for 5 days because we are not adding any preservatives in it. 
1:1 Chai Concentrate to Milk Ratio Works the best. If you want a less strong chai then add a little less concentrate, or add more milk. 
Add a sweetener of your choice. 
Handvo Recipe | How to Make Gujarati Handvo(Opens in a new browser tab)
Sabudana Vada | Sabudana Na Vada(Opens in a new browser tab)
Instant Thandai Recipe | Vegan Thandai Recipe Option(Opens in a new browser tab)
Garlic Naan Recipe | Restaurant Style Garlic Naan | Stove Top Garlic Naan(Opens in a new browser tab)