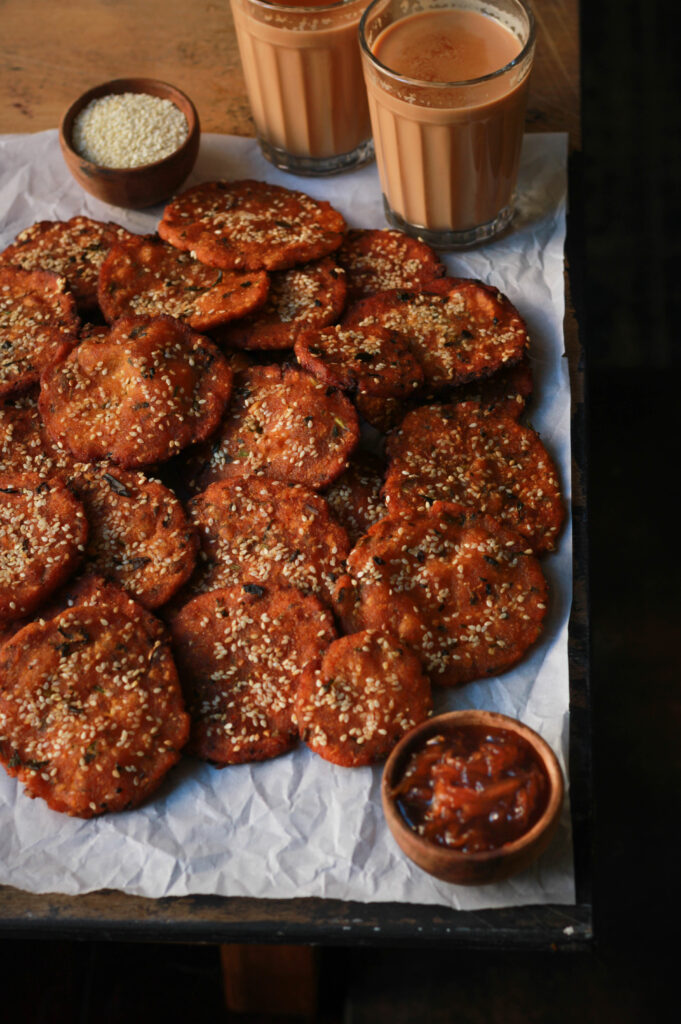 Makai na Vada or Makai na Dhebra is a quintessential snack in a Gujarati household. These vadas are packed with delicious sweet and spicy flavors. In my family these vadas were made quite often as these always were a family favorite. When I moved to the States, I used to miss these so much. So last year, when my mom visited, I managed to learn these from her.
Now expecting Baby V, I almost crave all the Gujarati food that I usually eat only when mom is around. I was craving these so much that I ended up making them twice. I managed to note down the recipe and even test it to make sure the measurements were perfect and ready for you guys to try.
Makai na Vada is made using cornmeal, whole wheat flour, methiya no masalo (Achar/ Pickle Masala), jaggery, salt, red chili powder, cumin-coriander powder, turmeric, garam masala, garlic and green chilies. I also like to add fresh/frozen methi to these vadas. But, it is completely upto you.
Ingredients
2

Cups

Cornmeal

1

Cup

Wholewheat Flour / Bhakri Flour

I like to use Bhakri Flour available at Indian grocery stores as it is thicker than wholewheat flour and works perfectly for this recipe. But you can also use whole wheat flour.

2-3

Tbsp's

Groundnut/ Peanut Oil

1

Tsp

Red Chili Powder

I am using Kashmiri Red Chili Powder

1/2

Tsp

Turmeric

1

Tsp

Cumin Coriander Powder (Dhanajeeru)

1

Tsp

Cumin Seeds

1

Tbsp

White Sesame Seeds

1

Tbsp

Methiya no Masalo

Achar Masala/ Pickle Masala.

1

Tbsp

Minced Garlic

1

Tsp

Finely Chopped Green Chillies

1

Cup

Finely Chopped Methi Tight Packed

5-6

Tbsp's

Jaggery

2

Tsp's

Salt

1/2

Cup

Plain Yogurt

1 /2 to 1

Cup

Warm Water

(Add little by little to knead the dough)

Oil for Frying the Vadas

2

Tbsps

White Sesame Seed for Garnish
Instructions
In a bowl, add cornmeal and whole wheat flour. To this add oil. Give it a mix.

Next add in all the ingredients except yogurt and water to the flour mix. Give everything a mix with your hands.

Now add the yogurt, mix it in and start to knead the dough.

Next start kneading the dough by adding warm water as required

Once the dough is ready, cover it and let it rest for 15 to 20 mins

In a heavy bottom pot. Add Oil. Let it heat up. We are looking to heat up the oil between 375F to 400F. Once the oil is hot, we will start frying the vadas.

To make the vadas, on your rolling pin place a parchment paper, add 2-3 drops of oil and spread it on the parchment paper. Also, take water in a separate bow.

Now scoop 2 Tbsp's vada dough. Make a dough ball and place it on the parchment paper.

Now dip your fingers in the water and by using your fingers start tapping the dough, working your way from the center towards the edges in a round shape clockwise.

Once your vada is formed, dab some white sesame seeds on the top.

Now place the vada carefully in the hot oil and let it fry on medium high heat.

Fry it the way you fry puris and the vada should definitely puff up.

Continue making all the vadas in the same way. These taste amazing with hot cup of masala chai and gujarati keri no chundo, along with green chutney.
Notes
When you hand tap the vadas, be gentle. If the dough stops to spread or sticks to your hands use more water. 
Keep the vadas a little thick, so they will puff up nicely while frying. 
Fry these vadas one or two at time on medium flame. This will ensure that the vadas are cooked thoroughly. 
Tried this recipe?
Let Us Know How it Was!! Tag us @thewhiskaddict, use #thewhiskaddict or leave a comment
Peanut Chikki Recipe | Peanut Brittle(Opens in a new browser tab)
Dal Palak - Red Lentils with Spinach(Opens in a new browser tab)
Puff Pastry Samosa Chaat - Indian Chaat(Opens in a new browser tab)
Restaurant Style Chana Masala(Opens in a new browser tab)
Rajma Masala (Red Kidney Beans Curry)(Opens in a new browser tab)
Lasaniya Bateta(Opens in a new browser tab)