Looking for an easy breakfast recipe for your toddler and yourself? I got you. Try these easy semolina savory pancakes spiced with cumin seeds, ginger, and green chili paste. Add any veggies of your choice and make this nutrient-dense.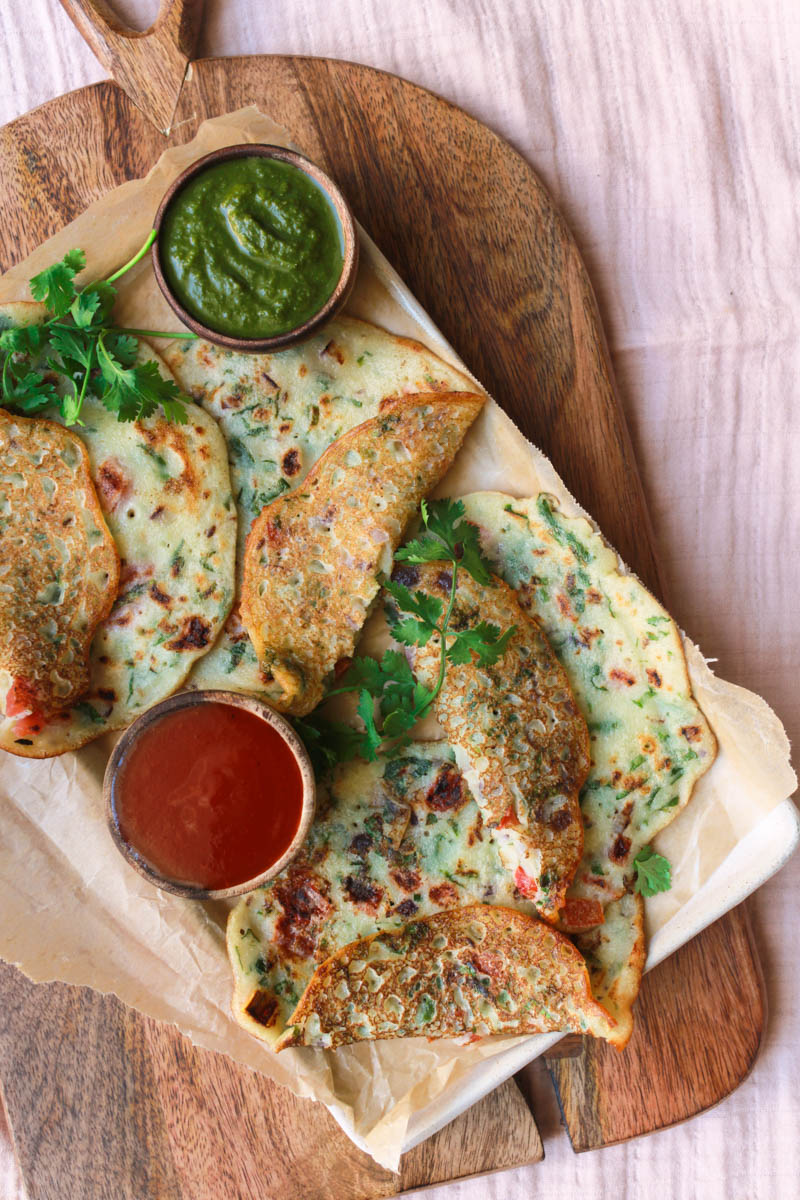 While some call these Sooji Pudla, Rava Dudla or Rava Chillas, these are all the same. The Rava Pudlas can be made in 30 minutes for a delicious and filling breakfast, or an easy lunch.
What is Pudla?
Pudlas are Indian savory pancakes. These can be made with or without veggies and a few spices. There are many many varieties of pudlas that you can make. I usually make these using chickpea flour, oat flour, and sooji. I like to spice mine with cumin seeds, carrom seeds, ginger, and green chili paste. You can also add other spices like red chili powder, turmeric, and coriander powder. It tastes absolutely delicious.
I also like to add grated paneer to my pudlas, for added protein or eat with a side of eggs. You can skip adding green chilies and this recipe is a great baby and toddler-friendly recipe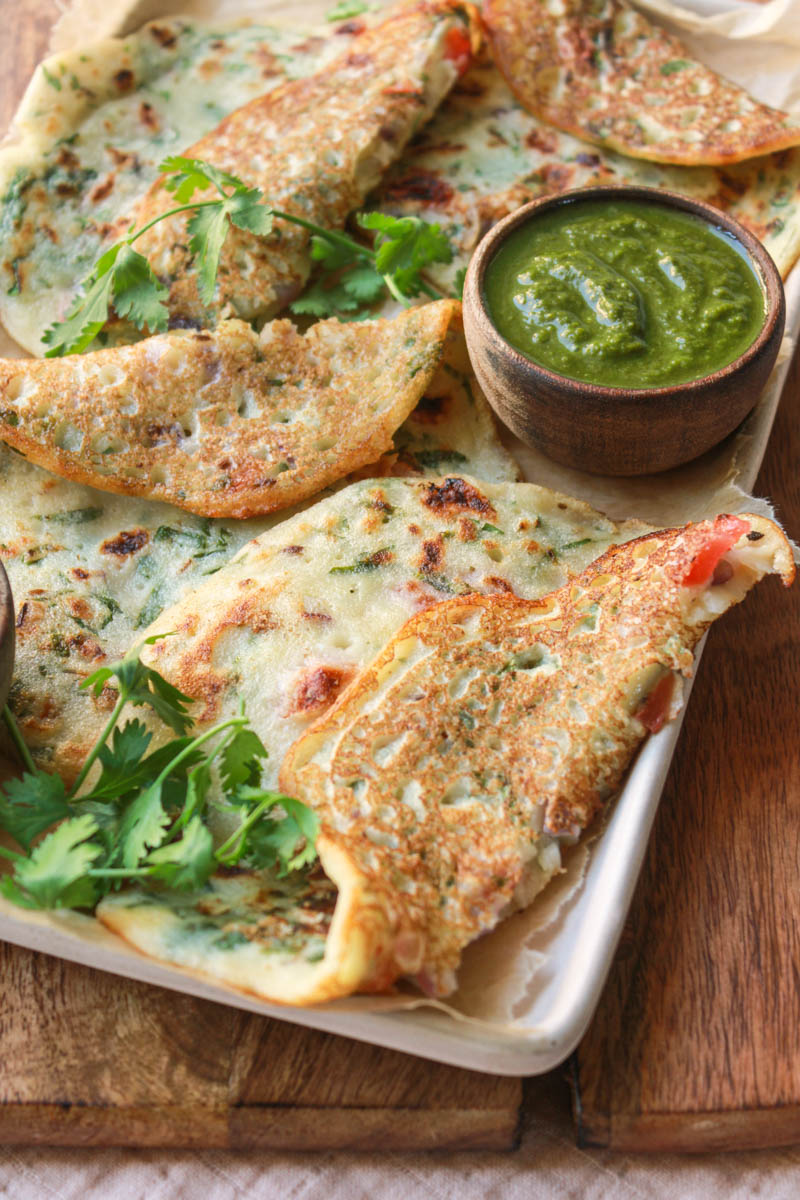 What kind of Sooji to Use to Make Rava Pudla?
I am using fine sooji, but coarse sooji works fine too. This recipe is very forgiving, and you have a lot of options to make it the way you like it.
How to Make Rava Pudla?
Rava Pudlas are very easy to make. You only need pantry staple ingredients to make these. Start with adding rava aka semolina to a bowl. Add yogurt and water, and whisk it for a smooth batter. Let the batter rest for 15-20 minutes. In the mean time, prep veggies you want to add to your sooji pudlas. I am adding onions, tomatoes, spinach, and cilantro along with minced ginger and finely chopped green chilies. Mix in your spices and veggies. Adjust the consistency of the batter, and take a ladle full of batter and spread it on a hot pan. Drizzle some oil on the side and let it cook, until browns. Flip and cook it on the other side for a minute.
Serve them hot with ketchup or cilantro mint chutney, with hot masala chai.
Variations to Make these Sooji Pudlas
You can make pudlas using oat flour, besan and any other flour that you have on hand.
I also add shredded carrots, shredded beetroots, finely chopped bell peppers, kale, cabbage etc.
In my experience adding cabbage and zucchini to besan pudlas work best.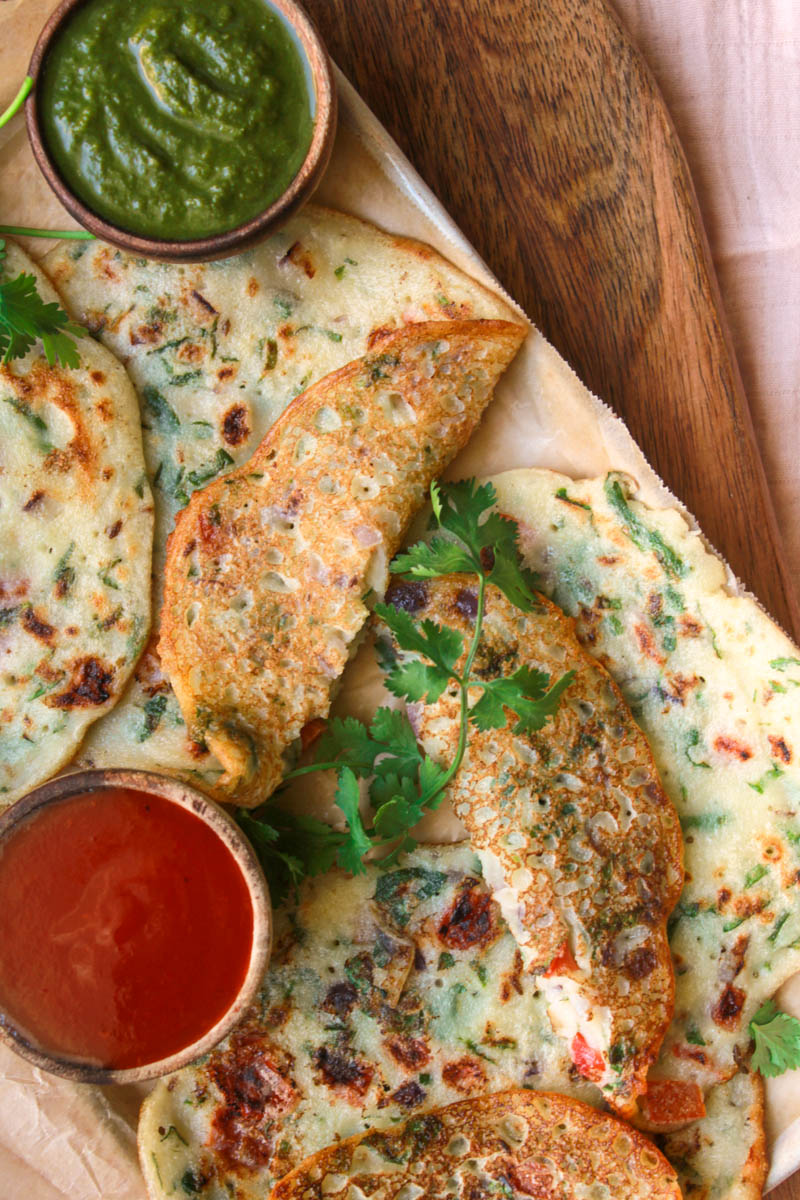 Tips to Make Rava Pudlas For Babies and Toddlers
If you are making these for 7-9 month old babies, I would recomment to add finely shredded carrots, boiled shredded beetroot, spinach finely chopped. Skip Adding green chilies and add ginger paste. Add black pepper instead.
If you are making this for babies who are 10 months and toddlers, add finely chopped veggies, like how I have. Onions, tomatoes, spinach. I also add shredded carrots and beetroots. Minced ginger works, and skip green chilies if your toddler cannot handle spice. You can add black pepper instead.
More Recipes You Might Like
Ingredients

1

Cup

Sooji

1

Tbsp

Whole Milk Plain Yogurt

You can also use plain greek yogurt

1

Cup

Water

1.5

Tsp

Ginger Paste

1-2

Thai Green Chilies

Finely Chopped

1/3

Cup

Finely Diced Onions

1/3

Cup

Finely Diced Tomatoes

1/3

Cup

Finely Chopped Spinach

1

tbsp

Finely Chopped Cilantro

1

Tsp

Salt

1/2

Tsp

Cumin Seeds

1

Tbsp

Oil

To cook the Pudla

Instructions

In a bowl add sooji, and yogurt. Start adding water little by little and start whisking. Form a thick batter, cover and let it rest for upto 15-20 mins.

In the mean time prep your veggies. Chop onions, tomatoes, spinach, cilantro and green chilies.

After 20 minutes, you will notice the sooji has swelled. Now we add another half cup water, add little by little and keep whisking it. You want a thick batter, like pancake batter. Not a runny batter.

Turn on the stove on a high flame, and place your non-stick skillet on it. Let it heat up.

Next add cumin seeds, ginger paste, finely chopped green chilies, onions, tomatoes, spinach and cilantro.

Add salt and mix everything with a laddle.

Now that your pan is hot, add 1 tsp oil. Carefully pour laddle full of batter on the hot skillet in a circular motion. You can make these small or big, it is completely your preference. The only thing to keep in mind is that their thickness should be even.

Let the pudla cook for about1.5 minutes and then drizzle a tiny bit of oil around the edges of it -swirling the pan around so the oil is evenly distributed. Flip, let it cook and brown on the opposite side and remove from heat.

Repeat until you are done with the batter. Serve the pudla warm with cilantro chutney.

Tried this recipe?

Let Us Know How it Was!! Tag us @thewhiskaddict, use #thewhiskaddict or leave a comment

Restaurant Style Matar Paneer(Opens in a new browser tab)

Bhaat na Muthiya | Gujarati Bhaat na Muthiya Recipe(Opens in a new browser tab)

Tomato Rice Recipe | Tomato Rice(Opens in a new browser tab)

Dal Palak - Red Lentils with Spinach(Opens in a new browser tab)