Moong Dal chillas are protein-packed vegan and gluten-free savory crepes, that are so delectable. These make for a deliciously healthy breakfast or a quick grab-and-go lunch. Stuff them with some scrambled paneer, tofu, or stuff it with your favorite veggies, and these makeup for such a wholesome meal.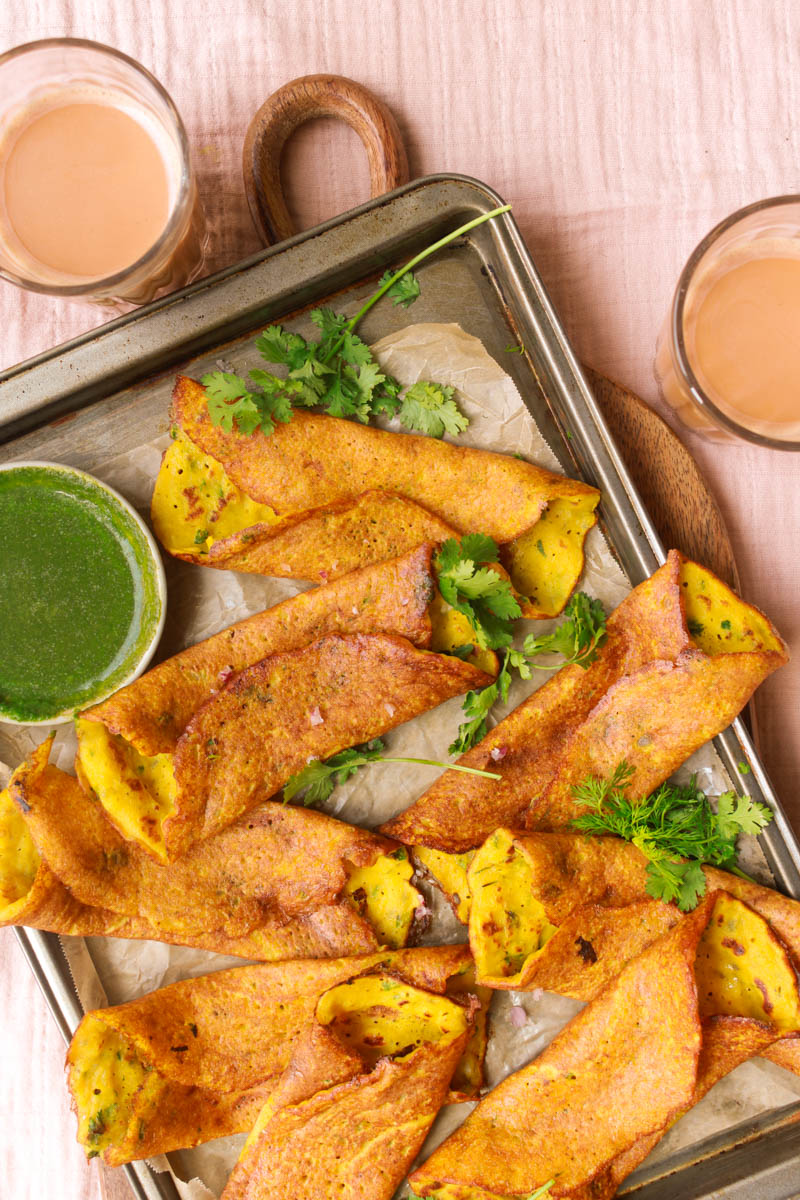 Moong Dal Chillas is also known as Puda or Pudla. These savory crepes are a great replacement to eat rotis. These are so healthy and so delicious and keep you full for a longer time. I made these for my entire pregnancy, and one of the few things that I could eat during my first trimester.
What are Pudlas or Chillas?
Pudlas are Indian savory crepes. These can be made with or without veggies and a few spices. There are many many varieties of pudlas that you can make. I usually make these using chickpea flour, oat flour, and sooji. I like to spice mine with cumin seeds, carrom seeds, ginger, and green chili paste. You can also add other spices like red chili powder, turmeric, and coriander powder. It tastes absolutely delicious.
I also like to add grated paneer to my pudlas, for added protein or eat with a side of eggs. You can skip adding green chilies and this recipe is a great baby and toddler-friendly recipe
What are Moong Dal Pudla?
Think about delicious earthy, nutty, savory buttery crepes, when you think of Moong Dal Pudlas. Moong dal is split green gram lentils. These are so easy and quick to make. Pudas are so toddler friendly and can be enjoyed by your entire family.
Ingredients to Make Moong Dal Chillas
Lentils - You will need 1 cup of Split Green Gram Lentils, aka yellow moong dal. This dal is lighter to digest and full of protein.
Fenugreek Seeds - I like to add fenugreek seeds as they aid in digestion. But you can totally skip these.
Aromatics - I add garlic, ginger, and green chilies along with cilantro for this recipe.
Veggies - I am adding half a cup of very finely chopped onions. But you can add finely chopped/ shredded spinach, tomatoes, cabbage, carrots, zucchini, or beetroots.
Spices - We will only use two spices, cumin seeds and turmeric for the recipe.
Rice Flour - Adding rice flour to the batter helps it get nice and crispy, and these crispy delicious pudas taste so delectable with cilantro chutney and masala chai.
Variations To Make Moong Dal Pudlas
I like to serve moong dal chillas with stuffing if I am making them for lunch or dinner. You can use mixed veggies, cheese, corn and jalapenos, paneer bhurji, egg bhurji, or scrambled tofu. The options are endless.
To make the batter, you can also use a half cup of pink lentils or split green moong dal with a half a cup of yellow split moong dal.
Add different veggies to the batter. You grind the batter, and to the batter add finely shredded vegetables to your batter.
If you are making these for toddlers or babies, substitute adding green chilies and cumin seeds with black pepper and roasted cumin seeds.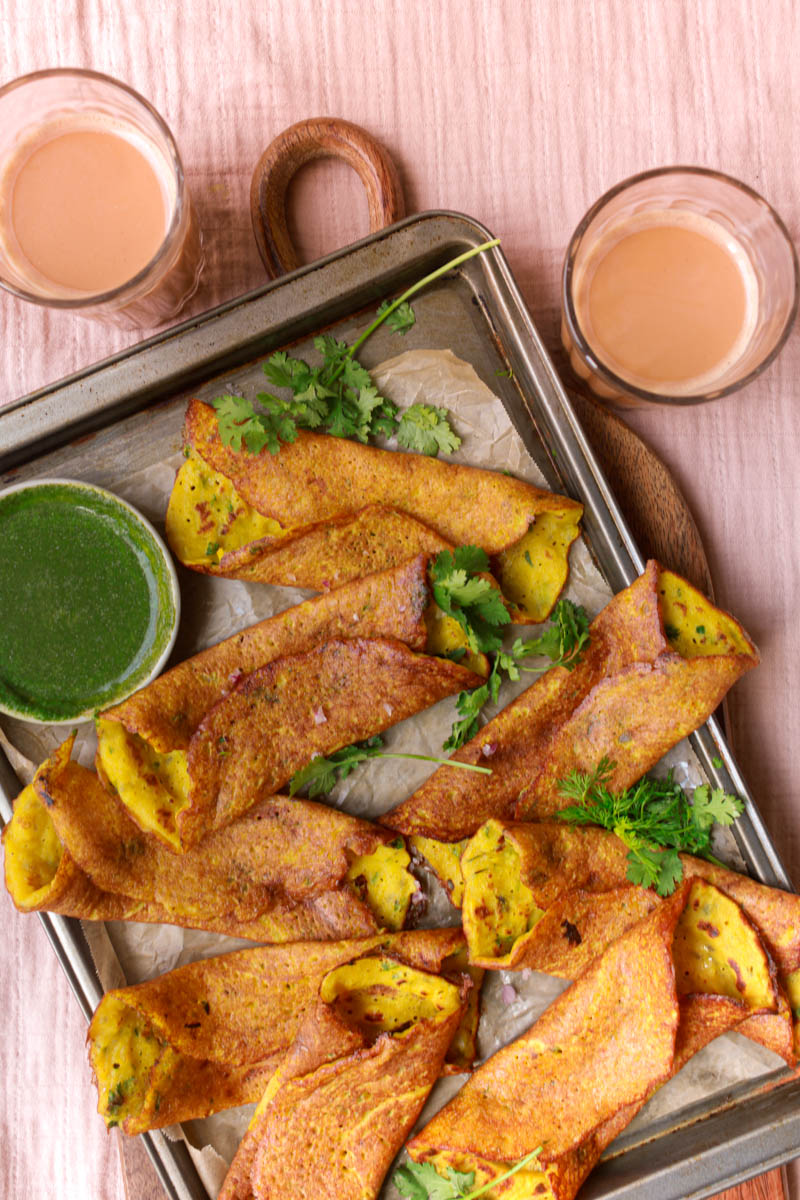 More Recipes From The Blog
Jump To: Recipe

Moong Dal Chilla

Think about delicious earthy, nutty, savory buttery crepes, when you think of Moong Dal Pudlas. Moong dal is split green gram lentils. These are so easy and quick to make. Pudas are so toddler friendly and can be enjoyed by your entire family.

Print Pin Rate

Ingredients

1

Cup

Yellow Split Moong Dal

1/2

Tsp

Fenugreek Seeds

3

Cups

Hot Water

To Soak The Yellow Split Moong Dal

For The Batter

1/2

Cup

Water

3-4

Cloves

Garlic

1

inch

knob of ginger

1-2

Green Chilies

1

Tsp

Cumin Seeds

1/2

Tsp

Turmeric

1.5

Tsp

Salt

1/3

Cup

Water

To adjust the consistency of the batter

2

Tbsp

Rice Flour

1/2

Cup

Finely Chopped Onions

1

Tbsp

Chopped Cilantro

2

Finely Chopped Green Chilies

Optional

2

Tbsp

Oil

To

Instructions

Soak The Yellow Split Moong Dal

Wash and drain 1 Cup of lentils.

Add the Lentils to a bowl. To this add 1/2 Tsp Fenugreek Seeds.

To this add 3 Cups of Hot Water. Adding hot water will reduce soaking time, and your dal should be ready to make the batter in 1 to 1.5 hours.

Make The Batter

The dal should have swelled, and you will be able to break the dal easily after soaking it for 1 to 1.5 hours.

Add the lentils and fenugreek seeds to a high powered blender.

To this add garlic, ginger, green chilies, salt and turmeric.

Add 1/2 cup of water and blend until you get a smooth batter.

Be careful while adding water. You want to make sure your batter is thick. So that you can adjust the consistency later.

Once your batter is ready, pour it in a bowl. Now add 2 tbsp's of rice flour, finely chopped onions, cilantro and green chilies. Give it a mix.

Now add little water at a time to adjust the consistency. Your batter should be of pancake consistency. You don't want a runny batter. Rest the batter for 5 minutes.

To Cook The Moong Dal Chillas

Heat a non-stick skillet.

Once hot add 1 Tsp to the skillet.

Carefully pour laddle full of batter on the hot skillet in a circular motion. You can make these small or big, it is completely your preference. The only thing to keep in mind is that their thickness should be even. I like mine to be thin and crispy.

Let the chilla cook for about1.5 minutes and then drizzle a tiny bit of oil around the edges of it -swirling the pan around so the oil is evenly distributed.

Flip, let it cook and brown on the opposite side and remove from heat

Repeat until you are done with the batter. Serve the chillas warm with cilantro chutney and masala chai

Notes

If you are making these for toddlers, or cannot tolerate spice skip adding green chilies. Add freshly cracked black pepper instead. 
Add shredded veggies to make them more nutrient-dense for your toddler.
These chillas are vegan and gluten-free. 

Nutrition

Serving:

2

Servings

|

Calories:

114

kcal

|

Carbohydrates:

16

g

|

Protein:

6

g

|

Fat:

3

g

|

Saturated Fat:

0.2

g

|

Polyunsaturated Fat:

1

g

|

Monounsaturated Fat:

2

g

|

Trans Fat:

0.01

g

|

Sodium:

406

mg

|

Potassium:

42

mg

|

Fiber:

3

g

|

Sugar:

1

g

|

Vitamin A:

340

IU

|

Vitamin C:

5

mg

|

Calcium:

18

mg

|

Iron:

1

mg