This Instant Mango Pickle has a beautiful flavor from panch phoron, pickle masala, and fennel seeds. This mango pickle is easy to make and very delicious. It is one of my husband's favorite side dishes.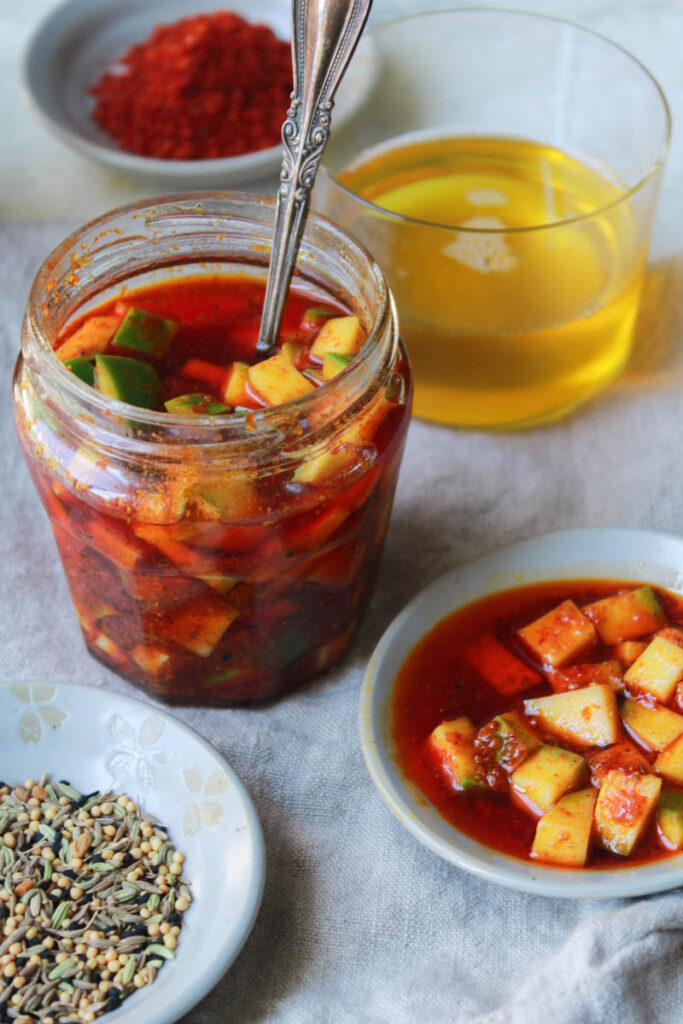 What is Instant Mango Pickle?
Pickling mangoes has been a tradition throughout India for many many years. Traditionally, pickling mangoes can take up to a week. Instant mango pickle gets ready as suggested by its name. This mango pickle is made with a few spices and topped with hot oil. And, the best part is that you can have it right away.
What are the best Mangoes to use to make this Pickle?
Try to find green mangoes in your grocery store. These green mangoes are mostly available throughout the year in the Indian stores here in the US. It is popularly known as kachi Keri or unripped green mangoes. These taste the best during the summer months.
How to Make Instant Pickle?
Instant pickles do not need soaking of the mangoes and the prolonged time of getting pickled. I love to make instant pickles using pickle masala, phanch phoron, salt, and fennel seeds. I make this mostly with the green mangoes, but you can also use carrots, cucumbers, cauliflower, ivy gourd, etc.
Variations to Make Instant Pickle
The simplest way to make an instant mango pickle is to mix it with red chili powder, turmeric, and salt. This one is the most basic and the quickest pickle that gets ready in 10 minutes.
You can use this recipe with lesser oil to make vegetable instant pickles. You can use carrots, cucumbers, cauliflower, tinda (ivy gourd), and turnips (shalgam).
I have also tried mixing mangoes with only ready pickle masala which is made with split mustard seeds, red chili powder, and salt. This pickle masala is available in most Indian grocery stores.
Storing The Pickle
After the pickle is ready, store it in an airtight glass jar in the refrigerator for up to 3 weeks. Please don't fill the glass jar till the top, leave about 2 inches of space, to keep the pickle fresh.
Other Recipes You Might Like
Instant Mango Pickle

This Instant Mango Pickle has a beautiful flavor from panch phoron, pickle masala, and fennel seeds. This mango pickle is easy to make and very delicious. It is one of my husband's favorite side dishes.

Print Pin Rate

Equipment

1 Small Pan

1 Wide Mouthed Bowl

Ingredients

3

Cups

Chopped Green Mangoes

2

Tbsp

Panch Phoron

You will be able to find this spice mix easily at your Indian Store

1

Tsp

Fennel Seeds

1/2

Tsp

Salt

1/3

Cup

Pickle Masala

1

Tsp

Red Chili Powder

1

1/4

Tsp

Turmeric

1/3

Cup

Jaggery

1

Cup

Sesame Oil/ Mustard Oil / Peanut Oil

Instructions

Wash the Green Mangoes Thoroughly, and dry it with a paper towel.

Chop the mangoes into small cubes. Set it aside in a wide mothed bowl.

Place a small pan on medium heat. Add Panch Phoron and Fennel Seeds to the pan. Roast for 2 minutes or until aromatic. And grind them into fine powder using a spice grinder.

Now to the chopped mangoes, add pickle powder, red chili powder, turmeric powder, jaggery and the prepared masala along with salt. Massage the spices thouroughly with your hands on the chopped mangoes.

Now add oil to the same pan. Heat up the Oil.

Once the oil is hot, add the oil to the mangoes

Mix everything well. Let it cool and store it in an airtight glass jar.

Leave it outside for 24 hours. Place it in the refrigerator and enjoy upto 2-3 weeks.

Nutrition

Serving:

1

Tsp

|

Calories:

234

kcal

|

Carbohydrates:

13

g

|

Protein:

2

g

|

Fat:

20

g

|

Saturated Fat:

3

g

|

Polyunsaturated Fat:

8

g

|

Monounsaturated Fat:

8

g

|

Sodium:

101

mg

|

Potassium:

111

mg

|

Fiber:

1

g

|

Sugar:

12

g

|

Vitamin A:

497

IU

|

Vitamin C:

15

mg

|

Calcium:

22

mg

|

Iron:

1

mg

Gujarati Dal | Gujarati Khatti Meethi Dal | My Mom's Recipe(Opens in a new browser tab)

Rajwadi Dhokli Nu Shak | Spiced Chickpea Flour Dumplings in Yogurt Curry(Opens in a new browser tab)

Coconut Raita| Coconut Pachadi(Opens in a new browser tab)

Cabbage Peas nu Shaak | Aloo Patta Gobi Recipe(Opens in a new browser tab)