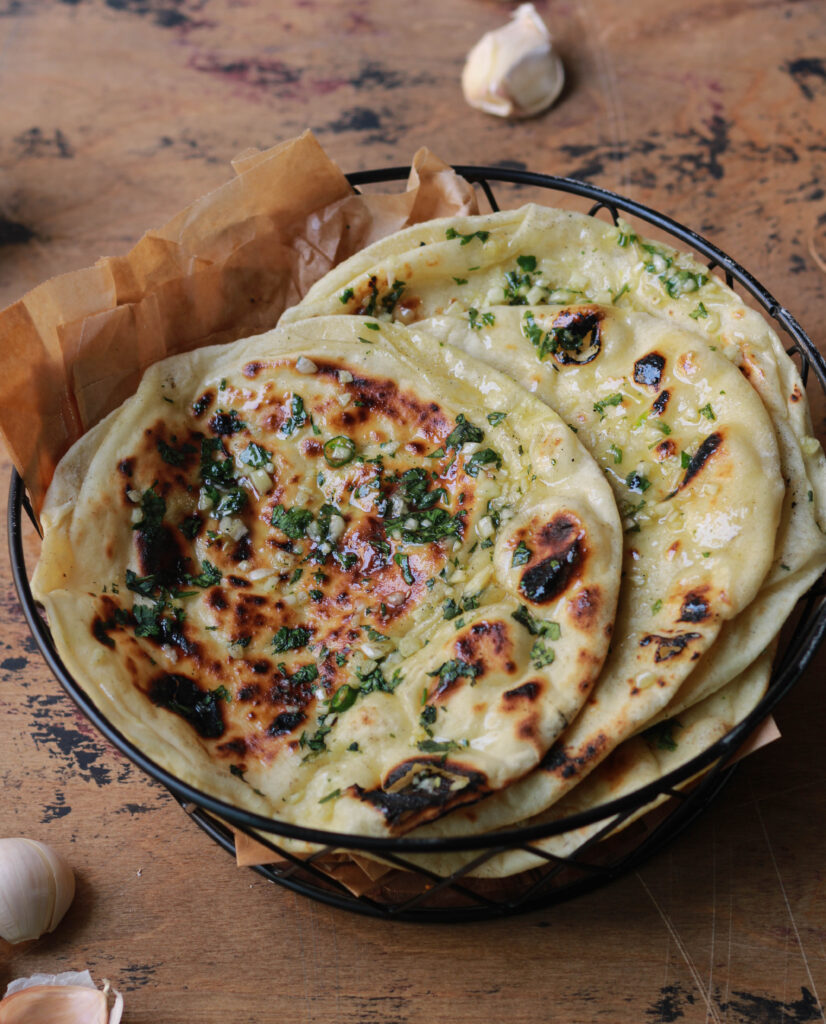 I have always been fond of beautiful breads and naan breads are my husband's and my favorite kind. These naan breads are so soft, chewy and so delicious. I make them so often, more often than I ever expected to be making them. I have tried several recipes, to try to make perfect naan's. But, I love this one.
Naan bread is a leavened bread, made with either yeast or bread starter. There are many versions now on the internet that use yogurt as a leavening agent and they need resting only 30 mins.
My version is more following the authentic way of making naan bread, because I have to come to liking this version the most. The beautiful bubbly charred top, and how gorgeous they look. Oh, I can't get over the beauty and process of making this delicious bread.
To make perfect Naan Bread, you want to activate your yeast properly. For this having water and milk at the right temperature is very important. The water should be about 110F. And the milk should be at room temperature. This will make sure that your yeast is activated. Cold or over heated temperature of water and milk can kill the yeast, preventing it from activating.
Can I freeze the Naan Bread?
The naan's can be made in advanced and freezes for up-to 2 months. I make naan's and freeze them placing a parchment paper in between, placing them in a freezer safe box or ziplocks.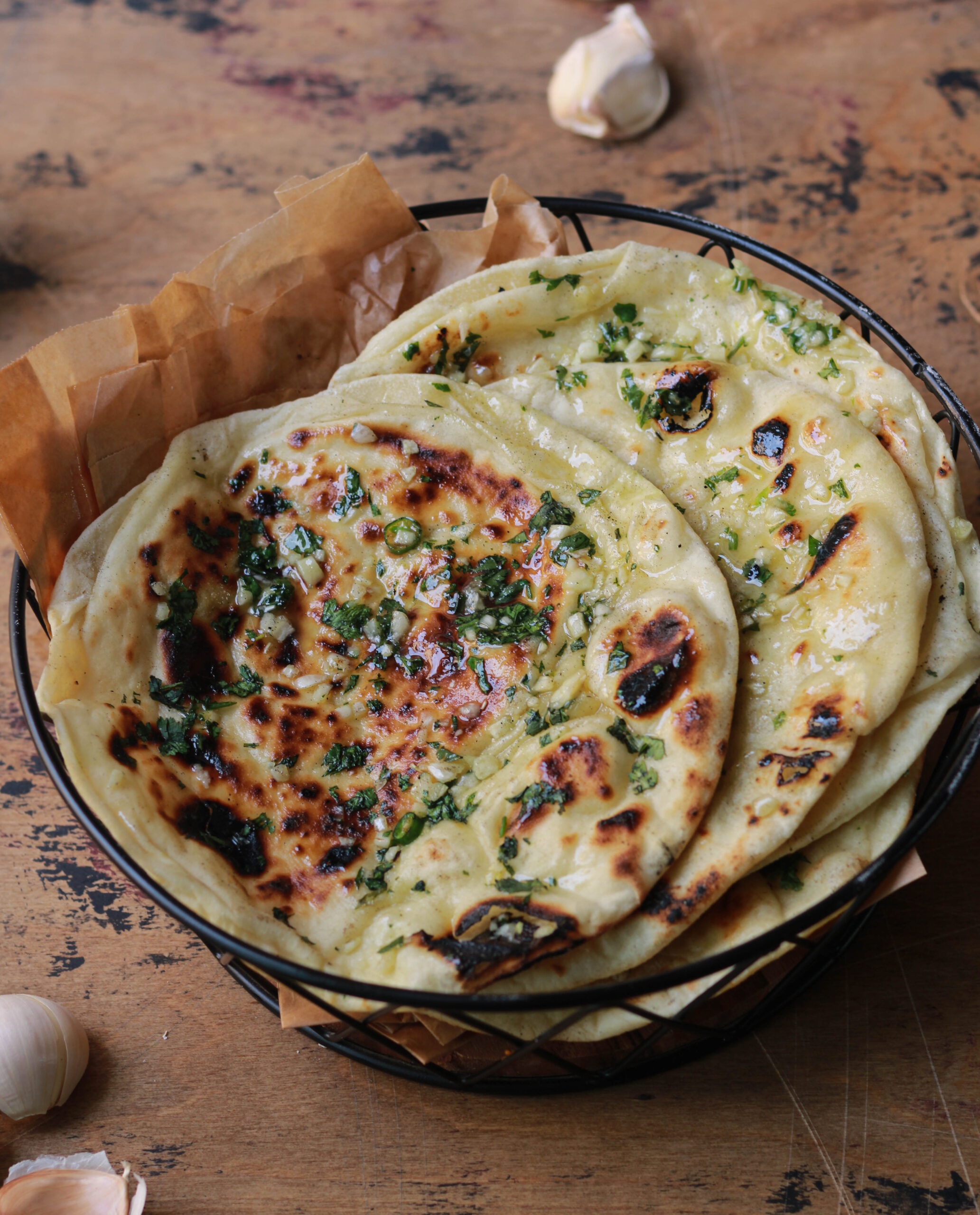 Ingredients
For Naan
4

Cups

All Purpose Flour

1+1/2

Tsp

Salt

1

Cup

Warm Water

1/2

Cup

Milk

Room Temperature

1

Packet

Rapid Rise Instant Yeast

4

Tbsp

Olive Oil

4

Tbsp

Plain Yogurt
For Garlic Butter
6

Tbsp

Butter

10-12

Cloves

Garlic

Finely Chopped

Handful of Chopped Cilantro

Finely Chopped

1-2

Green Chillies

Finely Chopped

Pinch of Salt

if using unsalted butter
Instructions
For Naan
Mix together All purpose flour and salt in a bowl. Keep it aside. 

In your stand mixer add Warm Water, Sugar, and Yeast. Let it rest for 5 minutes until it bubbles and activates. . 

Next add oil, milk and yogurt. Now add little flour at a time and start kneading the dough on low speed. Add all the flour and knead the dough until well combined. The dough shouldn't be sticky. 

Now dust some all purpose flour on a clean surface. Start kneading the dough with hands for 8-10 mins. 

Once done. Grease a large bowl with little oil. Place the dough and cover it with a cloth. Let it rest in a warm place for about 60-70 minutes. 

The dough would have risen. Now punch the dough, to take all the air out. Divide the dough into equal portions, cover and let them sit again for 10 mins. 
For Rolling the Dough
Dust some All Purpose Flour on a clean surface, take a portions of the dough and start rolling the dough elongated or a circle. 

Heat a cast iron pan. Add the rolled naan on top of the pan. Let it bubble. Then cook it from the other side. Now show the naan on the flame just like how we make phulkas, this will give beautiful charred naan, just like how we eat in restaurants. 

Slather the naan with butter or garlic butter and enjoy them warm with a rich delicious curry of your choice 
For Garlic Butter
Add butter to a small pan. Let it melt, add finely chopped garlic, green chillies and cilantro. Mix it well. Ready!  Slather it on the naan and there you have it, yummy GARLICKY BUTTERY NAAN
Notes
If you don't see bubbles in the yeast mixture start over again from step 1.
To make the naan's very soft, knead the dough with your hands for 10 mins atleast. 
Resting the dough in a warm place is very important. You can rest your dough in the oven with the light on. Or you can turn on your microwave for 3-4 minutes. This will create heat in the microwave. Then you can place your dough in the microwave and let it rest. 
The naan's can be made in advanced and freezed for upto 2 months. I make naan's and freeze them placing a parchment paper in between, placing them in a freezer safe box or ziplocks. 
Tried this recipe?
Let Us Know How it Was!! Tag us @thewhiskaddict, use #thewhiskaddict or leave a comment
I use Instant Rapid Rise Yeast for this Recipe. The link to buy the Instant Yeast Recipe is here.
You can also find this yeast in any local grocery store.
Lasaniya Bateta(Opens in a new browser tab)
Restaurant Style Chana Masala(Opens in a new browser tab)
Easy Weekly Veg Biryani with Freshly Pounded Biryani Masala(Opens in a new browser tab)
Semiya Payasam | Semiya Payasam Recipe | Vermiceli Kheer(Opens in a new browser tab)