Methi Crackers are a perfect snack to munch on any day. They are easy, quick and uber delicious. Now common who doesn't like a good snack to munch on with a hot cup of masala chai. I know, I always love to munch on something savory with a mean cup of masala chai that I make.
What are Methi Crackers ?
Methi crackers are famously also known as Methi Mathris in India. These crackers are crispy and have flaky layers and a very earthy rustic taste from dried fenugreek leaves. Traditionally, these mathris are deep fried, but you can also bake them. We either use all purpose flour or whole wheat flour to make these. I am using whole wheat flour, and deep frying them.
Are Methi Mathris Vegan?
I like to use ghee while kneading the dough to make the Methi Crackers. Using ghee helps to make these Mathris crispy and beautiful flaky layer. As I like to call them, they get a beautiful Khasta Texture.
If you wish to make these vegan, I would recommend you to use Vegan Butter. Butter should be able to give you perfect flaky texture to your Methi Crackers.
Can We Make Methi Crackers Healthyish?
Of course, you can. I like to use whole wheat flour to make these a little healthyish. And Baking them just makes them perfect for guilt free snacking. To bake these Crackers simply bake them at 375F for 15 mins or until golden brown.
Tips to Make Perfect Methi Crackers
Methi Crackers are pretty simple to make. All you have to do is nail the dough. A perfect dough will give you beautiful crispy and flaky crackers.
The most important aspect of making perfect crackers is the dough. The Moan/ Moin is a process where we add the fat to the flour. This will determine the texture of our crackers. For these crackers, I like to use ghee. The right way to know that your moan is perfect for this recipe is to have a crumbly flour, after incorporating ghee into the flour.
Knead a tight dough. Your dough needs to be tight. Tighter than that of bhakris/rotlis. So we will add water carefully little by little to make the dough.
The Spices should hit right. If you follow my recipe to the T, you will not have to worry about this step. The spices will be spot on. I have tried and tested this recipe so many times now.
Rolling the Crackers is fairly an easy job. I suggest you to roll a big thin about an 1/8th inch thick roti, and give any shape you desire. Just make sure that your crackers shape and size are identical and equal. Having same size helps them fry/bake evenly.
Frying the Crackers on Medium Low flame is essential. You have to let them cook slowly until they are nice golden brown in color.
Other Recipes you Might Like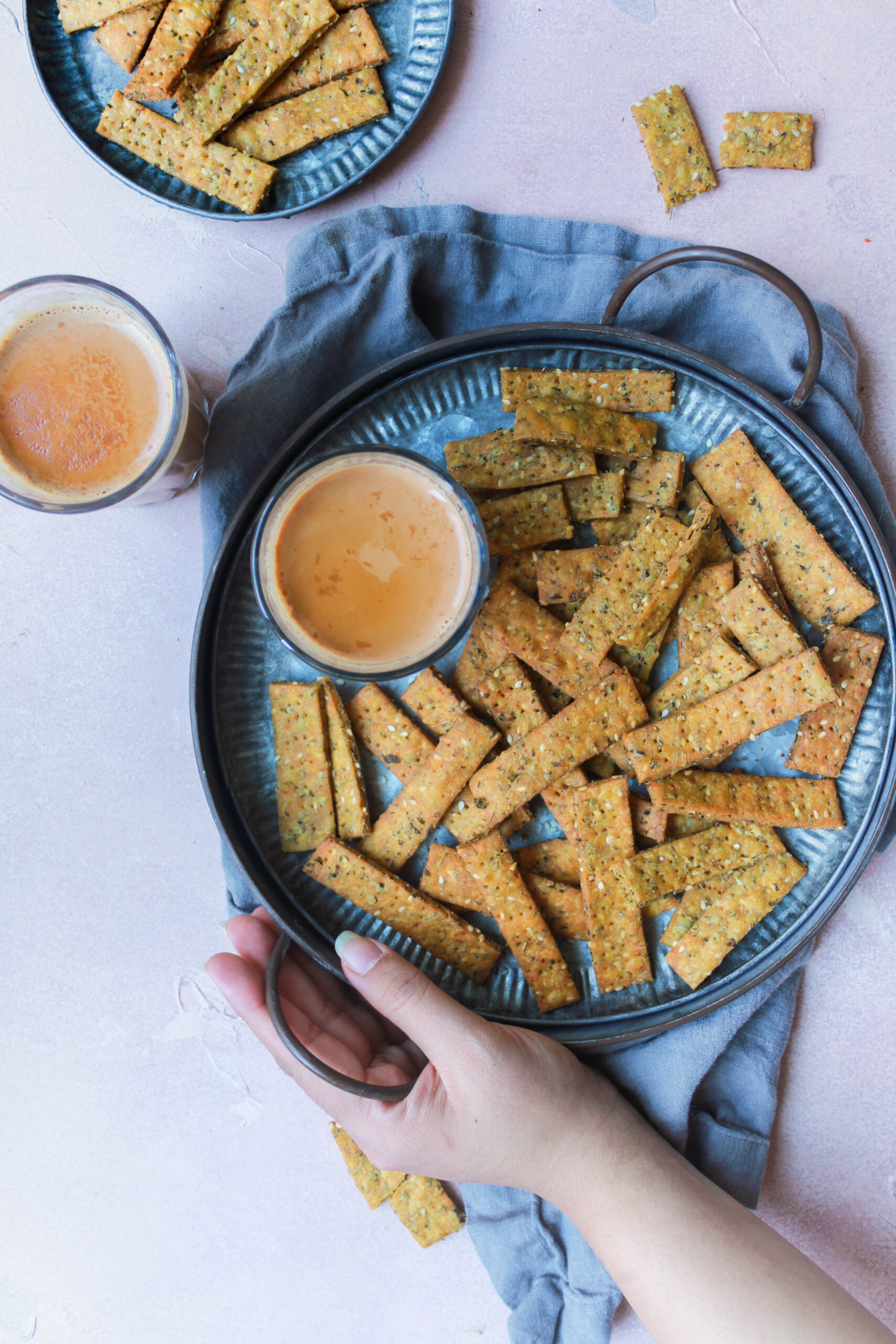 Ingredients
2

Cups

Wholewheat Flour

1

Tsp

Salt

1 +1/2

Tsp

Ajwain (Carrom Seeds)

1

Tbsp

White Sesame Seeds

1/4

Tsp

Hing (Asafetida)

2

Tbsp

Kasuri Methi

2

Tsp

Kashmiri Red Chili Powder

1

Tsp

Cumin Coriander Powder

1/2

Tsp

Turmeric

1/2

Tsp

Chaat Masala

5

Tbsp

Ghee

Vegan Butter to make Vegan

1

Cup

Water

Use as needed

Oil for Frying
Instructions
Add 2 Cups of Wholewheat flour to a wide mouthed bowl.

Next add in the sesame seeds, hing and Ajwain. Crush the ajwain between your palms as you add it to the flour.

Next add in Kasuri Methi along with all the spices, the red chili powder, cumin coriander powder, turmeric, salt and chaat masala.

Now start rubbing the flour between your palms and incorporate ghee properly into the flour.

You will see that the flour has now become crumbly. If it has not become crumbly, add 1 Tsp of ghee more. Incorporate ghee again. You can check if you have added the right amount of ghee by testing the flour. Take a chunk of flour in your hands, and clam it in your fist, if it holds its shape, the ghee is perfect.

Now start adding water little by little. I needed just a little less than 1 cup of water to knead the dough.

Knead a tight dough. Once the dough comes together, knead it for another 5 minutes.

Cover and Let the dough rest for 10 minutes.

After 10 minutes, Divide the dough into two halves. Take a portion of the dough, and start rolling it. It should be about a 1/4 inch thick.

To bake preheat the oven at 375F. And To Fry add Oil to a Pot, Starting heating it up on a medium low flame

You can either use a cookie cutter, or cut the dough intro long crackers as I have done.

Poke holes in the shaped crackers, so they don't puff up and to make sure they turn out crispy. Take the remaining dough and repeat the same.
To Bake
Line a baking sheet with parchment paper. place the crackers, and bake in the preheated oven for 375F for 15 mins until golden brown.
To Fry
Fry the crackers depending on the size of your pot your are using. Fry about 10 at a time on a medium low flame until they appear golden. Take them out in a separate bowl.
Store the Methi Crackers
Let the crackers cool down completely. Store them in an air tight container. You will be able to enjoy these for upto 3-4 weeks.
Tried this recipe?
Let Us Know How it Was!! Tag us @thewhiskaddict, use #thewhiskaddict or leave a comment
Follow me on Instagram for Daily Updates
More Recipes from the Blog
Dal Palak - Red Lentils with Spinach(Opens in a new browser tab)
Chocolate Crinkle Cookies(Opens in a new browser tab)
Papdi Khichu Recipe| Khichu Recipe | Papdi no Lot(Opens in a new browser tab)
Chocolate Besan Ladoo(Opens in a new browser tab)
Garlic Naan Recipe | Restaurant Style Garlic Naan | Stove Top Garlic Naan(Opens in a new browser tab)
Rajma Masala (Red Kidney Beans Curry)(Opens in a new browser tab)