Why does google need one more recipe of green chutney? Well, because you might just like my version as much as I do. It is simple, quick, and easy. But most importantly I make a big batch of it and freeze it too. So today is the day when I share my green chutney recipe with you guys.
Green Chutney doesn't need any introduction. It is the most essential Indian condiment that is available in my refrigerator at all times. How is it that green chutney just makes food taste so good? I make my green chutney with a few basic ingredients. Nothing too fancy. I don't even prefer to add onion and garlic to my chutney, in order to keep it fresh in my refrigerator for a longer time.
What is Chutney?
Chutney is essentially a spiced sauce made with a combination of aromatics, herbs, and spices with any vegetables or fruits. It is used as a dipping sauce or spreads in a lot of recipes to take it up a notch. Originating in India, chutney has gained global popularity and now you will be able to see that chutney in a lot of other cuisines.
How to Make Green Chutney?
There are a lot of different variations of green chutney. This version is my mom's recipe and the one that I make the most. We will discuss other variations of Green Chutney further in the blog. Let's first dig into this one.
Ingredients to Make This Chutney
Cilantro - You will need a fresh bunch of cilantro for making the green chutney. Needless to say but, Cilantro is the key ingredient of this recipe. I recommend buying a very fresh bunch of cilantro to make this chutney. And we won't let any part of cilantro go to waste. The real flavor of cilantro is in the stalk. So we will be using the leaves as well as the stalks.
Mint - Now there is a reason why we call this a cilantro and mint chutney. The refreshing flavor of mint perfectly compliments the rustic earthy flavor of cilantro, giving it a beautiful revitalizing flavor. You sure don't want to miss out on adding mint to your green chutney.
Curry Leaves - Curry leaves are absolutely optional, but they add these beautiful citrusy nuttiness undertones to the chutney that I have been loving a lot.
Green Chilies - I think one of the key ingredients to spice it up are the chilies. Fresh thai green chilies are a perfect addition to spice up your chutney.
Ginger - Ginger has to offer beautiful pungent spicy, citrusy and sweet aromatic flavors.
Thick Plain Sev - I love adding sev to my chutney. Sev is deep-fried chickpea flour noodles. Baking soda is added to the sev while preparing it. Which perhaps plays an essential role in preserving the gorgeous green color of our cilantro and mint chutney and gives a perfect consistency to the chutney as well.
Salt , Sugar, and Lime Juice - The quintessential trio of all Gujarati Recipes. The burst of flavors that these three simple ingredients has to offer is unmatched. The bold flavors of this trio makes this chutney my favorite.
Ice Cold Water - It is important that you use either ice-cold water or ice cubes while grinding this chutney. Ice cold water plays the most important role in making this chutney.
All you have to do is follow this recipe, and just dump all the ingredients in your mixer and grind them into a sauce.
Other Varieties of Green Chutney
Every household in India has their own recipe to make green chutney. I am just sharing a few versions that I have tried and really liked.
North Indian Green Chutney - In the Northern Part of India green chutney is made sometimes only with cilantro. There are other additions to the chutney like onion, tomato, and garlic, and has a quite spicy palette. Enjoyed with Khasta Kachoris, Bhajias, Cheela and More this recipe is something that you guys might want to explore.
South Indian Green Chutney - I like to use both cilantro and mint along with coconut in my south Indian green chutney. The addition of greek yogurt gives a beautiful pungent flavor to this chutney, but the key part is the tadka.
How to Use Mint and Cilantro Chutney?
You can use the green chutney as a condiment to your sandwiches, wraps, cheelas, savory pancakes. and all your deep-fried goodies.
I also like to add a little bit of mayo in my green chutneys for some fusion open sandwiches or Indian Style Hot Dogs.
Well, if you have green chutney on hand, you got to have a chaat party. This green chutney is good on anything and everything.
How to Store This Chutney?
Store a part of this chutney in an airtight container to use during the week. And store the rest of it in the ice cube trays and freeze it. The chutney stays fresh for up to about 3 months.
More Recipes from the Blog
Bhaat na Muthiya | Gujarati Bhaat na Muthiya Recipe(Opens in a new browser tab)
Tomato Rice Recipe | Tomato Rice(Opens in a new browser tab)
Undhiyu ( Mixed Vegetables Curry- Instant Pot)(Opens in a new browser tab)
Papdi Khichu Recipe| Khichu Recipe | Papdi no Lot(Opens in a new browser tab)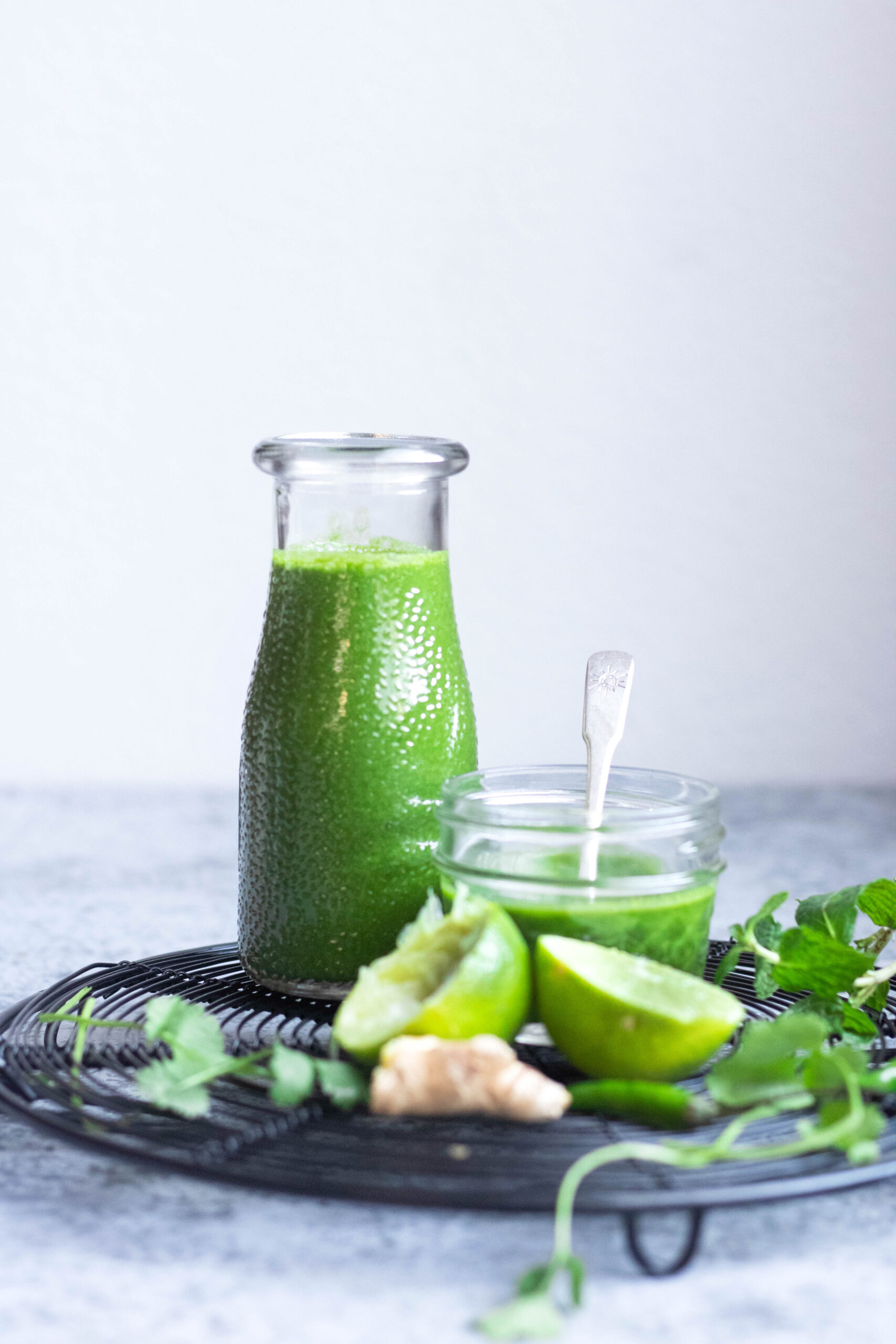 Ingredients
4

Cups

Tightly Packed Cilantro

Along with stalks. Just cut the ends of the cilantro stalk, as they have a lot of dirt in them.

1

Cup

Tightly Packed Mint Leaves

10-12

Curry Leaves

Optional

3-5

Green Chilies

Add according to the spice level you like. I use 3 green chilies

1+ 1/2

inch

Ginger

1/4

Cup

Sev

1

Tsp

Salt

1

Tbsp

Sugar/Jaggery

2+1/2

Tbsp

Lime / Lemon Juice

1/2

Cup

Ice- Cold Water
Instructions
Take a bunch of cilantro, and cut the rear end of the stalks. Place it in a strainer and wash thoroughly.

Separate the mint leaves from its stalk. Wash and rinse it thouroughly.

Prepare the rest of the ingredients.

Now to a high powered blender add all the ingredients and grind them in a smooth sauce

Store some in the refrigerator in an air tight container to use it during the week and freeze the rest of the chutney for later use
Tried this recipe?
Let Us Know How it Was!! Tag us @thewhiskaddict, use #thewhiskaddict or leave a comment
Other Condiments You Might Like