Churma Ladoo is a traditional recipe from the regions of Rajasthan and Gujarat in India. It is delicious and is an energy booster. These Churma Na Ladva are made for the festival of Ganesh Chaturthi in Gujarat. My recipe is a no-fry version, as it becomes even more nutritious.
This recipe is very traditional and prepared in every household on the occasion of Ganesh Chaturthi. We enjoy these ladva with val nu shaak and Gujarati Dal. As I always say, food brings me closer to my roots. And I want Inaaya to grow up knowing Indian Food and her roots. What better way to introduce her to these beautiful recipes, than the festivities.
What are Churma Na Ladoo?
Churma Na Ladoo is ladoos made from Whole Wheat Flour, Semolina, and Ghee, Sweetened with Jaggery with beautiful nutty flavors from almonds and coconut, spiced with cardamom, and nutmeg. The wholewheat flour is nicely massaged with ghee, and a tight dough is prepared, and rested for 15-20 minutes, for the gluten to build. This makes the ladoos easily digestible. Churma ladoos in Rajasthan are enjoyed with Dal Bati, and Gatta ni Sabji.
Why a No Fry Recipe instead of the Traditional Fried Recipe?
It is totally up to you, how you want to make the Churma Ladoos. I like to avoid deep frying as much as possible in my home and keep my family away from deep-fried foods. The Churma Ladoos feel much lighter to consume when not deep-fried. If you are new to the recipe of Churma Na Ladoo, then you might not know this. We make a tight whole wheat flour dough and make muthias. These muthias are traditionally deep-fried in Ghee or Oil. Then Crushed into a fine powder, and then we proceed to spice and sweeten them.
The No fry version is easy, quick and it also doesn't need your constant attention. You make the muthias and air fry them or bake them. In the meanwhile, you can prep the other ingredients you will need to make the Churma Ladoos.
Are Churma Ladoos Vegan and Gluten-Free?
These ladva are not vegan or gluten-free. If I were to guess, you can make this vegan using coconut oil, or vegan butter. Whole Wheat flour contains Gluten, so there is no way to make these ladoos Gluten-free.
Some Recipes from the Blog You May Like
Ingredients to Make Churma Ladoo
Bhakri Flour - I like to use Bhakri Flour as this is pounded little coarse than the whole wheat flour we usually use. If you don't have Bhakri Flour, you can add a little bit of besan and semolina to the whole wheat flour to prepare the ladva
Semolina - I like to use the coarse roasted semolina for the recipe. You can roast your semolina really quickly on the stove on a medium low flame until it starts to smell nutty. The roasting helps semolina to add the beautiful nutty flavors and beautiful coarse texture to the Churma ladoo.
Ghee - A quintessential ingredient for making these ladoos. One advice, be generous in using ghee to make these ladva. They taste delicious because of this golden goodness. Use melted ghee for accurate measurements.
Warm Water - We will knead the dough using warm water. We knead a very tight dough using minimal water in this recipe. Warm water helps the dough to absorb the protein from the gluten faster. This will make the dough pliable and easy to knead.
Nuts - I personally like to add almonds and coconut to these ladoos. But you can also add cashews, pistachios and raisins, or any other nuts of your choice.
Salt - The smallest pinch of salt takes these ladoos to the next level.
Cardamom - What is an Indian Sweet without Cardamom? Deseed the Green Cardamom and freshly pound it and add it to the churma. The hidden sweet notes of cardamom is what makes all the Indian desserts to die for.
Nutmeg - To be honest, not everybody likes the taste of nutmeg. So if you don't like it or don't have it just skip it. I like to add nutemg for it is mild sweet, earthy and gives a slightest kick.
Jaggery - I use Kolhapuri Jaggery to add to these ladoos. We heat ghee and add jaggery to it. Cook it until it bubbles. And then add this mixture to the Churma. The Kolhapuri Jaggery is lighter in color, so when heated, it becomes into this beautiful caramel color, giving your ladoos the most beautiful rustic color.
White Poppy Seeds - We use lightly roasted white poppy seeds to coat these ladoos. It gives the ladoos look very beautiful, as if coated in tiny pearls and gives a nice crunch when you take a bite.
Step - by - Step Recipe to Churma Ladoo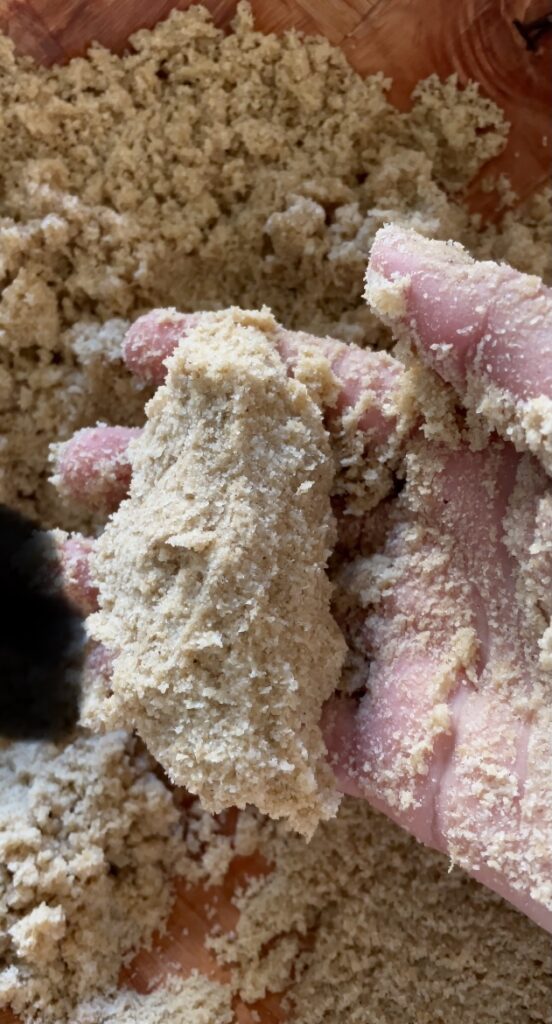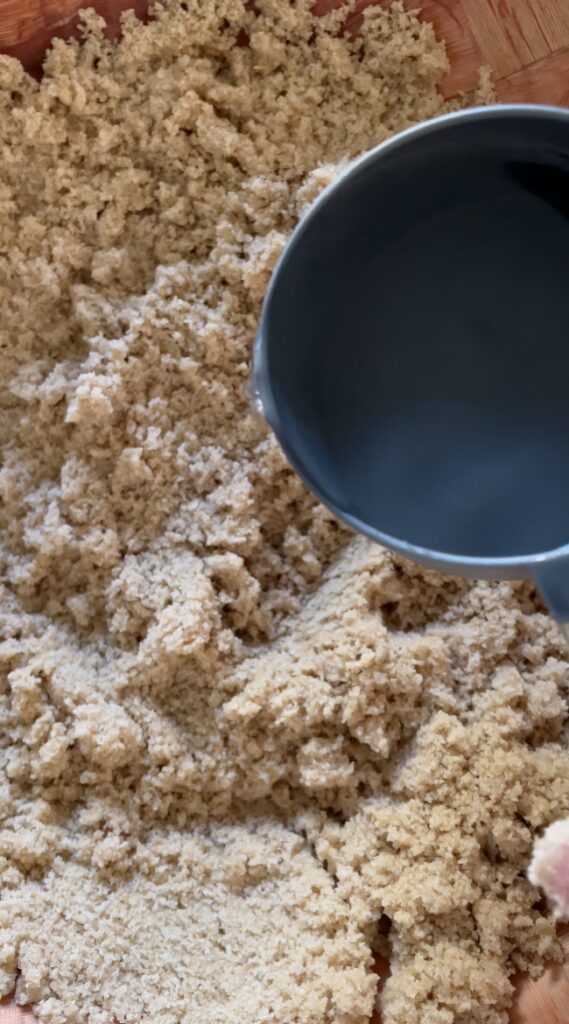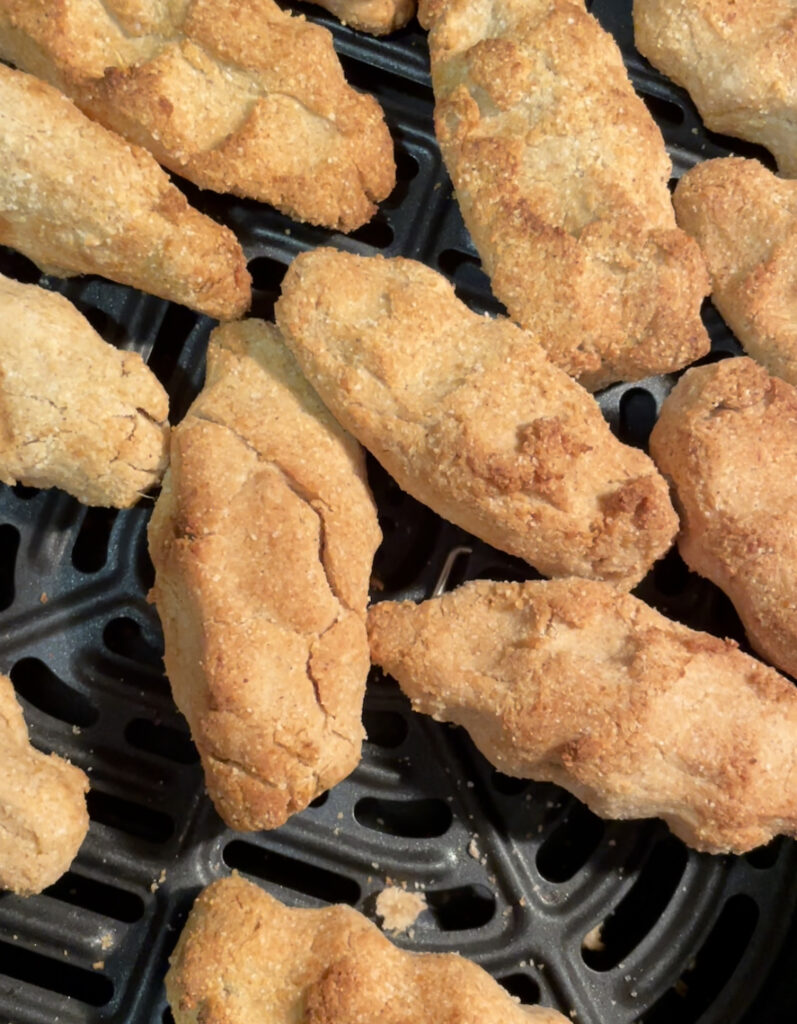 Make the Churma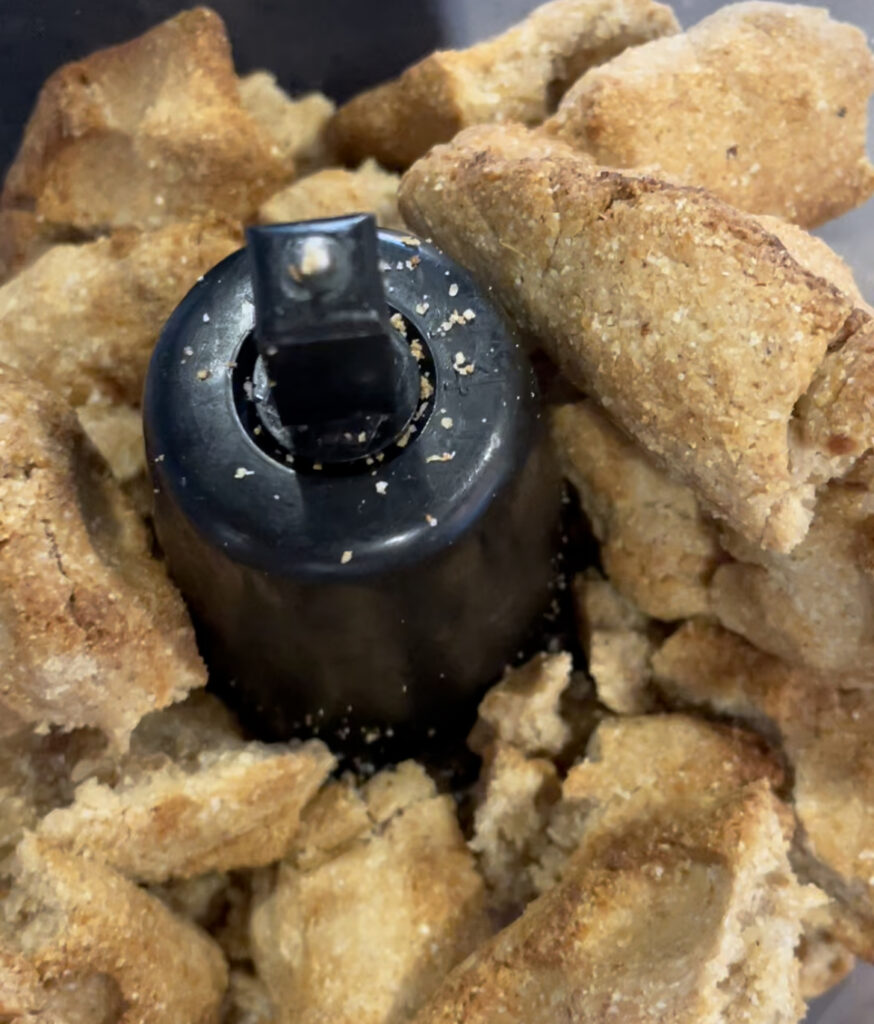 Make the Churma Ladoo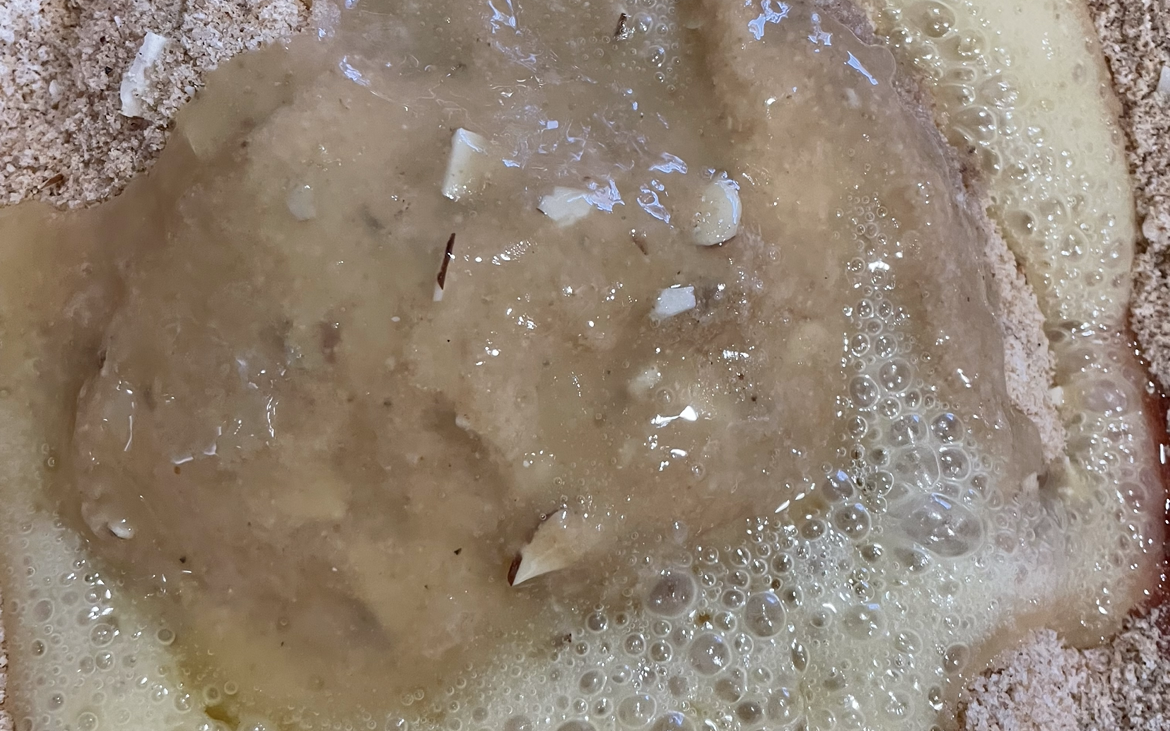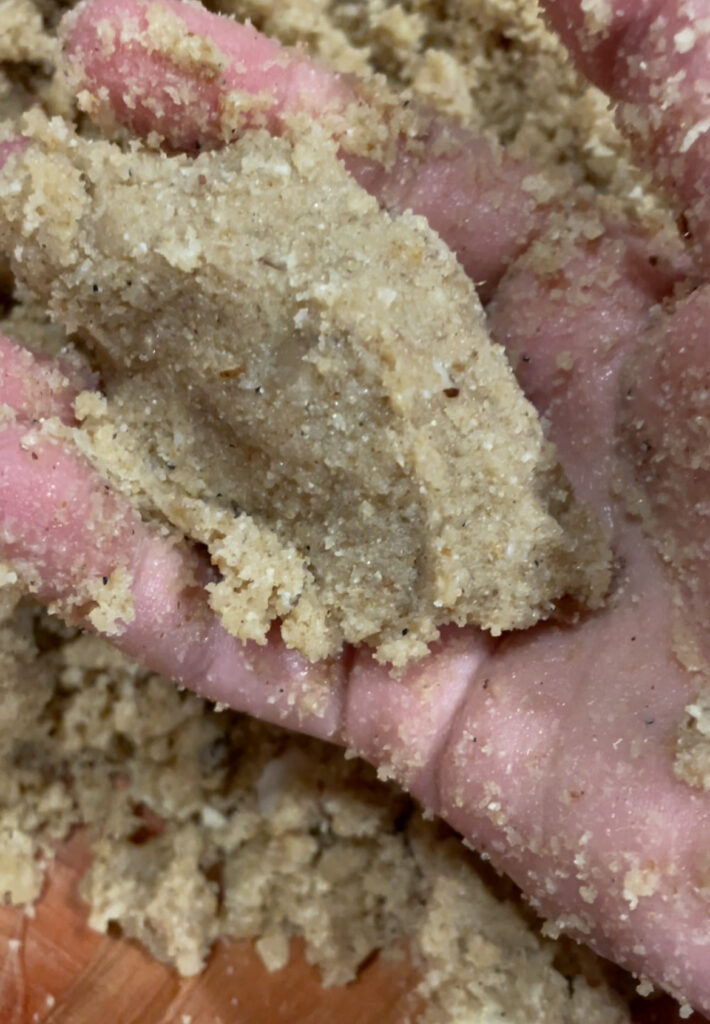 Expert Tips to Make Churma Ladoo
Churma Ladoos can be a little daunting but they are easy to make. They are absolutely worth all the effort. They are so delicious, that one can just not stop eating them.
Use melted ghee for this recipe.
You will feel like you are using a lot of ghee, but ghee is used in this recipe to bind these ladoos, and they also help with digestion.
In the end, when you start making ladoos, be sure to have melted ghee ready with you. Add little by little, to bring the churma together and make ladoos.
If you don't like almonds you can use cashews or walnuts too.
If you don't like the crunch in the ladoos, you can add half cup almond flour.
If you don't have an airfryer, you can make roast the muthia on the stove. I like to use appe/paniyaram pan. Add ghee and add cook the muthias for about 7-10 mins or 4-5 mins on each side on slow flame.
You can also shallow fry the muthia. In a frying pan add 2 cups of ghee. Let it heat up. Fry the muthias until golden brown.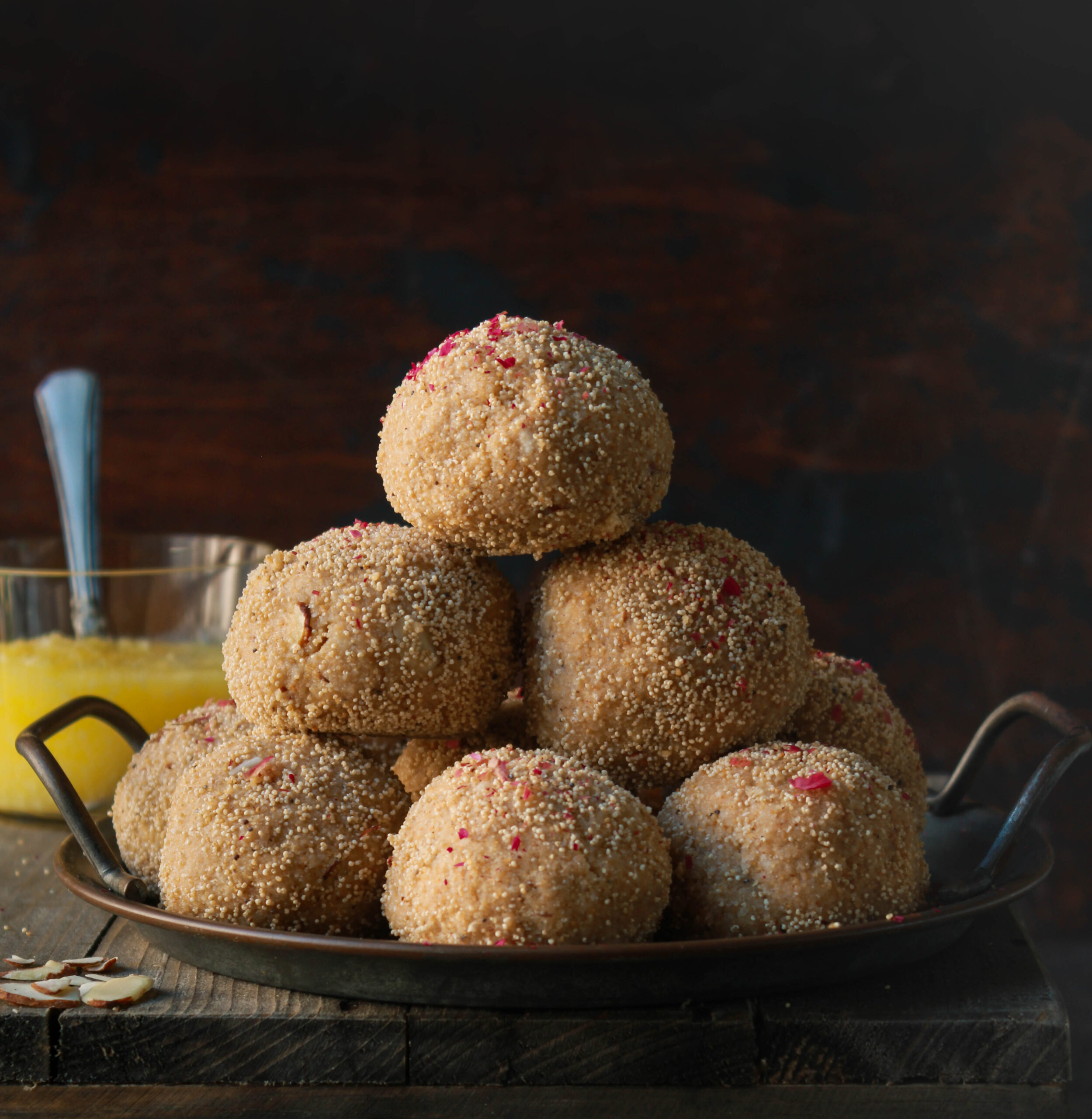 Equipment
Air Fryer / Oven

Food Processor / High Powered Blender
Ingredients
Make Muthia
2

Cups

Bhakri Flour

Read notes if you don't have Bhakri Flour

1/2

Cup

Coarse Semolina

Roasted

1/2

Tsp

Salt

1/3

Cup

Melted Ghee or as required

1/3

Cup

Warm Water

1

Tbsp

Melted Ghee to brush the Muthia before baking
Make Churma
1/2

Tsp

Nutmeg Powder

Optional

1

Tsp

Cardamom Powder

Pinch of Salt

1/2

Cup

Slivered Almonds

1/2

Cup

Dry Coconut Powder

1/4

Cup

Melted Ghee

3/4

Cup

Jaggery

(Powder it or shred it before measuring)
Make the Ladoos
2/3

Cup

Melted Ghee

To Bind the Ladoos. Add 1-2 Tbsps and mix. Add as required.

1/4

Cup

Roasted White Poppy Seeds

To Coat the Ladoos.
Instructions
To Make Muthia
Add Bhakri Flour and Coarse Semolina to a wide bowl

Add melted ghee and massage the flour. Be generous to add ghee here. You want your dough to hold it's shape when you make a fist and crumbright away too. Refer to the picture above.

Now start adding warm water little by little, and knead a tight dough. Cover and rest the dough for 15-20 mins.

Preheat the air fryer/ oven at 400F

Now make the muthias, brush them with ghee. Add them to the air fryer/ baking sheet. Air/ fry/ Bake them at 400F for 12-15 minutes, or until golden. Keep a close eye on them after the 12 minute mark.

Once done, do a knife test. If the knife comes out clean, your muthias are ready.

Let the Muthias cool down completely. In a skillet roast the poppy seeds until they smell little nutty. Stir them continuously, as they burn fast. Keep it aside.
Make Churma
Pulse the Muthia in a food processor until fine coarse powder.

Sift it to make sure there are no big chunks of muthia. If there are, pulse the remaining big chunks again in the food processor, until fine and coarse. Sift them once again.

Now add cardamom powder, nutmeg powder, salt , and nuts. Give it a mix.

In a skillet, add melted ghee and jaggery. Let the jaggery bubble and become deep golden color. Once it starts to bubble, take it off the flame and add it to the churma.

Now with the help of a spatula mix everything thouroughly.
Make the Ladoos
Add more melted ghee, while the churma is still warm and start to bind the churma mix.

Add ghee 1 Tbsp at a time and try to bind the churma. Once it starts to hold together, without crumbling, your churma mix is ready to make the ladoos.

Start making the ladoos using both your hands, giving a perfect rounch shape.

Coat them with the Roasted White Poppy Seeds.
Notes
Substitute Bhakri Flour - If you don't have Bhakri Flour, Use 1 Cup + 1/3 Cup Whole Wheat Flour, 1/4 Cup Besan and 1/2 Cup Coarse Semolina. 
Bhakri Flour is available at any Indian Grocery Store. Bhakri Flour is also known as Thick Whole Wheat Flour (Jado Ghau no Lot)
Read the recipe thoroughly to make churma ladoos. 
Only Use Melted Ghee in the recipe.
Shredd the Jaggery Before using it. 
To Make Churma Ladoos with Sugar, use ground sugar aka 1/2 Cup  Icing Sugar.
Nutrition
Serving:
1
Ladoo
|
Calories:
88
kcal
|
Carbohydrates:
15
g
|
Protein:
1
g
|
Fat:
3
g
|
Saturated Fat:
0.2
g
|
Polyunsaturated Fat:
1
g
|
Monounsaturated Fat:
2
g
|
Trans Fat:
0.001
g
|
Sodium:
107
mg
|
Potassium:
35
mg
|
Fiber:
1
g
|
Sugar:
14
g
|
Vitamin A:
0.4
IU
|
Vitamin C:
0.04
mg
|
Calcium:
17
mg
|
Iron:
0.3
mg
Tried this recipe?
Let Us Know How it Was!! Tag us @thewhiskaddict, use #thewhiskaddict or leave a comment
Papdi Khichu Recipe| Khichu Recipe | Papdi no Lot(Opens in a new browser tab)
Banana Bread Recipe | One Bowl Chocolate Chip Banana Bread(Opens in a new browser tab)
Undhiyu ( Mixed Vegetables Curry- Instant Pot)(Opens in a new browser tab)