Methi Thepla is a delicious Indian flatbread. I can eat thepla at any time of the day literally. And now, I share the love for Gujarati theplas with my daughter too. Currently, these are her most favorite, so every Friday afternoon I make a big stash for her to snack on them through the weekend.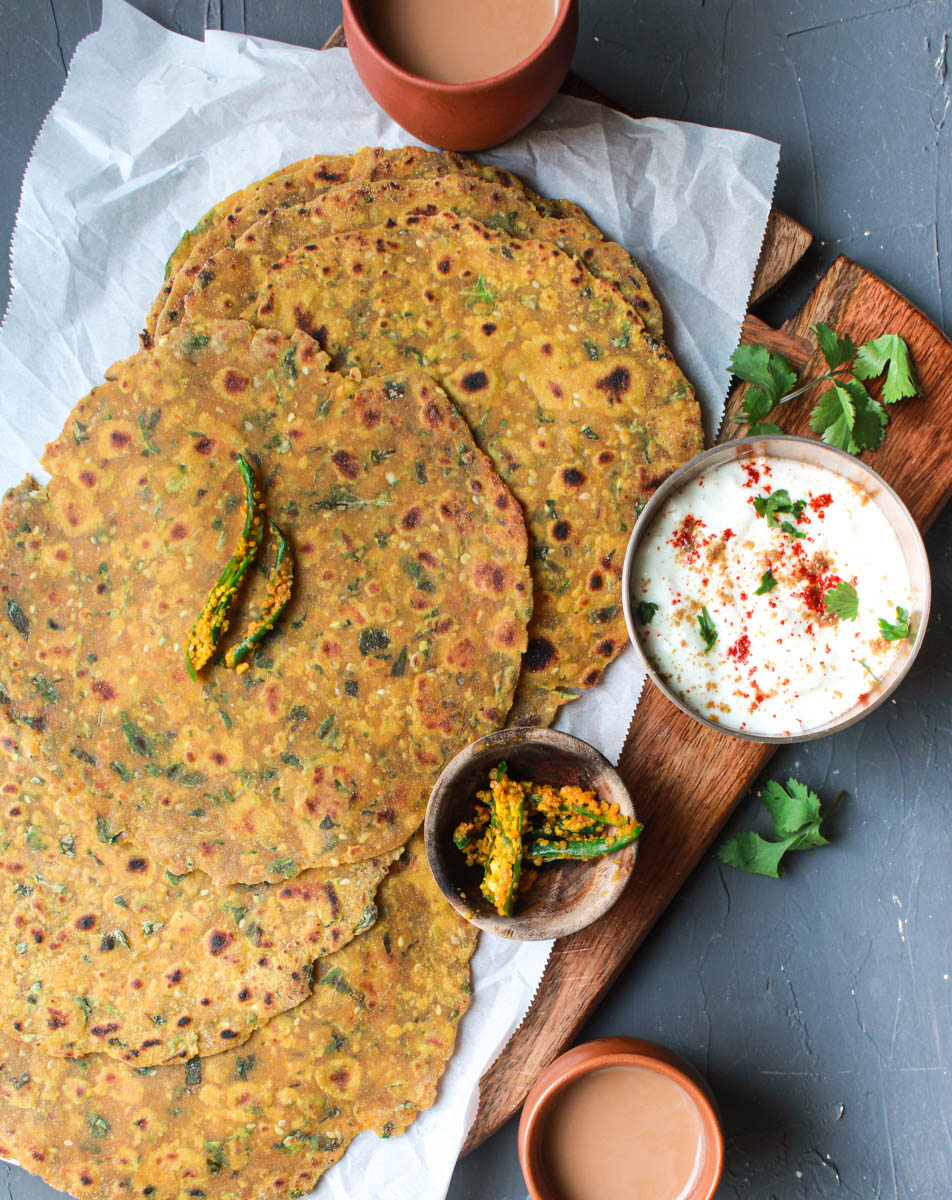 What is Thepla?
Theplas are famous Gujarati flatbreads, made with a few ground spices, yogurt, ginger garlic and green chili paste, jaggery, and salt. Gujaratis are known to travel the world with their homemade snacks. And they ALWAYS travel with a stash of Methi Theplas. These theplas stay fresh for 5-7 days and are super soft.
A generous amount of oil is used to cook the theplas, to make sure the oil acts as a preservative. You can make thepla with different vegetables, or even a mix of vegetables. The vegetables you are using should either be finely shredded or finely chopped.
How to Make Soft Gujarati Theplas?
The key point to making soft theplas is to knead a very soft dough. The ratio of flour to vegetables should always be 2:1. The secret of making a soft dough is to use a sufficient amount of oil and water. I like to add curd to the dough to add richness. But, if I am traveling long distances, or freezing them, I usually skip adding the curd.
Expert Tips to Make Perfect Methi Na Thepla
Making the soft dough is the key. You need to hydrate your dough properly to make sure your dough is soft to make perfectly soft theplas.
Use your fingers to mix the dough, spices, oil, and water well. This will ensure that the dough is hydrated well. Add little water at a time to make sure to add the right amount of water to the flour to knead the dough.
The flour-to-vegetable ratio to make perfect theplas should always be 2:1.
Adding besan to the thepla dough helps the dough with its elasticity. This will be helpful, when we roll the theplas, making sure they don't tear because of the addition of methi leaves/ or any other vegetables.
Use a generous amount of oil to make the theplas. Adding oil with toasting the theplas renders the beautiful brown marks on theplas, and also helps the theplas to stay fresh for a long time.
Roll a few theplas first and then start cooking them.
Line a plate with a kitchen towel. Start stacking the cooked theplas one on top of the other.
How to Store Theplas?
Store the theplas to keep them fresh in an insulated container (Indian casserole) for upto 5 days. You can refrigerate them by wrapping them in aluminum foil.
To freeze the theplas, like baking parchment paper between each thepla, and wrap stashes of 10 theplas in the foil. Freeze them for up to 3 months.
What Should I serve Methi Thepla With?
As much as I love to enjoy Methi Theplas on their own, we do eat them with a few famous side dishes. One of the ways I thoroughly enjoy theplas, is with a generous spread of white butter and athela marcha. This combination never fails to please.
Linking a few recipes that pair perfectly with these theplas.
Athela Marcha
Athela Marcha is a Gujarati Style Instant Chili Pickle with an aromatic and rustic flavor of mustard. This pickle gets ready in under 15 mins and it is so good with anything savory!
Check out this recipe
Green Chutney
There are a lot of different variations of green chutney. This version is my mom's recipe and the one that I make the most.
Check out this recipe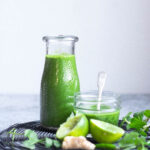 Masala Chai
Masala Chai is gingery, warm spiced chai with sweet notes from cardamom and earthiness from cinnamon and nutmeg. The floral notes from dried rose petals makes it extra delicious!
Check out this recipe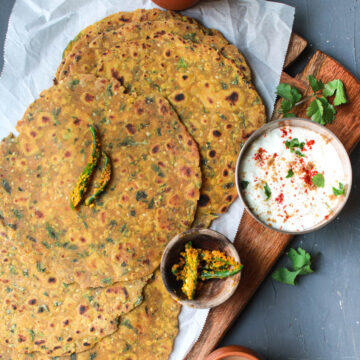 Methi Thepla
Methi Theplas is a very loved Indian flatbread, especially for travelling. These theplas are spiced with ground spices, like turmeric, red chili powder, dhania jeera, aromatics and jaggery.
Print
Pin
Rate
Ingredients
2

Cups

Wholewheat Flour

2

Tbsp

Besan

1

Tbsp

Sesame Seeds

1

Tsp

Cumin Seeds

1

Tsp

Turmerci

1/2

Tsp

Red Chili Powder

1

Tsp

Dhania Jeera

1.5

Tsp

Salt

2

Tbsp

Jaggery Powder

1.5

Tbsp

Oil

1

Cup

Methi

Finely Chopped

2

Tbsp

Curd

1.5

Tbsp

Ginger garlic and Green Chili Paste

250

ml

Water

2

Tbsp

Oil

To cover the dough

Oil

To Cook the Theplas

Rice flour

For rolling the theplas
Instructions
In a mixing bowl, add wholewheat flour, besan, sesame seeds, cumin seeds, turmeric, red chili powder, dhania jeera, jaggery, and salt.

Mix eevrything well with your fingers. And add 1.5 Tbsp's oil. Mix well again.

Now add finely chopped methi, ginger garlic and green chili paste, curd and mix well.

Now start adding little water at a time and start making the dough. Hydrate the dough enough to make a soft dough.

Once you have the soft dough, add 2 tbsp's of oil. and start kneading the dough. Knead for 3 minutes, until the dough is nice and soft.

Cover the dough and rest the dough for 15-20 mins.

Make golf ball sized pieces and press them between your palms, flattening it slightly. Keep some rice flour in a plate to use it to roll the theplas.

Prepare a cookie sheet with a parchment paper.

To start rolling, take a piece of the dough ball, press it down in the rice flour on either side. Place the dusted dough ball on the rolling board. Flatten it using your palm. Now roll it about 4cm to 6cm big. dust it with little flour again on both the sides. Start rolling again. The thepla shpuld be close to 8" in diameter.

Start placing the theplas on the parchment lined cookie sheet. Once you have rolled about 5-6 theplas, Place a tawa on the stove. Let it heat up.

Slap the rolled thepla on the tawa. In about 5-7 seconds you should see little bubbles will appear. Flip the thepla. Now apply about a teaspoon of oil and flip again. Press it down with your spatula on all the sides lightly to make sure it cooks well. Flip again. Press with your spatula on all sides. Place the cooked theplas on the kitchen towel lined plate. Repeat until done.
Notes
If you are planning to keep the theplas fresh for more than 5 days, skip adding the curd. 
If you want to make this recipe vegan, skip adding the curd or add cashew yogurt. 
Store the theplas in an insulated container if you are planning to eat them the next day. Or wrap them in an aluminum foil and refrigerate them to preserve them for upto 5 days. 
Nutrition
Serving:
1
Serving
|
Calories:
49
kcal
|
Carbohydrates:
2
g
|
Protein:
1
g
|
Fat:
4
g
|
Saturated Fat:
0.3
g
|
Polyunsaturated Fat:
1
g
|
Monounsaturated Fat:
2
g
|
Trans Fat:
0.01
g
|
Sodium:
239
mg
|
Potassium:
29
mg
|
Fiber:
0.4
g
|
Sugar:
0.1
g
|
Vitamin A:
271
IU
|
Vitamin C:
2
mg
|
Calcium:
9
mg
|
Iron:
1
mg