White sauce spaghetti is a delicious creamy sauce made with butter, flour, and milk along with a few herbs & spices. This sauce is very versatile and you can add a lot of vegetables to make this healthy.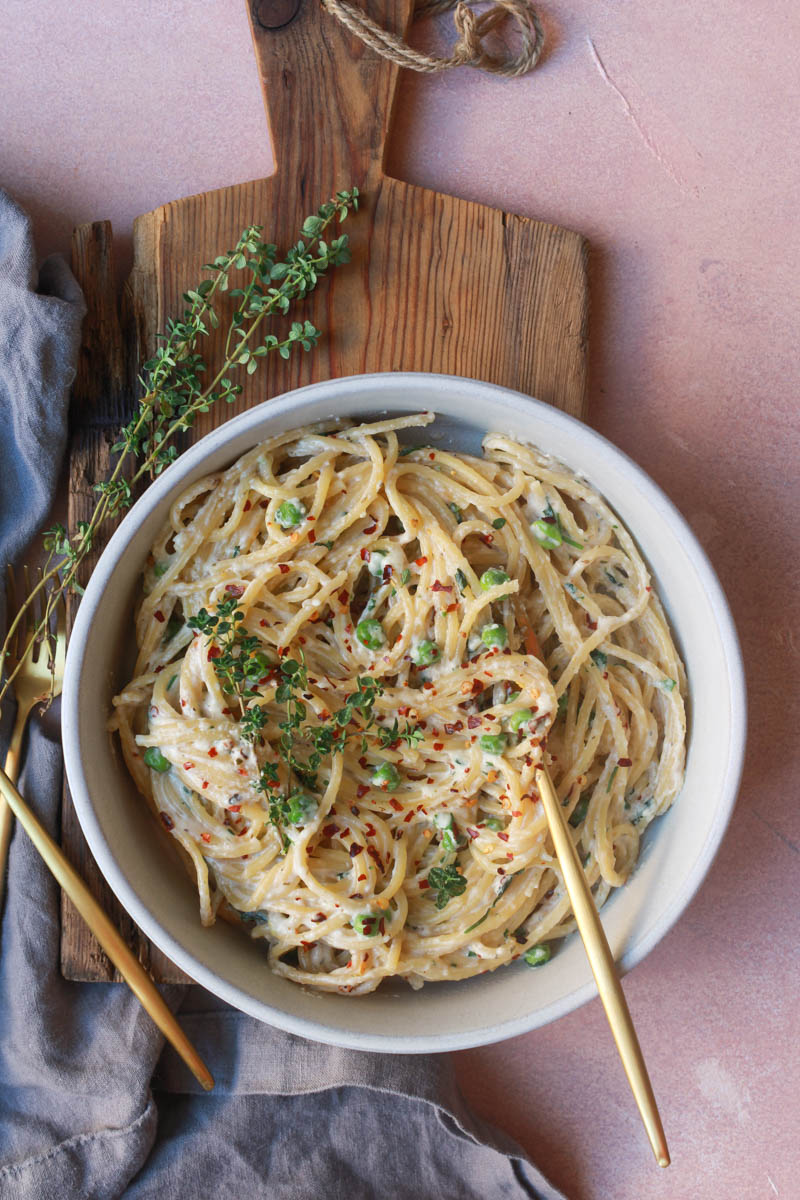 White Sauce Spaghetti is one of our favorite meals as a family. It is easy and delicious, and so creamy, that our toddler loves it too. This white sauce pasta needs very few ingredients and can be made on days when you are running out of groceries.
What is White Sauce?
Bechamel Sauce is popularly known as White Sauce. You make this sauce using equal parts of butter flour and add milk. I like to season my white sauce with salt, black pepper, onion powder, garlic powder, and mixed Italian herbs.
You might confuse white sauce with alfredo sauce, but they both are different. While White Sauce is very light and creamy, Alfredo Sauce uses heavy cream, which makes it heavier and a lot more indulging.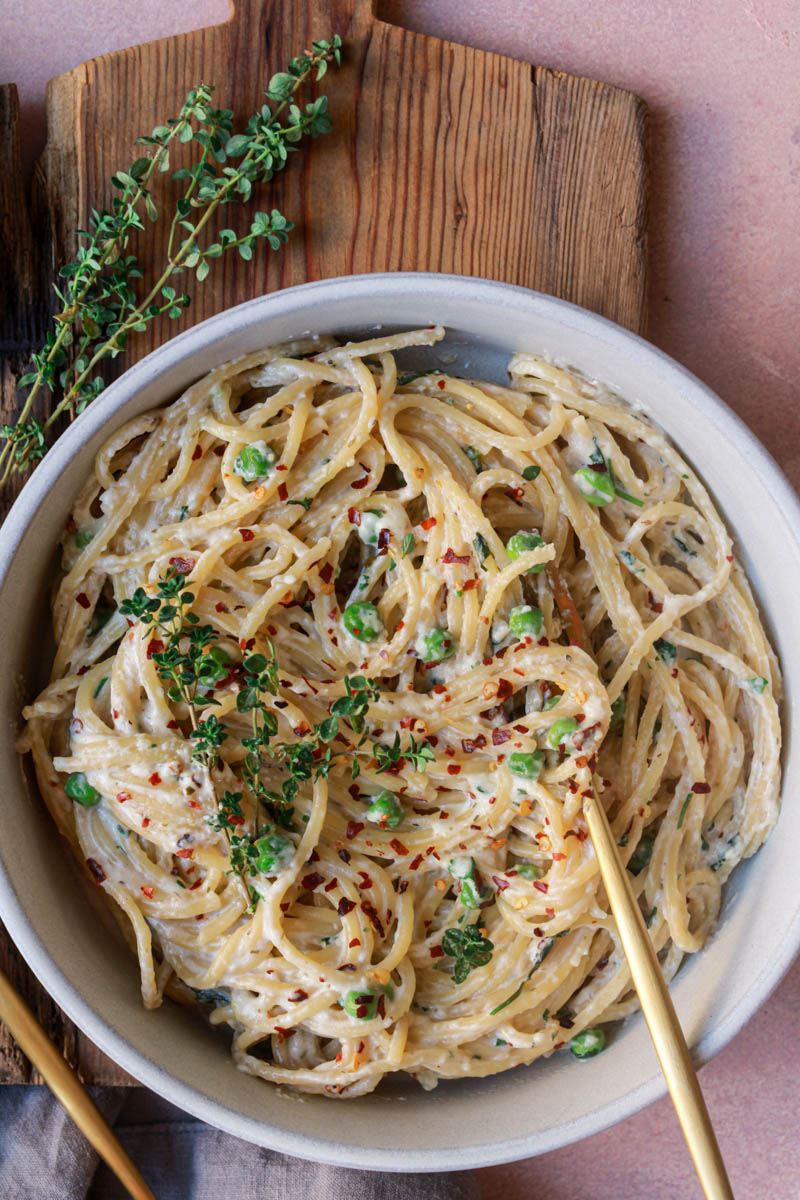 Ingredients to Make White Sauce Spaghetti
Spaghetti - Spaghetti is a long round noodle-like pasta. If you don't have this pasta, you can use any other pasta that is available
Butter/ Olive Oil - I like to use Olive Oil to make white sauce unless, I am making it for our guests, then I use butter. The only reason I use olive oil is to make the sauce rich and healthier.
Flour - Plain Flour aka All Purpose Flour is used as the thickening agent to make this sauce. If you are gluten-free, then you can use gluten-free plain flour which works really well for this recipe.
Milk - Full Fat Milk, makes this sauce lusciously creamy. The milk reduces in a beautiful creamy sauce when simmered with the roux made with butter and flour
Herbs/ Spices - Salt, Freshly Cracked Black Pepper, Garlic Powder, Onion Powder, Red Chili Flakes, fresh Parsley/thyme, and Mixed Italian Seasoning works great to season this sauce.
Vegetables - I am adding peas, but you can add any veggies of your choice. I love to add broccoli, bell peppers, zucchini, asparagus, etc to this pasta
Cheese - Freshly Grated Parmesan Cheese right before serving adds a delicious sharpness and texture to this pasta.
Variations to Make White Sauce Pasta
To make this sauce lighter and healthier use olive oil instead of butter, or use 1 part butter, 1 part olive oil to 2 parts of flour.
White sauce traditionally uses full-fat milk but, to make this Vegan, you can use Soy Milk. It is creamier and more nutritious than other plant milks and works great in savory recipes. The key to making sure while using plant milk, is to make sure you use unsweetened and unflavored plant milk.
You can also substitute plain flour with gluten-free plain flour. If you are making this for your toddler, I suggest substituting plain flour with whole wheat flour.
Seasonal Vegetables You can Add to Your White Sauce Pasta
During the spring and summer months, we get delicious seasonal and colorful seasonal produce. You can add vegetables like different bell peppers, asparagus, fresh corn, peas, and zucchini.
While during the fall and winter months, you can broccoli and spinach, along with many more fresh herbs. Add fresh thyme to the butter before adding the flour. It brings out the most beautiful flavor in the pasta sauce.
Expert Tips
Always make your sauce first and then start cooking your pasta. Add your cooked pasta using tongs or a strainer ladle. The pasta sauce sticks to the pasta beautifully.
Make this sauce as a part of your meal prep for the week. It keeps well in the refrigerator for about 4-5 days. Once you make the sauce with butter, flour, milk, and salt cool it down. Transfer it to a glass container. Add beeswax paper or plastic wrap in contact with the sauce. This will make sure the sauce doesn't form a skin on top of it. And, also helps slow down the oxidization in the sauce.
Reserve 2 Cups of Pasta Water to adjust the consistency of the pasta sauce. The more the white sauce sits, the thicker it gets. If you are making pasta ahead of time, using pasta water while reheating the pasta, gives the sauce a good consistency and keeps it creamy and delicious.
Add vegetables to make this pasta healthier. The crunch from vegetables adds a beautiful texture to this creamy sauce and it is a nice way to get your family to eat a few extra veggies.
During the spring and summer months, add some lime zest at the end. This adds a refreshing floral aroma and zingy taste to the pasta which makes it even more delicious.
More Italian Recipes From The Blog
White Sauce Pasta
White Sauce Pasta is a rich and creamy pasta sauce made using milk, garlic powder, onion powder and herbs. This rich creamy sauce needs no heavy cream or cheese. It is luscious and loved by all. Serve it with your favorite roasted veggies and protein, with some bread on the side!
Print
Pin
Rate
Equipment
1 Heavy Bottom Pan

1 Heavy Bottom Pot
Ingredients
To Make White Sauce
1

Tbsp

Olive Oil

1

Tbsp

Butter

2

Tbsp

All Purpose Flour

2.5

Cups

Milk

Full Fat

1

Tsp

Oregano

1

Tsp

Red Chili Flakes

1

Tsp

Onion Powder

1.5

Tsp

Garlic Powder

1

Tsp

Salt

1/4

Cup

Parmesan Cheese
To Cook The Pasta
6-8

Quarts

Water

8

Oz

Spaghetti

2

Tsp

Salt
Garnishes
1

Tbsp

Parsley/ Basil/ Thyme

1/4

Parmesan Cheese
Instructions
Make the White Sauce
To a heavy bottom frying pan, add olive oil, and butter. on a low flame.

Once the Butter melts, add flour. Microwave 2.5 cups of milk for 1 minute.

Stir continuouly for 45 seconds, until the flour becomes pale yellow and cooked.

Add warm milk to the pan slowly, stiring it continuously.

To cook the pasta, add water to another heavy bottom pot on high flame, cover, and bring it to a boil.

Bring the sauce to simmer on a medium low flame. You will notice the sauce starts to thicken.

Now add in salt, black pepper powder, garlic powder, onion powder, italian seasoning and red chili flakes. Turn Off the stove once the sauce is thick after simmering for about 10 -12 minutes.

Now that your pasta water will be boiling properly, add salt and uncooked pasta. Cook the pasta as per the package instructions.

Add 1/2 cup of pasta water to the white sauce, and simmer on low. The starch in the pasta water helps the sauce to stick to the pasta well.

Once your pasta is cooked, use tongs or strainer laddle to trasfer the pasta to the sauce. Make sure you are only adding pasta and not a lot of pasta water along with it.

Mix everything well, and add your garnishes on top. I like to garnish my pasta with fresh parsley, thyme, red chili flakes and freshly grated parmesan cheese.
Notes
Please read the instructions thoroughly
To Make this sauce vegan and gluten-free read the instructions under the heading Variations to Make White Sauce Pasta
Pair the white sauce pasta with garlic toast and wine. 
Nutrition
Serving:
2
Servings
|
Calories:
1364
kcal
|
Carbohydrates:
198
g
|
Protein:
105
g
|
Fat:
35
g
|
Saturated Fat:
14
g
|
Polyunsaturated Fat:
2
g
|
Monounsaturated Fat:
11
g
|
Cholesterol:
64
mg
|
Sodium:
7040
mg
|
Potassium:
9657
mg
|
Fiber:
65
g
|
Sugar:
18
g
|
Vitamin A:
179767
IU
|
Vitamin C:
1562
mg
|
Calcium:
2763
mg
|
Iron:
50
mg