I made these Cheesy Paneer Bhurji Taquitos as a result of leftover paneer bhurji, and tortillas in the fridge were approaching their expiration date. Since then, I always make these Cheesy Taquitos, and serve them topped with lot of onions, tomatoes, cilantro, micro greens or lettuce with a side of lime crema and guacomole.
There are many different versions of taquitos that you can make. The most usual that happens is one with black bean and bell pepper filling and the paneer bhurji filling.
These Paneer Bhurji Taquitos makes as an amazing meal prep meals. If I am meal prepping, I usually make the filling ahead of time. So on the day, we want to make these its just the assembling that is needed to be done.
What are Taquitos?
Taquitos are rolled up crispy tacos filled with cheese and protein of your choice. Being a vegetarian I usually rely on paneer, tofu and bean filling for taquitos along with cheese.
The taquitos are served with different toppings like guacomole, sour cream, tomato salsa, Pica de Gallo, Fresh Salad, Provolone Cheese, Etc...
I cook these taquitos directly on the flame, so that they are cooked and the raw taste of tortilla is gone. Then, once they are filled and rolled up, I brush some olive oil on them and bake them at 400F for 15 minutes.
Some Other Fillings that you can Make For Your Taquitos
Black Bean Filling
Refried Bean Filling
Crispy Chipotle Chickpeas
Buffalo Cauliflower
Mushroom and Spinach
Samosa Filling
Potato and Peas
How to Make Paneer Bhurji (Scrambled Paneer)?
Making Paneer Bhurji is extremely simple. I will add a detailed recipe below. To make paneer bhurji, I use onions, tomatoes, bell peppers, and shredded/ crumbled paneer along with some spices. What a delight it is.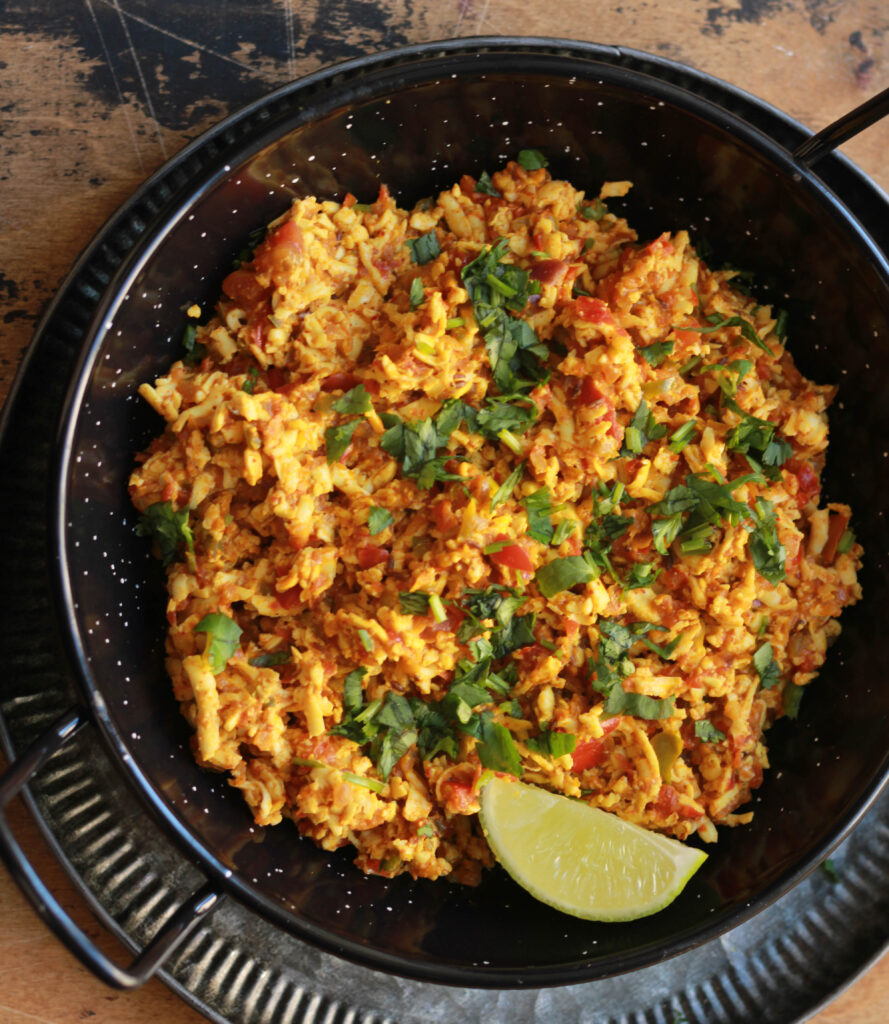 Lets jump on to making these.
Ingredients
1

Tbsp

Oil

1

tsp

Jeera

pinch of asafetida

1

Medium

Onion

Finely Chopped

3

Tsp

Ginger Garlic and Green Chilli Paste

1

Tomato

Finely Chopped

1

Small

Red Bell Pepper

Finely Diced

1

Small

Green Bell Pepper

Finely Diced

1

Tsp

Red Chili Powder

1/2

Tsp

Cumin Coriander Powder (Dhanajeeru)

1/2

Tsp

Garam Masala

1/2

Tsp

Pav Bhaji Masala

1/4

Tsp

Turmeric

Salt to taste

250 gms

Paneer

Shredded/ Crumbled

Handful of finely chopped cilantro
Instructions
Prep the paneer and the veggies first.

Add oil to a heavy bottom pan, once hot add jeera. Let it splutter. Add pinch of asafetida.

Now add onions. Let them cook until they turn golden.

Add ginger garlic and green chili paste. Let it also turn golden brown.

Now add the tomatoes and bell peppers along with all the spices. cook them until oil separates a little bit.

Add the crumbled/shredded paneer. Mix everything well. Let it cook for 2 minutes.
Tried this recipe?
Let Us Know How it Was!! Tag us @thewhiskaddict, use #thewhiskaddict or leave a comment
Ingredients
12-14

Yellow Corn Tortillas

You can use any Tortillas of your Choice

Paneer Bhurji

The recipe is mentioned above

1

Cup

4 Cheese Mexican Blend

Olive Oil for Brushing
Toppings of Your Choice
2

Cups

Guacomole

1/2

Cup

Sour Cream

1

Small

Chopped Onions

1

Medium

Chopped Tomatoes

1-2

Finely Chopped Jalepenos

Handful of Chopped Cilantro

2

Cups

Lettuce

1

Cup

Lime Crema

(Recipe in Nachos Post) Will link it down below.

1

Lime

Cut into Wedges
Instructions
Lightly Cook the Tortillas
Flip and Toss the Tortillas directly on the flame. This will ensure that the tortillas are cooked as we are baking them and not deep frying them. However, if you are deep frying them you can skip this step
Assemble and Bake the Taquitos
Preheat the oven at 400F. Line a large sheet pan with parchment paper.

Now start assembling the tortillas.

Take one Tortilla at a time. Add Cheese and 2 small spoons of Paneer Bhurji Filling. Roll it and place it on the baking tray. Assemble all the tortillas in the similar way.

Brush the prepared taquitos with olive oil/avocado oil.

Bake them for 12-15 mins or Until they crisp up

Serve them with the choice of your toppings as listed above. I personally serve them with chopped onions, tomatoes, micro greens, jalepenos, lime crema and guacomole.
Tried this recipe?
Let Us Know How it Was!! Tag us @thewhiskaddict, use #thewhiskaddict or leave a comment
Lime Crema Recipe is in the Post Below
Loaded Nachos Recipe | Supreme Nachos | Sheet Pan Nachos Recipes(Opens in a new browser tab)
Watermelon Strawberry Citrus Juice Recipe | Watermelon Strawberry Agua Fresca(Opens in a new browser tab)
Horchata Recipe | How to Make Horchata | Easy Mexican Horchata Recipe(Opens in a new browser tab)
Garlic Naan Recipe | Restaurant Style Garlic Naan | Stove Top Garlic Naan(Opens in a new browser tab)