I love a good cake at any time of the day. This is my go to recipe to make a big batch of cake that will last me for a few days and my sweet tooth is very well taken care of. This Raspberry Sheet Cake is a delicious way to entertain, or just make it to have it with your family for your loved ones.
This Raspberry Cake is a light, and airy , with a beautiful crumb. You can dress it up with beautiful whipped cream and some fresh or freeze dried raspberries. If you want to make it more fun top it up with some cream cheese. Or dress this cake with some vanilla ice cream.
What is a Sheet Cake?
A sheet cake is one single layer cake baked in a sheet pan that is 9X13 inches in size. This cake is usually a sponge cake and you can change up the flavors as you like. This beautiful cake makes for a good party pleaser and takes the least effort. For the flavors, you can switch it up with chocolate, fruits, nut , confetti, etc.
You can choose to top your cake with cream cheese frosting like I have or use Mascarpone Cheese Frosting, a simple Whipped Cream Frosting, Butter Cream Frosting or Chocolate Ganache.
Be creative to decorate your cake with sprinkles, confetti, freeze-dried fruit, fruits jams, or fresh fruits.
My Sheet Pan is from Williams Sonoma.
https://www.williams-sonoma.com/products/usa-pan-traditional-finish-9-inch-by-13-inch-cake-pan/?_br_psugg_q=9+x+13+baking+pan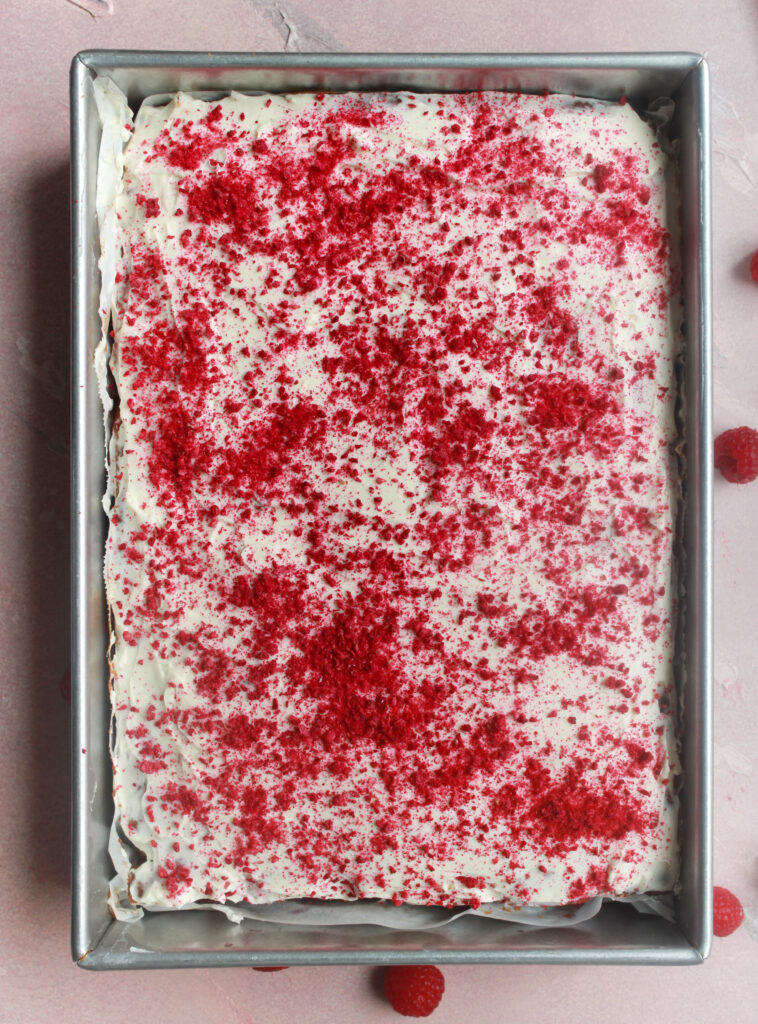 Equipment
Stand Mixer or Electric Hand Mixer

Oven
Ingredients
3

Cups

All Purpose Flour

3

Tsp

Baking Powder

1

Tsp

Baking Soda

1

Tsp

Salt

1

Cup

Unsalted Butter

1+1/2

Cups

White Granulated Sugar

3

Eggs

Room Temperature

2

Tsp

Vanilla

1

Cup

Milk

1

Tbsp

Orange Zest

(Optional)

3

Cups

Fresh Raspberries

2

Tbsp

All Purpose Flour
Cream Cheese Frosting
8 oz

Cream Cheese

Softened

1+1/3

Cup

Heavy Whipping Cream

1/2

Cup

Powdered Sugar

1

Tsp

Vanilla

1/3

Cup

Crushed Freeze Dried Raspberries

optional
Instructions
Preheat the oven at 350F. Line a 9x13 Sheet Pan with a parchment paper.

Wash and rinse the raspberries. Add 2 Tbsp's all purpose flour. This step will help the berries to not settle in the bottom of the cake. and will be distributed evenly through the cake.

In a bowl sift in all the dry ingredients. Start with all purpose flour, baking powder, baking soda and salt. Keep it aside.

Now in your stand mixer bowl, or in a large bowl if you are using an electric hand mixer, add softened unsalted butter. Use the paddle attachment, and start whisking until creamy and smooth.

Now add in the sugar. Whisk again until everything is well incorporated and soft. Whisk on a medium speed.

Add in the vanilla and now start adding in 1 egg at a time. Keep whisking on low.

Now is the time to add milk and dry ingredients alternatively. We will whisk on low to make your we don't over beat the batter.

Add 1/2 Cup Milk and Half of the dry ingredients, whisk on low until well incorporated.

Now add the other 1/2 cup milk and rest of the dry ingredients. Whisk until everything is well combined.

Now scrape all the batter from the paddle attachment and sides of the bowl.

To this add orange zest and the prepared raspberries.

Incorporate them using a silicon spatula.

Don't worry, the batter for this cake is going to be thick

Now add the batter to the prepared sheet pan. Distribute it evenly throughout the pan.

Bake it for about 40-45 mins. If you think your crust is getting too brown cover it with aluminum foil. Continue baking until the skewer comes out clean.

Let the cake cool completely
For Cream Cheese Frosting
Add Cream Cheese and Heavy Whipping Cream in a stand mixer with Whisk attachment. Whisk until softens.

Add Powdered Sugar. Whisk on medium until you get soft peaks.

Once the cake completely cools down, add dollops of the prepared frosting

Use an off set spatula to layer it evenly

Sprinkle some crushed freeze dried raspberries on top, or decorate it with fresh raspberries.
Notes
Use all the wet ingredients at room temperature.
Add eggs one at a time. If you want to make this cake eggless, substitute the eggs with 3 Flax Eggs. 
You can also use frozen berries for this recipe. 
You can try this recipe using Mixed Berries, Blueberries, Strawberries or Black Berries. 
If you don't want to use berries at all, you can leave them out and bake a simple vanilla sheet cake. 
You can also add other fruits like frozen mangoes, pineapples, etc. 
Tried this recipe?
Let Us Know How it Was!! Tag us @thewhiskaddict, use #thewhiskaddict or leave a comment
Classic Chocolate Marble Brownies(Opens in a new browser tab)
Loaded Nachos Recipe | Supreme Nachos | Sheet Pan Nachos Recipes(Opens in a new browser tab)
Horchata Recipe | How to Make Horchata | Easy Mexican Horchata Recipe(Opens in a new browser tab)