Atta Halwa is one of the quickest fixes for me whenever I crave something sweet. This halwa is melt in mouth delicious. A very popular sweet throughout North India, in Gujarat we call it Sheero. We make Whole wheat Sheero at home quite often than that of Rava Sheero. Made with just 4-5 ingredients, this halwa comes with a lot of benefits for new moms.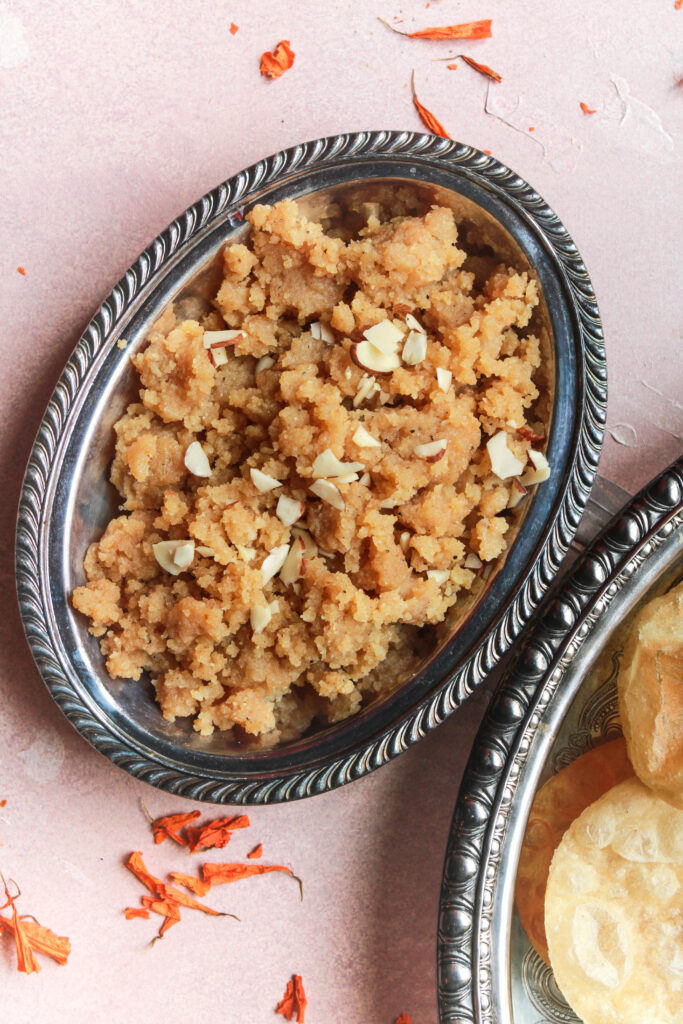 What is Atta Halwa?
Atta Halwa is a popular sweet dish made and cherished throughout North India. I am sharing my family recipe here. Traditionally made using water, at my home my ba (my grandma) prefers using milk. So we grew up eating halwa made in milk. It might be quite unusual to many, but adding milk renders a lot of benefit to new mothers and babies. It also gives a beautiful creamy texture to the halwa which I love.
Ingredients to Make Gujarati Wholewheat Sheero
To make a good Gujarati sheero, all you need is whole wheat flour, jaggery and ghee. These are the three key ingredients of this recipe.
Whole wheat flour - Traditionally we use Jado Ghau no Lot, aka thick wholewheat flour which is generally used to make bhakris. Now in US we don't always have Bhakri Flour available. So I like to use Whole Wheat Flour along with spoonfuls of semolina. The purpose here is to give the halwa a beautiful grainy texture.
Ghee - I like to use melted ghee for most of my dessert recipes. It is easier to measure and more accurate this way.

Jaggery - I prefer Jaggery over Sugar in my desserts. It gives this very rustic earthy undertones with the sweetness that it adds to the desserts. I highly recommend to try adding jagggery to your sweet treats. Its a game changer. Oh, by the way, I use Kolhapuri Jaggery. It is easily available at the Indian Store. The color of the jaggery is light, so it doesn't ruin the color of your dessert and it works perfectly.
Milk/ Water - This is completely upto you. I will definitely say that the halwa made using water is far more easier for your gut to digest. But, the creaminess that milk brings to this halwa is unbeatable. I get asked this question a lot on my Instagram, about what I ate as a nursing mom. The magic is this halwa made with milk. Now idk if it helped or not, but I can surely tell you that I had a very steady milk supply. And it so quick to make, it doesn't hurt to give it a try.
Cardamom Powder and Nuts - These ingredients are completely optional. You can add them if you like or leave them out. I particularly always add cardamom powder and skip nuts sometimes, but I leave that completely up to you.
Tips to Make Perfect Atta Halwa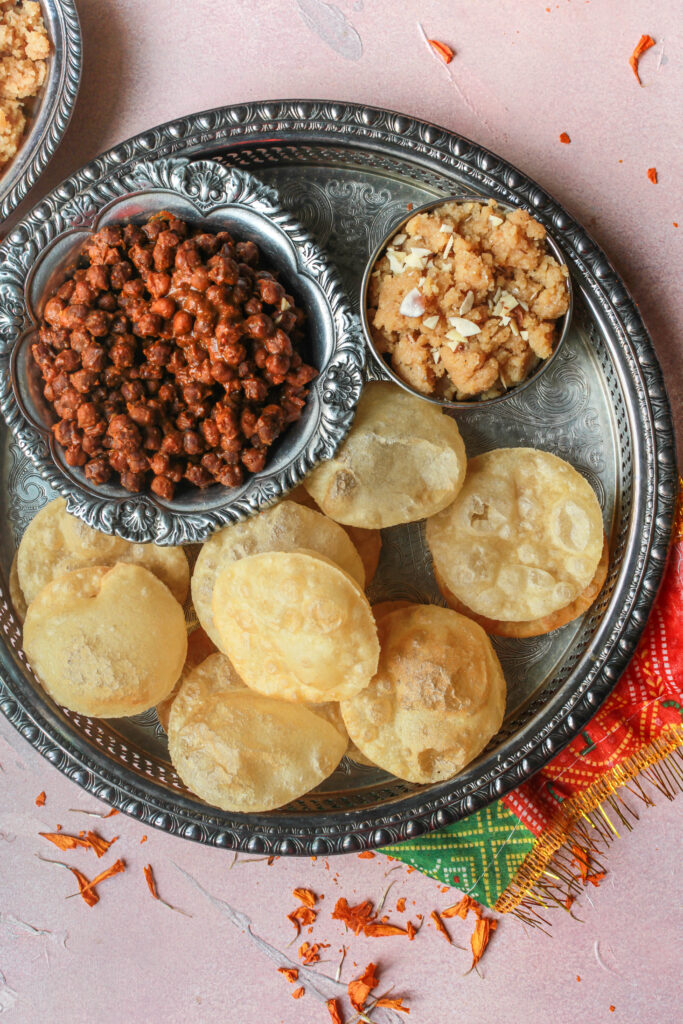 Boil the Water/ Milk - You have to start with boiling milk/ water in a saucepan. This is a very crucial step in determining the texture of the halwa. Keep it ready to be added to the pan when it is time.

Adding the Ghee - Please follow the recipe to the T. Using good quality ghee is essential. I like to use Amul ghee, or 4th and Heart Original Ghee for storebought options. The wholewheat flour will need enough fat to cook aka ghee. Please don't cut down the amount of ghee you add to this recipe. Ghee will also aid in digestion so please don't cut it down. Please measure 1 Cup of Melted Ghee for this recipe. Just Microwave Ghee for 2 minutes, and you will have melted ghee ready.
Stir the Halwa Continuously - You want to keep stirring the halwa continuously. If you don't stir it continuously on medium flame, your halwa might form lumps or get burnt.
Serve and Store the Atta Halwa
Atta Halwa tastes best when served warm.
If you have leftovers, store it in an airtight container in your refrigerator. The ghee will solidify in the refrigerator so the halwa will become hard. Reheat it in the microwave or in a pan. If you choose to reheat the halwa in a pan, I suggest you heat the halwa closing the lid, and let it heat up with the steam.
More Sweet Treats on The Blog
Ingredients
2

Cups

Milk / Water

1

Cup

Melted Ghee

1

Cup

Wholewheat Flour

3

Tbsp

Semolina

1

Cup

Jaggery/ Sugar

1

Tsp

Cardamom Powder

Slivered Almonds for Garnishing
Instructions
Heat 2 Cups of water or milk in a saucepan. Let it come to a single boil. Turn off the stove. We want the milk or water to be boiling hot to add it to the halwa. so keep it ready.

In a heavy bottom pot, add melted ghee. Add the whole wheat flour and semolina next.

Mix it in very well. Roast the wholewheat until it starts to smell earthy.

You will notice that the color of the wheat flour is getting more darker and it won't stick on the pan anymore. This is when you know that your atta is cooked and it will take you about 5-7 minutes on a medium flame.

Next, add in the boiling hot water/ milk. Be careful here, as the mix will bubble up. This process is crucial as it plays an imporatant part in giving the texture to our halwa

Keep stiring continuously as you don't want your halwa to burn. Stir for a minute or two until your atta absorbs all the milk/ water.

Next add in one cup of crushed jaggery or castor sugar. Incorporate the sugar/ jaggery well.

Once done add the cardamom powder and nuts of your choice.

Garnish it with more slivered almonds and pistachios.
Tried this recipe?
Let Us Know How it Was!! Tag us @thewhiskaddict, use #thewhiskaddict or leave a comment
More Gujarati Recipes From the Blog
Follow me On Instagram for more Fun Stuff