Bhuna Masala is a concentrated Indian Curry Paste, used in almost all of the North Indian and South Indian Cuisine. After having Inaaya, as cooking became more and more difficult. I needed something easy and quick to make our meals delicious yet extremely simple. Bhuna Masala, indeed then came to the rescue.
We don't realize the importance of meal prep until a few regular takeouts, birth of a child, or some additional responsibilities at home. I realized the importance of meal prep only after having my daughter. The whole teething situation took a toll on my 6 month old. The only thing that brought her the slightest comfort was me holding her. We ordered n number of takeouts. That's when I realised, it is indeed time to meal prep. And Bhuna Masala and Chutneys were the first things I meal prepped.

What is Bhuna Masala?
Bhuna masala is a concentrated Indian Curry sauce that is slow cooked by caramelizing onions and tomatoes with lots of fresh aromatics and spices. I like to slow cook this masala as more you cook, you get more intense flavors. While to make this even more easier on you, you can even use the instant pot.
Is this Indian Curry Paste Vegan?
My recipe uses a mix of both ghee and oil for tempering. But, if you wish to make this Curry Paste vegan, just substitute ghee with any flavorless Oil.
How to Store this Curry Paste?
The Curry Paste easily stays fresh in the refrigerator for upto 5-7 days. The best thing about this masala is that it freezes really well, and stays good in the freezer for upto 3-4 months. I prefer using an ice cube tray and freezing about 1/3rd Cup of curry paste in each cavity. Once it freezes, I transfer these cubes in a ziplock bag, and use them as needed.
How many Cups Of Bhuna Masala does this Recipe Make?
This recipe makes about 8-9 Cups of Bhuna Masala. You can use this recipe to make Dal fry, Dal Tadka, Rajma, Chole, Paneer , Or Any South Indian Curry too. Just a few little tweaks here and there, and you have a perfect meal for your family.
How To Use Bhuna Masala in Different Curries?
Will you believe me if I tell you that I prepared Matar Paneer and Dal Fry here in this picture using the same Curry Paste?
All you need to do are a few minor tweaks. I will give you a few examples on how to use this curry paste to make different Indian Curries.
If you are making any paneer or mix veg curry, add ghee + oil in a pot. Add directly the meal prepped bhuna masala, instead of Onions and Tomatoes. Just soak the cashews in hot water for some time and make cashew paste and add it to the curry. Add Kasuri Methi, Fresh Cream and done.
If you are making dal fry, In oil/ ghee add cumin seeds, finely chopped garlic , slit green chillies. Add Bhuna Masala, instead of adding onions and tomatoes. Next add in the Boiled Dal. Add water to adjust the consistency. Finish it with lots of cilantro, crushed kasuri methi and salt.
To Make any South Indian Curry, A tempering of mustard seeds and curry leaves is a must, so prepare this tempering before adding the bhuna masala. I have made sambhar using this curry paste and it absolutely tastes delicious.
For cooking Mushrooms or any kind of meat, use the bhuna masala right after tempering. Now it depends on what style you want to cook. But all you have to do is skip adding onions and tomatoes, ginger garlic, and skip on the later step.
You might want to Try these Recipes Using Bhuna Masala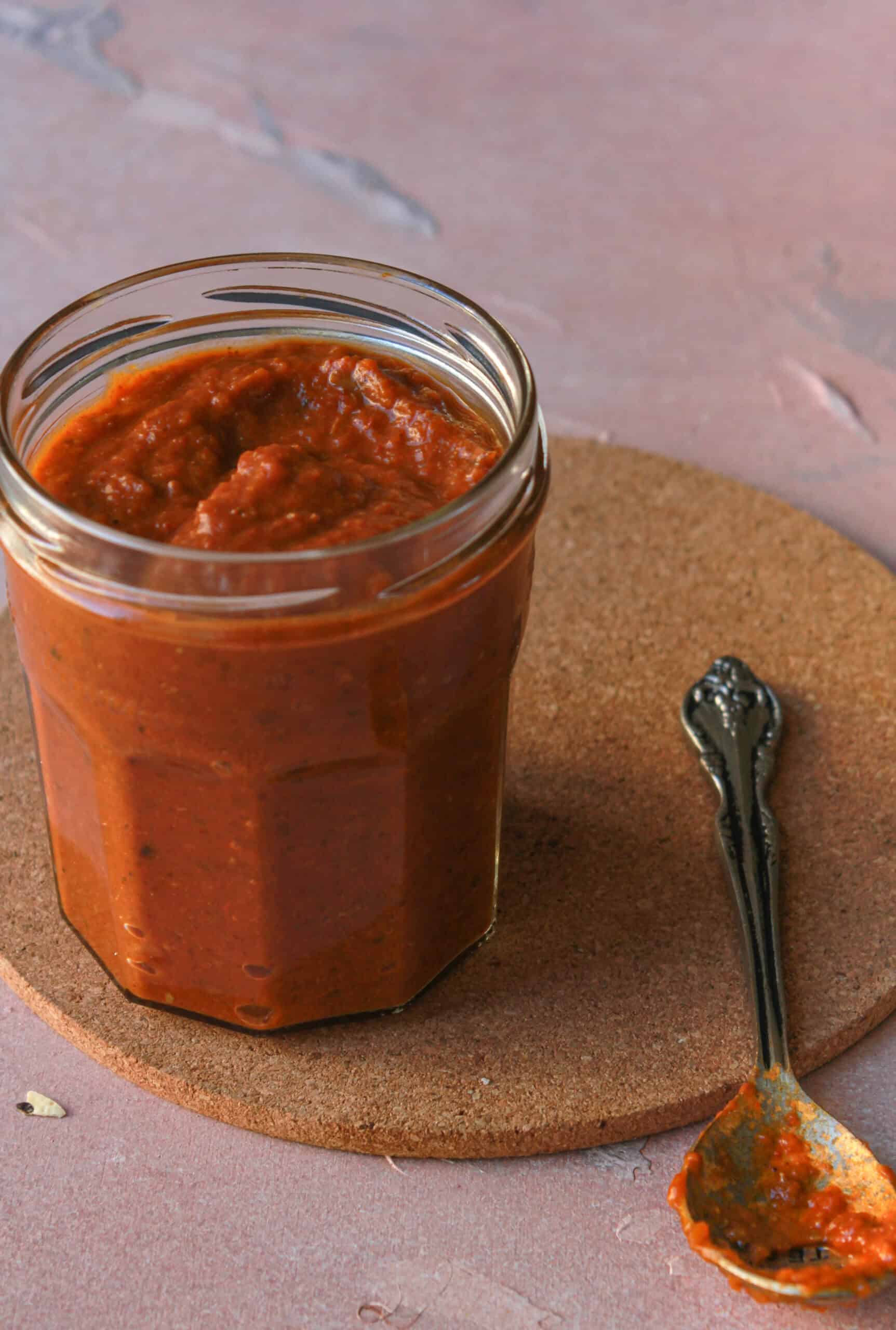 Equipment
Heavy Bottom Pot

Instant Pot - To Make Bhuna Masala In the Instant Pot, Read the Instructions in Notes
Ingredients
3

Tbsp

Ghee

2

Tbsp

Any Flavorless Oil

I am using Avocado Oil

3

Tsp

Cumin Seeds

15

Cloves

Garlic

Roughly Chopped

3

Inch

Ginger

Roughly Chopped

7-8

Green Chilies

Slit into Halves

1/2

Cup

Cilantro

Tightly Packed

1/3

Cup

Kasuri Methi

8

Cups

Thinly Sliced Onions

You will need about 5-6 Onions

3

Tsp

Salt

10

Cups

Tomatoes

Cut one Tomatoes into 4 Parts | You will need about 10- 12 Tomatoes

4

Tbsp

Kashmiri Red Chili Powder

3

Tbsp

Coriander Powder

1 +1/2

Tbsp

Turmeric

3

Tbsp

Garam Masala

1

Tbsp

Sugar
Instructions
Add ghee and oil to the heavy bottom pot. Let it heat up.

Once hot, add the cumin seeds. Let them Splutter

Next add in all the aromatics. Garlic, Ginger, Green Chilies, Cilantro and Kasuri Methi. Give them a mix, and add the thinly sliced onions.

Now add salt, to make sure the onions start to cook quickly.

Let the onions cook on a medium flame, and slowly caramelize them. You will notice that the onions start to turn brown, and will eventually release all the water.

Next add in the the tomatoes.

Add all the spices. The red Chili Powder, Coriander Powder, Turmeric and Garam Masala. Mix everything thoroughly.

Slowly cook the Masala Until Tomatoes are Mushy.

Lastly add in the sugar to balance all the acidity from the tomatoes.

Once this is done, let the masala cool down.

Add the masala in a high powered blender. Grind into a smooth Puree.

Store about 2-3 cups of Bhuna Masala in an air tight canning jar the refrigerator to use it during the first week.

Store the rest of the Bhuna Masala in Ice Cube Trays of your choice. Once they are frozen, place them in a freezer safe ziplock bag.
Notes
Slow cooking helps to preserve the nutrients and flavors of this masala for a longer period of time. Since, my recipe makes a huge batch of this masala I Prefer to slow cook it. 
I do not like to add cashews in my bhuna masala, as I also use it for dals, and other vegetarian curries that doesn't use cashews. 
If you wish to make this in an Instant Pot. Simply Press Saute. Follow all the steps up until you add sugar. The only thing is that you don''t have to wait for onions to caramelize. Once they are soft add the tomatoes.  Press Cancel on the Instant Pot. Close the lid and Pressure Cook on High Pressure 15 minutes. If there is access water, press saute and let it cook to get rid of all the excess water. Let it cool down. Add the masala to the blender. Grind until pureed. 
Tried this recipe?
Let Us Know How it Was!! Tag us @thewhiskaddict, use #thewhiskaddict or leave a comment