We are Almond Butter lover family although I am pulling Ajay into loving almond butter with me, he likes his peanut butter more. But since the nutritional and health fact clearly says, that its more healthy to consume almond butter than peanut butter, we always a mason jar full of almond butter loaded in the refrigerator. I eat it for breakfast while Ajay feasts on it for a quick evening snack before his long hike with Luna.
If you read my posts regularly, you might have noticed I have been very indulgent lately which doesn't qualify under mindful eating that I follow. I love to eat in portions every two hours, also love to drink fruit juices and green smoothies, but most of all I love my seeded bread topped with my Homemade Roasted Flavored Almond Butter topped with Fresh Fruits.
How To Make Almond Butter?
It is very simple to make Almond Butter or for that matter any Nut Butter at home. The name itself might sound a little overwhelming but it actually takes only about 15 mins to prepare nut butters at home. Perhaps, after reading this, you will be convinced to make your nut butter at home.
To make Almond Butter at home all you need is a food processor or a powerful mixer grinder and of-course Almonds. I recommend on using good quality organic almonds for your nut butter, to make it as healthy as possible. I will link down below a couple of brands I like to buy my Almonds from.
The process of making almond butter is super easy, quick and fuss free. Preheat the oven at 350 F/ 180 C. Line a cookie tray with a parchment paper and add Almonds to it. Roast them in the oven for 10 mins. Let them cool for about 5 mins. Add the roasted almonds in the food processor bowl and close the lid. Now turn on the food processor and start grinding your almonds. Stage 1 is where you almonds will form almond powder. Turn off the food processor and give it a couple of seconds before you turn it back on. Stage 2 is where the almonds will start releasing oil and you want to add in the salt now. The oil will bring the almond powder together and might as well form a dough ball. Stage 3 is when your almond butter will start forming. and its done.
Ingredients For Almond Butter
Almonds- You will need good quality of almonds to make almond butter. I prefer buying organic almonds from mostly Whole Foods ,Trader Joe's and mostly I order them from Amazon. Using good quality almonds not only enhances the taste of this almond butter, but makes it more healthier for daily consumption. We roast the almonds before making the butter. This not only makes it simple on the food processor to grind the almonds but elevates the taste by giving a roasted flavor to our favorite Almond Butter
Salt- Add in a little salt to your butter, because salt makes everything taste better.
Oil- I recommend to add about a 1/4th Cup of Oil to your almond butter while grinding it, if you know that you won't be able to finish it in a week or two. Since we store the almond butter in the refrigerator, if its for a long period of time your butter will start getting dry. So to avoid this, you can add some. Its totally optional and I don't add oil to my almond butter because we usually finish it with a two weeks.
Sweetener of Your Choice - You can add 4 TBSP's of Running Honey or Maple Syrup to your Almond Butter if you like it sweet. I always drizzle my them on the top and not mix them in the butter. The reason is that the texture of the butter changes, it becomes more grainy by adding sweeteners, but it's completely up-to you how you like your nut butter.
Cinnamon- Add a tsp of Cinnamon when you add Salt if you want to spice up your almond butter, it tastes delicious, if you really like the flavor of cinnamon.
Step by Step Process to Make Almond Butter
Step 1- Preheat the oven at 350F/ 180C. Line a cookie tray with parchment paper. Spread the almonds in the cookie tray and roast them in the oven at 350F/ 180C for 10 mins. After 10 Mins remove them from the oven and let them cool for about 5 mins
Step 2- Add them Almonds in the Food Processor and grind them util powdered.
Step 3-Add salt and Grind the Almond Powder and you will see Almonds are releasing the oil and the powder is coming together.
Step 4- Keep Grinding and within a minute you will see your Almond Butter is ready.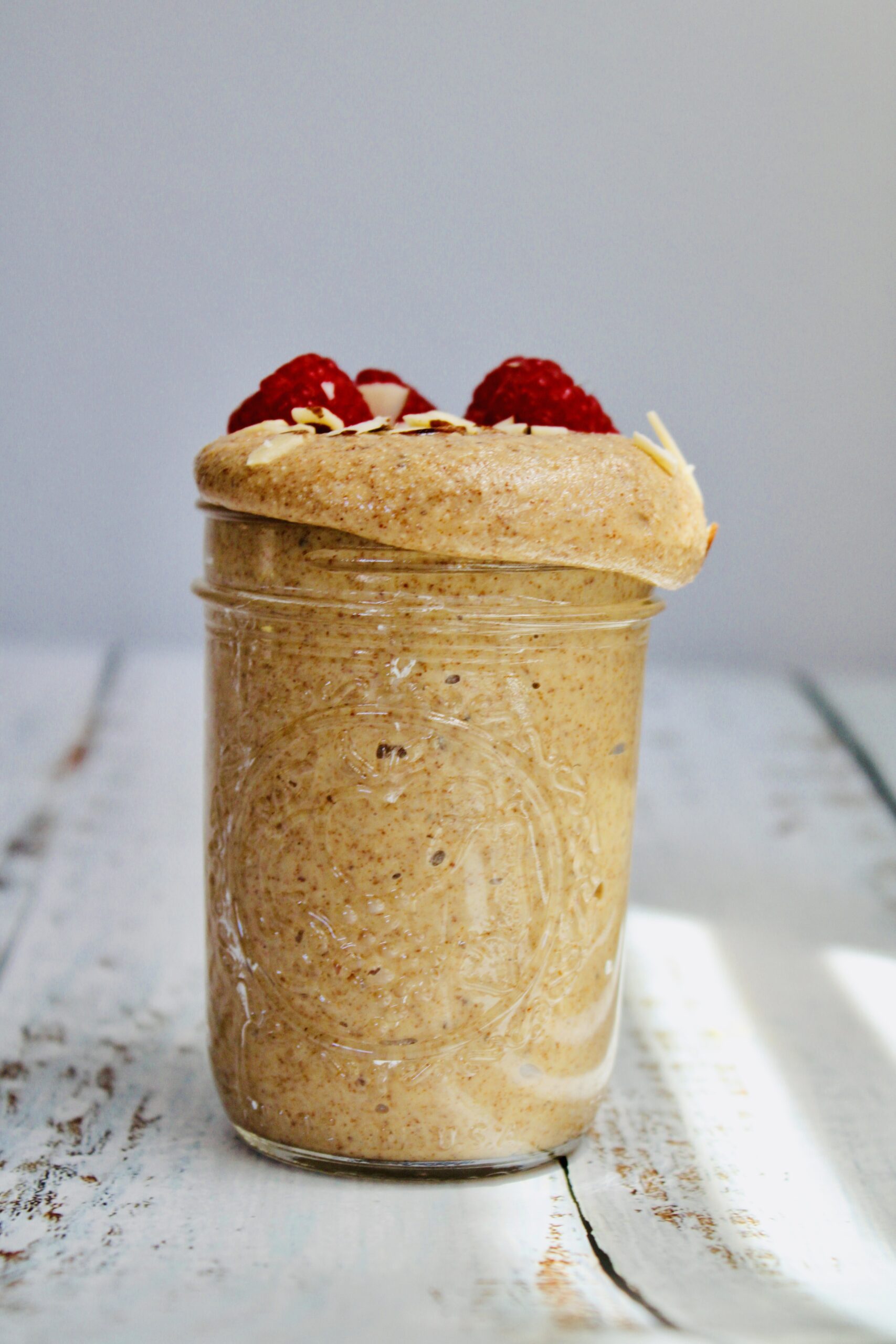 Ingredients
3

Cups

Organic Almonds

1

tsp

Salt
Instructions
Preheat the oven at 350F/ 180 C. Line a cookie tray with parchment paper. Add 3 cups of almonds in the cookies tray. Roast them in the oven for 10 mins.

Once roasted let them cool down for about 5 mins.

In the Food Processor bowl, add the roasted almonds and Process them until powdered. Add the salt. This is also a good time to add any sweetener and spice you would like to add. I like to add only salt in my nut butter.

Now process them again and you will start to notice that almonds have started releasing oil , and the powder is coming together like a dough.

Scrape the sides and process it again. Now your almond butter is ready. Enjoy it on your bread, as a side with your fruits, on your waffles or as a salad dressing. Cool isn't it?
Tried this recipe?
Let Us Know How it Was!! Tag us @thewhiskaddict, use #thewhiskaddict or leave a comment
If you try this recipe please tag me on my instagram @thewhiskaddict
Link to Buy Organic Almonds:
Raw Almonds Sweet Wild Harvested - Fresh & Plump - Naturally Steam Pasteurized 100% Natural Almonds - Family Farmed Since 1875 3lb. 5 & 10lb Bulk Bags Available - Ellie's Best
Link to buy a Food Processor
Hamilton Beach (70670) Food Processor & Vegetable Chopper, 10 Cup, Electric