Summers have officially begun in the Bay Area, and one of my absolute favorite ways to keep myself hydrated is fresh juices. Cantaloupe and Watermelons are in season now, and it is so easy to make fresh juice using these fruits.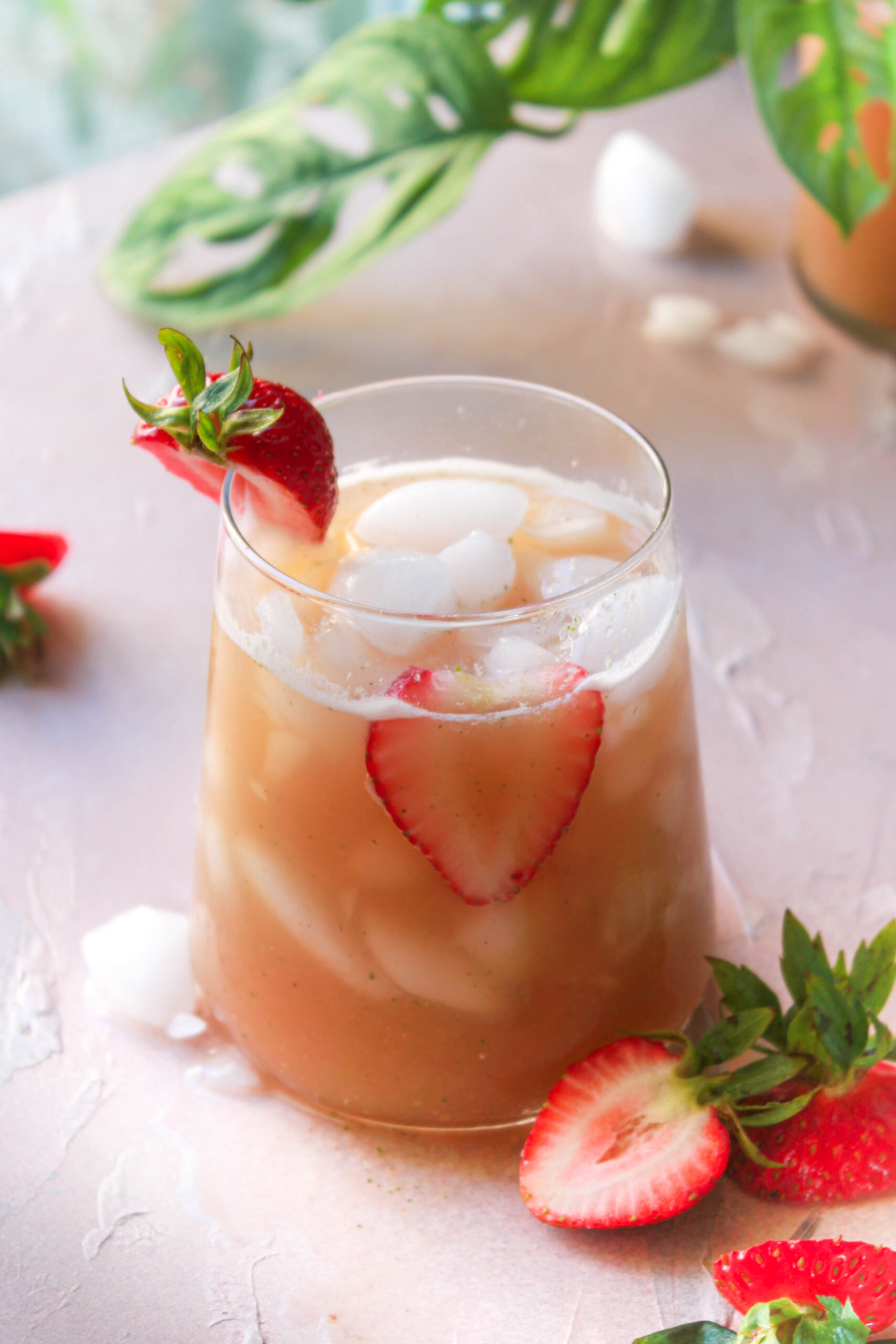 I previously shared How to Make Watermelon and Strawberry Juice and this juice is pretty similar too. These homemade fresh juices are great for toddlers and for adults. In the summer months, fruit juices essentially keep us hydrated and can give a wonderful boost of energy.
Benefits of Cantaloupe
Cantaloupes are beautiful melons from South Africa also known as Musk Melon works perfectly for keeping us hydrated during summers. Cantaloupes are absolutely delicious and nutritious. And guess what, this fruit makes a perfectly smart choice to give your sweet tooth satisfaction while helping you to lose weight. Isn't it something all of us want today? This fruit is an abundant source of vitamin C and has high water content to keep us hydrated. It helps with weight loss, protects us from chronic diseases, asthma, blood pressure, cancer. Helps with improving digestion health and also skin and hair.
Benefits of Strawberries
Who cares what the benefits of strawberries are. These plush red summer berries are my absolute favorite in all its forms. But there are some phenomenal benefits associated with this fruit which is loved by all. This fruit is one of the top 10 vegetables and fruits which contains highest levels of anti-oxidants. Eat strawberries for beautiful, soft skin. As all fruits and vegetables protect us from cancer, diabetes and blood pressure strawberries do too. So rather than eating something we don't like, I would rather settle with strawberries. But, it also serves some amazing benefits. It protects us from heart diseases and strokes. Also, it is very beneficial to eat strawberries while pregnant, because it is a natural source of folic acid and also helps with the baby's beautiful skin.
How to make Fresh Cantaloupe and Strawberry Juice?
This is a very simple pantry ingredients recipe. It takes about 6-7 ingredients and the refreshing juice is ready. I used Cantaloupe and Strawberries as the main fruit for the refreshing flavors along with some freshly squeezed lemon juice to give a sweet citrus twist to the juice. For more flavor, I added some fresh mint, ginger, cumin powder, and black salt. I like to serve this juice chilled along with our breakfast or sometimes I add soda water and serve it as a quick and easy mocktail.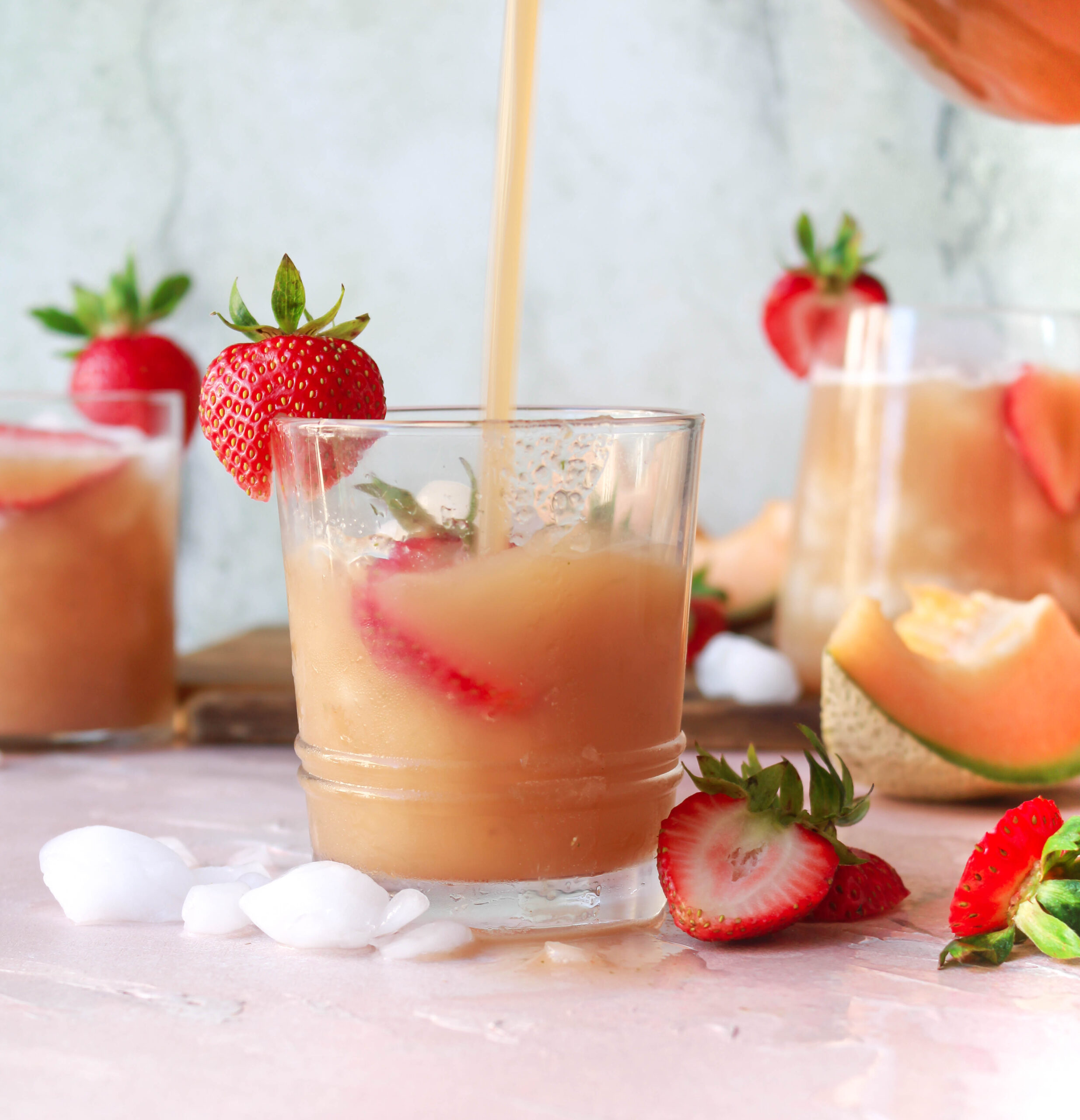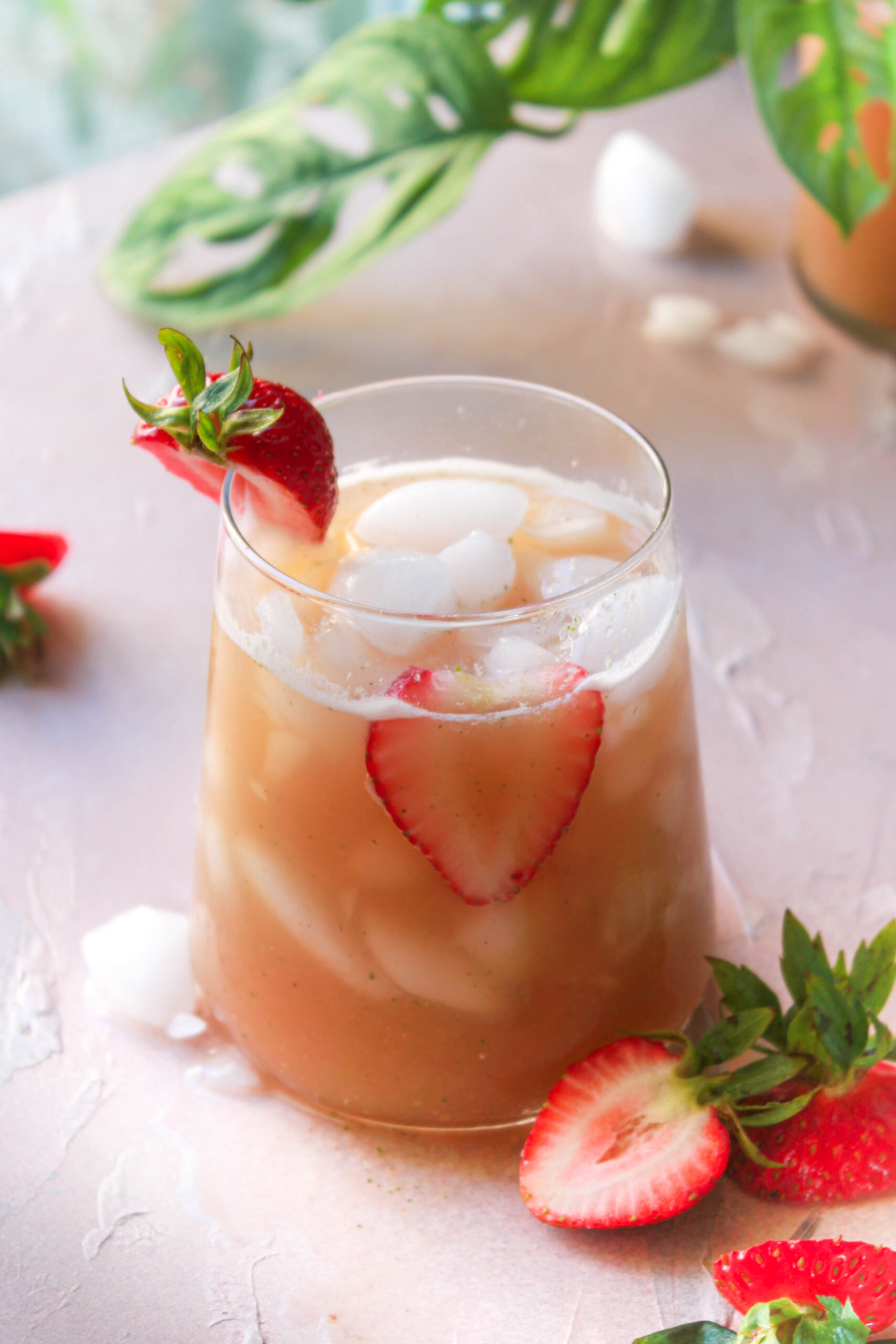 Ingredients
4

Cups

Cantaloupe

Cubed

2

Cups

Strawberries

Frozen/ Fresh Washed and Drained

1/4

Cup

Lemon Juice

Freshly squeezed any Citrus Juice Works

1

Tsp

Ginger

Grated

10

Leaves

Mint

1

Tsp

Cumin Powder

Black Salt/ Regular Salt to taste

1

Tbsp

Brown Sugar/Jaggery

4-5

Cups

Water

Chilled Water
Instructions
Add freshly cut cantaloupe and strawberries to a blender jar.

Add in mint, grated ginger, ground cumin powder, black salt and jaggery powder next.

Pulse it into a smooth puree.

Then add 4 Cups of Water. Pulse it again until everything gets mixed well.

Strain it if you want to.

Transfer the juice to a glass jug or bottle. Serve chilled. Try to finish the juice in two days.
Notes
Put the cantaloupe in the refrigerator overnight before making the juice. The chilled cantaloupe will save you chilling time for juice. 
Cumin and Black Salt particularly help you protect from scorching heat and sunstrokes and are known for their cooling properties. 
Give this juice to your toddler or kids. My daughter Inaaya loves it, and it is a great way to keep toddlers hydrated during the summer months. 
Tried this recipe?
Let Us Know How it Was!! Tag us @thewhiskaddict, use #thewhiskaddict or leave a comment