These are the most delicious refried beans you will ever get your hands on, and they are so easy to make. They are creamy with a delicious crush of bell peppers, cheesy, and make up for a perfect side dish, filling or for just eating them as is. You need to try this recipe ASAP, because it is AHmazziinggg!!!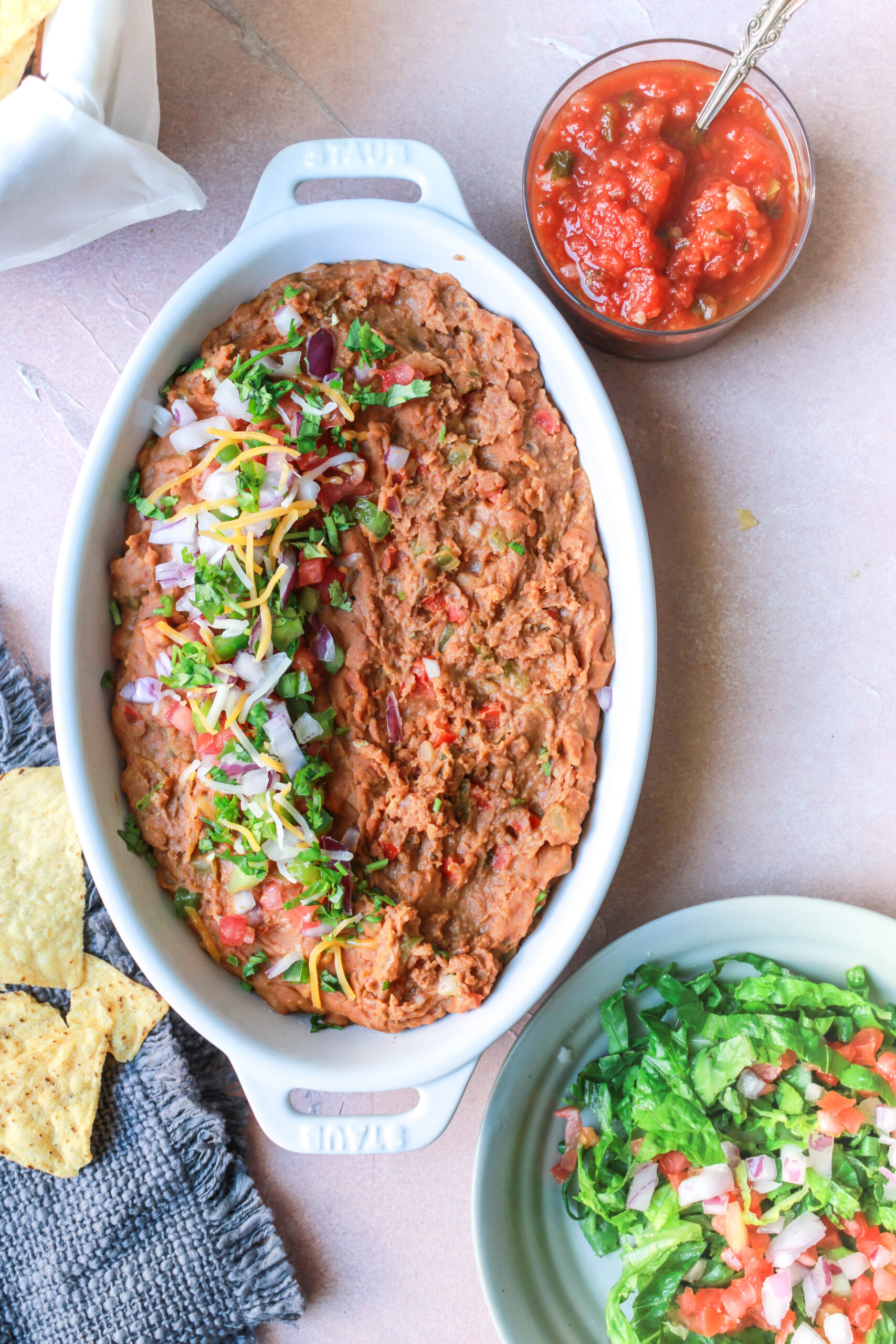 Mexican Cuisine is so diverse, and so is its preparation. It varies from family to family and region to region. I am yet to explore all the delicios dishes of this beautiful cuisine. But some of my most favorites are Loaded Nachos, Enchiladas with Roja (Red) Sauce, Toasted Burritos, Fajitas, Taco Salad Bowl, and Soft Tacos, Horchata and I can go on and on.
What are Refried Beans?
Refried beans are mashed Pinto Beans. Pinto Beans are extremely nutritious and widely popular in Northern Mexico and Southern America. These beans are high in protein, fiber, vitamins, and minerals. You can eat some simple mashed up pinto beans and squeeze a lime with some cojita cheese on top and call it refried beans or jazz them up as I do.
How to Make Refried Beans?
These beans are very simple to make. You can either buy canned pinto beans or canned refried beans or you can boil the pinto beans and make these from scratch.
I usually prefer to use either canned pinto beans or canned refried beans. Just to have it as a quick and easy meal option.
How to Boil The Pinto Beans?
The best way to make these Beans from scratch is to soak the Pinto Beans for about 8 hours, preferably overnight, and boil them the next morning.
To make these, you take 1 and half Cups of Dried Pinto Beans.
Add them to a large bowl.
Add 4 Cups of Warm Water.
Cover and let them soak for about 8 hours. Drain the water the next morning, and rinse the beans.
Now, you can either boil them in your instant pot or your pressure cooker.
To make these using a pressure cooker, Add the beans, and now add 4 Cups of Water. Add 1 Tsp Salt. Let them cook for about 7-8 whistles. And they will be ready.
To Make these using Instant Pot, Press on to Sauté mode. Add the drained and rinsed beans to your Instant Pot. Add 3 Cups of water. Add 1 Tsp Salt. Press Cancel. Cover the lid and have the vent towards the sealing position.
Now Press Pressure Cook, and then Manually set the timer at 20 mins.
Let the pressure release naturally.
Use a hand blender and mash them up until smooth.
Ingredients For This Recipe
Oil - You can use any neutral flavored oil. But Olive Oil or Avacado Oil works too. I usually prefer using Avacado Oil for its health benefits and high smoking point.
Cumin Seeds - I need tempering in all my foods, and the cumin seeds bring a profound earthy flavor to this recipe.
Onions - I prefer to use white onions, but red onions work too. The onions bring beautiful caramelized sweetness to this recipe.
Salt - It brings everything together.
Garlic - Does garlic ever hurt in any recipe?
Bell Peppers - Bell Pepper are for the crunch and texture. I am using the red and green bell peppers for this recipe. I always use this recipe as a filling or a dip, so textures are very important.
Seasonings - I am using red chili powder, Dhanajeeru, and Taco Seasoning ( from Trader Joe's) for this recipe.
Your Favorite Salsa - The salsa adds a delicious tartness to the beans that compliments the rest of the flavors. My favorite is Casa Sanchez Medium Salsa Roja
Cream Cheese - I use Philadelphia original whipped Cream Cheese, for it adds the most amazing creamy depth of flavor to our creamy beans
Mexican Cheese Mix - A little bit of Mixed Mexican Cheese goes in there too because the more the cheese the better it gets.
Substitutions
You can replace cream cheese with greek yogurt, mayonnaise or sour cream . Use a little bit less salsa when you are using greek yogurt or sour cream.
If you don't have taco seasoning on hand, you can make your own DIY Taco Seasoning. Just Google Taco Seasoning. I don't have a measured taco seasoning recipe and I always mostly buy tons of them from Trader Joe's just so I don't run out of them
Storing the Refried Beans
You can freeze the beans and they stay good for up to 2 months. If I am going to freeze the refried beans, I like to make them from scratch, as it is easier on my pocket. You can freeze them in freezer-safe containers, or in ice trays portioning them out and freezing them as cubes. To store them in portioned cubes forms, use the desire freezer tray. Add the refried beans, once completely cool. Freeze them for 5-6 hours. Store them in a ziplock and date the expiry date on the ziplock, so you know to use them up.
Other Recipes You Might Like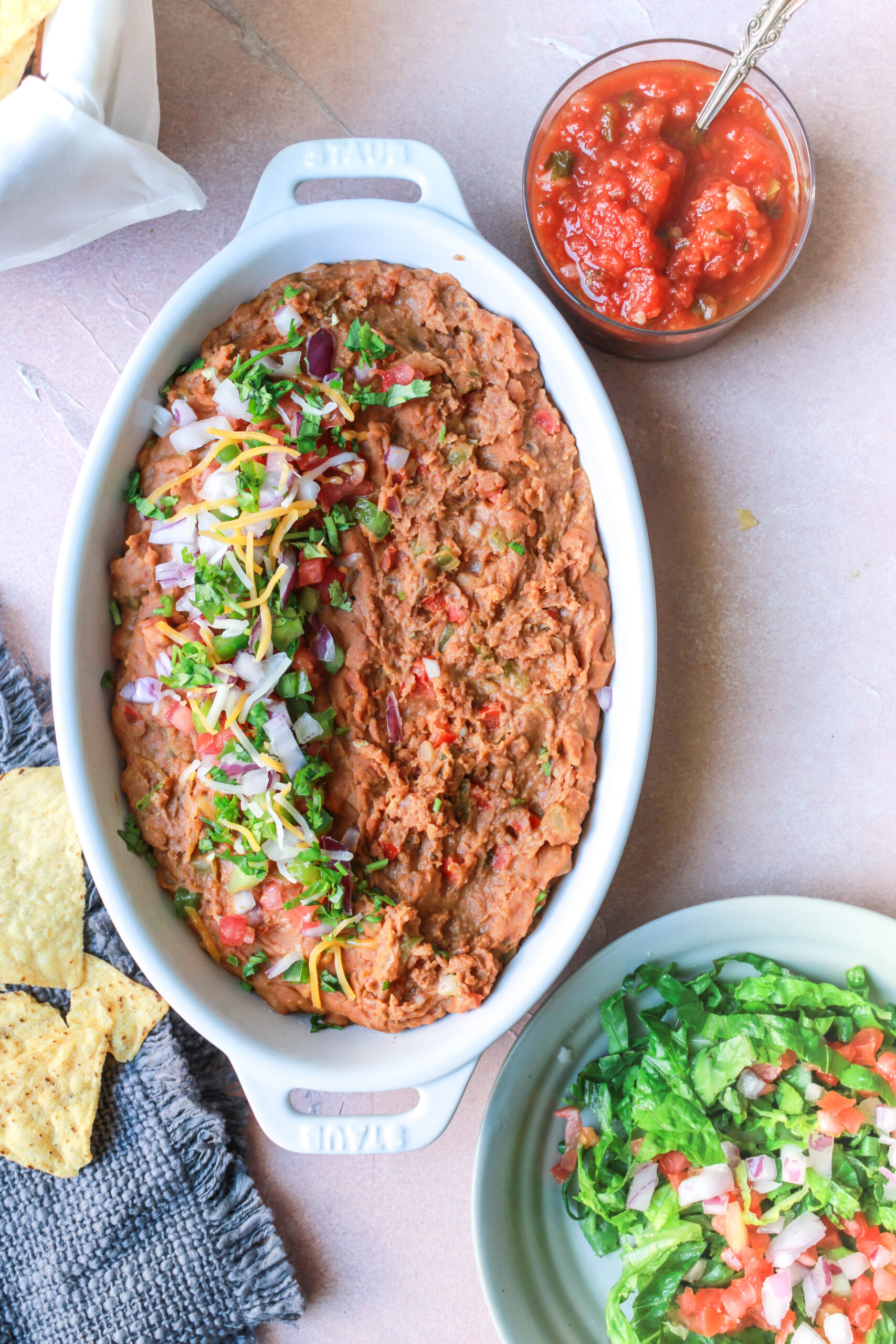 Ingredients
1

Tbsp

Oil

I use Avocado Oil

1/2

tsp

Cumin Seeds

1/2

Cup

finely diced Onions

2

Tbsp

Minced Garlic

1

Tbsp

Diced Jalapeños

1/2

Cup

Diced Green Bell Pepper

1/2

Cup

Diced Red Bell Pepper

1

Tsp

Salt

1

Tsp

Kashmiri Red Chili Powder

1

Tsp

Dhanajeeru

1

Tsp

Taco Seasoning

I use Trader Joe's Taco Seasoning

2

Cans

Refried Pinto Beans

I use Rosaritas Vegetarian Refried Beans 16oz Cans

2

Tbsp

Whipped Cream Cheese

I use Philadelphia Original Whipped Cream Cheese

2

Tbsp

Your Favorite Salsa

I use Casa Sanchez Medium Salsa Roja

1/2

Cup

Mixed Mexican Cheese
Instructions
Place heavy bottom pot on the stove on medium high flame.

Once the pot is hot, add oil and cumin seeds. Let them splutter.

Now add the diced onions, minced garlic and diced jalapeños. Sauté them until onion becomes transparent. Deglaze the pan with splashes of water if needed.

Next add in the bell peppers. Add salt, red chili powder, dhanajeeru and taco seasoning. Mix everything well.

Once the oil starts to separate, add in your refried beans.

Now add cream cheese, salsa and mexican cheese. give everything a good mix. Turn off the stove once the cheese melts.
Notes
If you are planning to have this as a dip, top it with some diced red onions. diced tomatoes and jalapeños. Top it with some cojita cheese (totally optional) but tastes bomb. Serve hot. 
If you are planning to use this as a filling, take the refried beans in a bowl. Let them cool. They will thicken up. And they will be perfect to be used for filling
If you want to substitute the whipped cream cheese, use sour cream, greek yogurt or mayonnaise. If you are using sour cream or greek yogurt then add only 1 tbsp salsa, as the tartness from both can be overwhelming sometimes. 
Tried this recipe?
Let Us Know How it Was!! Tag us @thewhiskaddict, use #thewhiskaddict or leave a comment